Making the right choices in the proper style.
Search committees abound in the Christian community today, but many who are elected or appointed to search committees are novices. To help them get started, here are some practical, proven suggestions that combine the best of the secular search process with the peculiar needs of the church, college, mission or other organization.
1. Depend on God. We depend on God to direct us to the leader of his choosing and we work hard to find that leader. Continual prayer support of the constitutency must be sought. Every member of the search committee must faithfully ask for God's help.
The relationships of those in the search process must reflect biblical principles of fellowship, integrity, and love. It may be necessary for the search committee members to spend months building their own spiritual lives and interpersonal relationships before they can productively move on to the actual search.
Dependence on God means faithfulness to biblical standards of leadership. The characteristics of leaders listed in 1 Timothy 3 and Titus 1 cannot be ignored when some otherwise highly desirable candidate is available.
2. Be willing to work. Everyone involved must be willing to invest the time required to accomplish the task properly. Frequent, regular meetings, homework by committee members, extensive travel, and lengthy interviews are necessary.
Committee meetings should be scheduled on a regular basis with full attendance expected. The chairman of the committee has an important role in writing and distributing agendas well in advance of every meeting. Members will have specific assignments to conduct research on the organization, draft position papers and job descriptions, study scriptural qualifications, check references, and contact candidates. The committee discusses concepts, approves procedures, edits documents. Almost all of the work of individual committee members should be prepared in writing and distributed to the rest of the committee for study before the next meeting.
3. Be well prepared. Much of the success of the search hinges on advance preparation. The well-prepared search committee has carefully defined the needs of the church or organization, the qualities necessary for leadership, and the process to be followed in finding leaders.
Once the needs of the church/organization are clearly understood the committee moves on to define more precisely the type of pastor/leader who will best serve those needs. Qualifications may be divided into "nonnegotiable" and "negotiable" items. Nonnegotiables (apart from basic spiritual and doctrinal qualifications) may include earned degrees for an academic institution, cross-cultural ministry for a mission society, professional licensing for a counseling agency. Negotiables are areas of preference, but flexible. These may include age, denomination, years of experience, familiarity with the organization, geographic location, and time of availability for the position. The negotiables should be ordered by the committee in order of importance.
Advance plans must be made for every step. These include making contacts for names of potential candidates, setting detailed procedures for checking references, knowing how to approach the candidate, interviewing procedures, understanding steps in negotiating a contract, establishing rules for making the final decision, and understanding how to make the transition from candidate to executive officer.
4. Work for excellence. This includes even the mechanical details of letters, phone calls, visits, and dress. Quality pastors and leaders receive many contacts and they learn to distinguish between the haphazard approach and the qualitatively superior approach. Mimeographed letters and questionnaires won't do. The candidate who receives a well-written letter followed in a few days by a warm and gracious telephone call will be far more inclined to consider your inquiry favorably.
5. Approach the process from the candidate's perspective. Instead of working solely from the point of view of the church or organization, make every attempt to see things through the eyes of a potential candidate. There are many examples of special consideration that can be given. You know all about your city and area, but does he or she? Send brochures and maps. Provide a car for use the day before or after the initial interview. Anticipate expenses and send the money in advance for plane tickets, airport parking, long-distance calls, baby sitting while away, and any other expenses. Invite the candidate's spouse to come along for every interview.
Remember that by the time you contact a candidate, you have given lots of thought to the whole process. Give him time to think through the process. Allow him to ask his questions when you visit with him and tell him to call you (collect) with those questions that don't occur to him until after you have gone.
6. Maintain Christian ethics and integrity. Do not withhold information about the new pastor/leader. For example, it is not fair to hide the fact that he lost his last job because of some personal sin. Such secrecy is a time bomb that will eventually hurt the leader and the institution.
Be completely open with the candidate. Avoid unofficial promises of "extras." You don't want a disillusioned leader who discovers that the search committee misled him in order to recruit him. The church's or the organization's strengths and weaknesses, opportunities, and problems should be honestly shared. Questions about salary, vacation, honoraria, and perquisites should be clearly understood and exchanged in writing.
7. Be thorough. Time pressure should not force sloppiness. Multiple references are a must. The formality of written references and restrictions made by federal law make telephone contacts or face-to-face visits far superior. Pursue secondary and tertiary references. Find out about the candidate from those he worked for and from those who worked for him. Ask his permission to run a credit check and consider requesting medical and psychological assessments. Find out about his spiritual example, marriage, family, preaching, administrative skills, fundraising experience, doctrinal position, devotional habits, writing abilities.
Research shows that in over 90 percent of cases the future behavior and performance of the leader will be an extension of past behavior and performance. If you want to find out what he will do, find out what he has done. Don't be so naive as to think that there are going to be drastic changes in the candidate when he signs on with your church or organization.
Few decisions will have greater long-term impact on an organization than those made by the search committee for executive leadership. The task should be fulfilled as a significant service to God.
Leith Anderson is senior pastor of Wooddale Baptist Church, Minneapolis, Minnesota.
Have something to add about this? See something we missed? Share your feedback here.
Our digital archives are a work in progress. Let us know if corrections need to be made.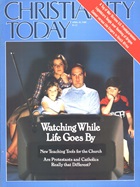 This article is from the April 18 1980 issue.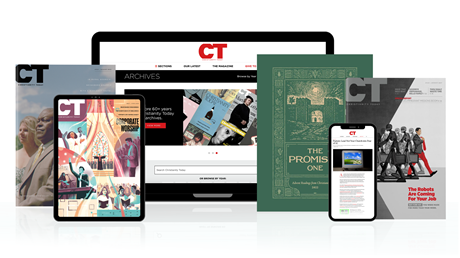 Subscribe to Christianity Today and get access to this article plus 65+ years of archives.
Home delivery of CT magazine
Complete access to articles on ChristianityToday.com
Over 120 years of magazine archives plus full access to all of CT's online archives
Subscribe Now
Minister's Workshop: Search Committees: A Strategy for Success
Minister's Workshop: Search Committees: A Strategy for Success