Reaching their unchurched audience demands a level of excellence equal to the best secular efforts.
When it comes to communication by means other than the spoken word, Christians are usually in the process of catching up with the best in the secular media.
One exception to this generalization are the efforts by Twentyonehundred Productions, the multimedia ministry of Inter-Varsity Christian Fellowship. Ten years ago, when multiimage was in its infancy, Fuller Seminary student Eric Miller was serving with African Enterprise in Nairobi, Kenya, during his "middler year in mission." Looking for a way to compete successfully for the imagination of Kenyan students, he began experimenting with many different approaches, but always with disappointing results. Then he decided to use as discussion starters some of the lyrics of the more poignant popular songs. Student curiosity about the psychedelic light shows they were reading about in the Western press gave rise to the idea of adding a visual dimension to what he and Don Andresen, now head of Clearlight Productions in Fort Lauderdale, Florida, were to bill as a psychedelic light and sound show.
The premiere at a girl's boarding school attracted nearly every student and 113 decisions for Christ followed. This new evangelistic concept aroused the same response each time it was tried. Miller then transported the idea to Cape Town, South Africa, where further refinement incorporated the talents of "the more artistic photography-type students" there.
When he returned to Fuller, Miller shared his successful experience with his Inter-Varsity coworkers. In November 1969, he was assigned to experiment with a show for evangelism in the southern California area. The initial experiment, titled Twentyonehundred (the Roman numeral equivalent of MMC, an acronym for multimedia communication), was previewed in April 1970 at California State University at Fullerton. Two years later the growing Twentyonehundred team, now working full-time for the southern California region of Inter-Varsity, refining the multiimage evangelistic event, was invited to become a part of the national organization in Madison, Wisconsin.
Each year their multimedia ministry has broadened to include more shows (there are currently 15 productions available using a two-projector, one-screen format). The name was amended to Twentyonehundred Productions to reflect the transition from just one, traveling, multiimage, multiscreen event. They have been responsible for more plenary program time at the last two Inter-Varsity Urbana conventions than any other single activity or speaker. At Urbana '79 the program theme in the assembly hall each evening was either introduced or summarized by two-projector media shows of from 13 to 20 minutes in length.
The opening show, Doors of Opportunity, traced the history of missions through 2,000 years. Missions no longer felt to students like an invention of the '50s.
Midway through the five-day convention the show, It Takes All Kinds—building on the talks by Luis Palau and others—captured the spirit of servanthood and mutual respect that Christians of Third World countries are seeking from Western missionaries. The scope and emotional impact of that presentation filled a space larger than the assembly hall itself.
For these shows, eight huge projection screens were suspended from the overhanging light platform under the domed ceiling of the assembly hall. A viewer could see at least one, and from some seats, as many as three of the screens. There was a ring of projector stations situated around the hall, each with a pair of projectors and a computerized dissolve unit aimed at one of the eight screens.
All five shows prepared for Urbana '79 are to be included in the expanding repertoire of Twentyonehundred's portable, two-projector shows, which are available to Inter-Varsity chapters. The inventory of these shows, besides the two already mentioned, includes: Family Portraits, a sweeping but sensitive survey of the challenges confronting the church in different parts of the world; The Effective Ambassador, a special teaching tribute to the creative, evangelistic style of the late Paul Little; The Promise and the Blessing, a biblical mandate for world evangelization; and others that are instructive in aspects of missiology or personal spiritual growth and discipleship.
These excellent teaching tools may also be rented by churches, camps, and other interested groups through local Inter-Varsity chapters or directly from Twentyonehundred Productions in Madison. The specialized nature of the screening equipment is a barrier to broader distribution and use of the shows, even though Inter-Varsity has distributed 110 of the necessary Pocket Star projection systems to local I–V chapters. There are perhaps another 30 units owned by other Christian organizations.
Each of these Clearlight units is comprised of two Kodak Carousel 110 projectors, a built-in cassette tape player for soundtrack and recorded control signals, a computerized dissolve unit, and a small, collapsed screen—all organized in a package the size of a large suitcase and weighing only about 40 pounds. (Clearlight Productions, founded by Don Andresen, Miller's coworker in Kenya, makes the best, most versatile control equipment for multiprojector presentation, according to one Kodak executive with whom I talked.)
Miller believes the productions contain sufficient gospel content for the Holy Spirit to use singularly to bring people to a decision for Christ. They are, however, designed to be the centerpiece of a total evangelistic event or package. The images and soundtrack are a springboard Christian students can use for discussion about spiritual matters with their non-Christian friends.
Intense work with their new multiimage show, Habakkuk, has kept the tour team home most of this past year. A nearly completed but unrefined version was screen-tested for audience reaction at Urbana '79. Using a battery of 28 computerized projectors, an original musical score played through a three-track sound system, and a screen 50 feet long, Habakkuk proclaims on a grand scale with power and relevance the good news of God's imminent and sovereign involvement in history. The depiction of God actively judging unrighteousness on personal, national, and international levels is both convincing and, at moments, frightening. The way this show has been put together—the pacing, the visual impact, the soundtrack, the practically prophetic development—produces a masterful total effect.
But why a multiimage, huge-screen format? I prodded Eric Miller and other team members to justify their choice of medium—especially considering the difficulties of portability and setup.
An early consideration was cost: mixing a sequence of slide stills with sound is less expensive to produce than motion picture film. But Miller and producer Scott Wilson also judge that multiimage communicates more powerfully than film. It demands audience involvement to make sense of the pieces and moments of reality thrust into new and unfamiliar relationships on the screen. The format can function effectively independent of a story line, and it adjusts easily to sudden shifts in topical or thematic constructions. The images, because they are distinct, are perceived as representative or typical, rather than as depictions of particular persons, things, or events. The images are readily perceived as symbolic.
The context in which the visual slices of reality are cast allows for a controlled interpretation of their relationship to one another. Sometimes still images race across the screen in animation-like sequence; at other times, the entire screen forms one congruous scene; at still other times, one image breaks up into many different images, one dissolving into another. The pace is ever-changing, unpredictable, all-absorbing. It is at once fluid, like film, yet it retains the sense of real, related things; there is a capacity to deal with tremendous amounts of content in the 50-minute life of a show.
The I–V team has stayed free of the impulse to think of their work as entertainment—a prejudice most people have toward film. Another drawback to working in film is the high degree of audience expectation. People have become accustomed to a very high level of sophistication in film, whereas slide presentations done at a professional level are still rare.
Paul Byer, who has been with Inter-Varsity for 29 years, offered his evaluation of Twentyonehundred's effect on the total ministry of Inter-Varsity. "It has changed the scope of our ministry from being totally verbal. Using visuals which are generally contemporary has involved Inter-Varsity in contemporary issues in a way that was not necessarily true before. It has helped us to be a more biblical movement in the sense that it is taking the concepts of Scripture and forcing us to rethink what it means for them to be brought into our culture today."
Have something to add about this? See something we missed? Share your feedback here.
Our digital archives are a work in progress. Let us know if corrections need to be made.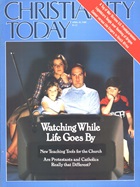 This article is from the April 18 1980 issue.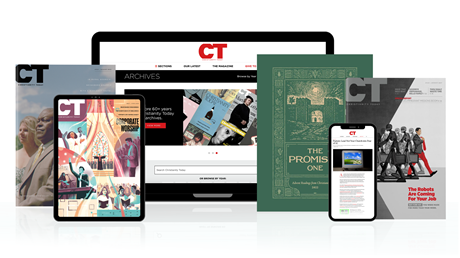 Subscribe to Christianity Today and get access to this article plus 65+ years of archives.
Home delivery of CT magazine
Complete access to articles on ChristianityToday.com
Over 120 years of magazine archives plus full access to all of CT's online archives
Subscribe Now
Refiner's Fire: Twentyonehundred: Images that Pierce the Soul
Refiner's Fire: Twentyonehundred: Images that Pierce the Soul