If you don't learn something new this week, you'll sound canned, frozen, dried out.
A growing minister sets the pattern for a growing church. A minister's wife can help him grow by setting up conditions conducive to their mutual growth: growing becomes a shared adventure. The whole church soon takes on a pastor's quality of life and growth—or lack of it.
If you are going to bring life to others, you have to stay alive yourself. One of the dictionary definitions for life is capacity for growth. Church members think that because you went to school all those years, all you have to do is stand up and a sermon comes out. Or open your mouth, and a new program for the Sunday school springs forth full-blown. But you and I know nothing really good comes out that hasn't been freshly planted in your mind and experience, then watered, fertilized, weeded, and brought painstakingly to maturity. Whether you're a preacher, or a minister whose primary job is teaching, visiting, directing youth or Christian education, you need to have learned something new this week. All those good things from the dear dead past will sound canned, frozen, dried out, or rotten. You have to develop a lifestyle that stimulates growth. How can a minister help himself to grow?
1. A minister can grow through preparation for teaching or preaching. Some feel they must get their own devotional food from Bible reading apart from sermon preparation. Others preach out of their own devotional lives. Or they gather spiritual food for themselves as they study, allowing plenty of time to stop, meditate, and pray. Either way works. Block off ample hours for wide study and deep pondering. You grow through expounding the Bible. A minister grows as he hears and studies great pulpit masters.
2. A minister can grow in his vacations. We have made a lifelong hobby of travel, even on a minister's salary. Since both of us are crazy about the same things, we have made ridiculous sacrifices to gain a new experience. To us a vacation doesn't count as a vacation unless we have learned something new to take back to the job. Summer conferences and courses can also contribute to growth.
3. A minister can learn from his church members. Bart once had a ponderous verbal style. A friend in the church gave him Rudolph Flesch's book, The Art of Plain Talk, which started us on the route to talking plain English.
Other members have made suggestions, both large and small; both pleasant and unpleasant. Bart's father, also a pastor, had mastered the art of receiving criticism. He used to say, "When you get criticism, learn what you can from it. Thank God for the person who gives you a kick. He may prove your best friend."
4. A minister can grow through discussing the range of life with a soulmate. He can help her to grow through interacting with her. She can inspire him. Together they can search out illustrations for sermons from daily life, from travel, or from books. They can think and talk in terms of applying spiritual truths to everyday problems; to problems in the church; to problems in people's lives; to problems in organizations. A minister will grow as he encourages his wife to grow. As he encourages her to do her own things, his world will expand.
But perhaps a pastor's wife lives in a different world from his. Perhaps he needs a wife quite different from himself as an emotional complement. He may find spiritual or intellectual interaction with a fellow pastor, or with a member of his church. The point is, he must keep himself open to a point of view other than his own.
5. A minister can grow through suffering. One pastor spent six months at home recovering from a heart attack. He could have spent the time reading, meditating, praying, thinking. He might have grown a foot taller spiritually. He didn't. He simply waited out the entire time, watching television.
6. A pastor can learn by his mistakes. It's not the end of the world if something doesn't turn out right. Admit your mistake, and criticism will collapse. Try something else next time.
7. We can learn from listening carefully to people who are quite different from us. However strong our convictions, listening can give perspective and insight. We grow by understanding other people's thought processes. We grow by getting close to people from backgrounds that are entirely different from ours.
8. A minister can grow by knowing his own children. Innumerable parallels exist between God's relationship with us and our relationship with our children.
9. A minister can grow through his hobbies. Any hobby—gardening, sports, woodworking—can give him illustrations. Hobbies can give insights, new points of contact with other people.
10. A minister can grow through wide reading of magazines and books. There is much that we can skim. Some books prove capable of reshaping our thinking; these may require careful study and rereading.
Growing takes time. But the Bible says, "To every thing there is a season, and a time to every purpose under the heaven: … a time to plant … to build up … to embrace … a time to keep silence, and a time to speak" (Eccl. 3:1–8).
By budgeting, even a minister can allot specific amounts of time for his own development. He can allot other pieces of time for his family, his meetings, his sick people, his friends, his community service. A time budget tells him when to say no; then he can give himself to the one thing he is doing at any given time. And he can do it to the best of his ability in the time allotted to it. A minister's personal growth proves the key to a growing church.
If we are growing, we can be unabashed about where we stand spiritually—as long as we stand firmly in Christ. Margaret's father repeated throughout her childhood that to be was more important than to seem. The idea helps one never to put on a mask in the first place. We can dare to let our real selves show.
The first time Margaret was asked to speak at a retreat she felt appalled. To her, people who led retreats seemed like special people, very holy. She tried too hard. Later she learned she could be honest; she could be herself. When she shared her own stages of growth, some people even grew beyond her. At any stage of growth in the Christian life, we can hold before people the excitement of the process of growth.
The man or woman of God holds onto God with one hand, onto people with the other. He will never encompass all the riches of God in Christ Jesus; neither will he ever plumb all the depths of people. But he can keep trying. If he does, he'll "flourish like the palm tree; he shall grow like a cedar in Lebanon." (Ps. 92:12).
MARGARET J. AND BARTLETT L. HESS
Coauthors Margaret and Bartlett Hess, husband and wife, have ministered for 25 years at Ward Presbyterian Church in Livonia, Michigan, where Dr. Hess is senior pastor.
Have something to add about this? See something we missed? Share your feedback here.
Our digital archives are a work in progress. Let us know if corrections need to be made.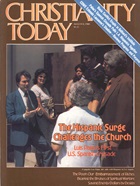 This article is from the August 8 1980 issue.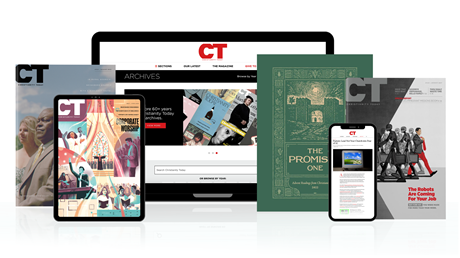 Subscribe to Christianity Today and get access to this article plus 65+ years of archives.
Home delivery of CT magazine
Complete access to articles on ChristianityToday.com
Over 120 years of magazine archives plus full access to all of CT's online archives
Subscribe Now
Minister's Workshop: A Lifestyle that Stimulates Growth
Minister's Workshop: A Lifestyle that Stimulates Growth