The "successful" Christian life must have built into it a certain expectation of failure.
Now and again, we must reread those passages of Scripture we didn't underline—the truths we did not like, the passages that threaten certain of our theological schemes. Particularly, we need to take a second look at what Scripture says about "Christian victory."
It is not enough to hear or read only verses about the abundant life. We need also biblical teaching when we are not only Spirit-filled, but physically tired. While the joy of the Lord is mine by his grace, I find serving him very trying, very difficult. The wind is seldom I to my back. Often I feel burned out. The "other side of Jordan," with all its rewards and undeserved blessings, is simply not what I was promised it would be.
Too often our message of "victory in Jesus" is like the half-time highlights on ABC's Monday night football. The network replays only the touchdowns and the long gainers. Rarely do we see the plays that lost yardage, the broken patterns, dropped passes, or injuries. In like manner, are not we evangelicals sometimes guilty of reporting primarily our spiritual highs, implying that they are the norm, and that spiritual lows just don't occur?
The "victorious Christian life" gospel is at best only half true. Don't misunderstand: I don't believe for a moment that being in union with Christ in his church is misery. But it's patently not all victory. To gain victory, you must have battles, some of which will end in defeat. And whoever heard of winning battles without casualties? Even "winning-isn't-everything-it's-the-only-thing" football coaches don't believe that!
Charles Swindoll writes, "Somebody needs to address the other side of the Christian life. If for no other reason than upholding reality, Christians need to be told that difficulty and pressure are par for the course. And no amount of biblical input or deeper-life conferences or super-victory seminars will remove the struggles."
If we expect a trouble-free walk with Jesus Christ, we will not be prepared to handle the inevitable trials and failures that will confront us. Was it not our Lord himself who promised, "In the world you shall have tribulation" (John 16:33)? Fortunately, he went on to say, "but be of good cheer: I have overcome the world." The Christian life is victory only in the midst of warfare.
Think about the "Promised Land" messages you have heard. Remember how bad they said the wilderness was? (All Israel had there were meals provided, cloud cover by day, fire light by night, and a God who, even in the midst of their rebellion, was "a father to them.") And how marvelous everything would be once we crossed the river? "Everything will be all right, Brother. Right now you can experience the glory of the other side." Somehow I never saw the price of the glory!
Consider just a small sampling of the problems Israel encountered after crossing the Jordan: the battle of Jericho; defeat at Ai; Achan in the camp; the capture of Gibeon; the burning of Hazor; the burdensome task of apportioning the land; the death of Joshua; Israel's turn to Baal; Gideon's tiny band; more national apostasy; oppression of Israel by Amnon and later by the Philistines. All of this before the Book of Judges ends! Then comes the tumultuous kingdom era and 70 years of Babylonian captivity. And this is all sweet victory?
There is no victory without conflict!
I once worked for a Christian leader who boldly proclaimed, "I have no problems." He was part of the Jesus-will-do-all-through-you crowd. But in spite of his optimism, he has lost three layers of his top leadership in 10 years. Such an unreal view of life brought about enormous internal conflict in the lives of his associates.
God help us all to resist being regular-sized Christians who make giant-sized claims. Spiritual life on this earth simply is not Eden extended. As British evangelical Michael Harper writes, "We should not make the mistake of thinking that giving oneself to Jesus means moving the gear lever into neutral and coasting downhill, folding our hands and letting the Lord live His life through us. That is an irresponsible cop-out."
Countless evangelicals are buying a "victorious life" theology that tends to promise that once a person is filled with the Spirit, problems are eliminated or at least greatly reduced. Some charismatics are currently facing a sort of "name it and claim it" approach, often accompanied by promises of prosperity for all. But when we allow the Book of Acts to speak to this matter of life in the Spirit, we get a far different picture. In addition to the ecstacy of the post-Pentecost miracles, we also find that Peter and John are arrested; Ananias and Sapphira fall over dead; Peter and the apostles are jailed; Stephen is murdered, followed by massive persecution of the church; Simon the sorcerer causes great trouble; the Jews plot to kill Paul; Herod kills James; Paul is stoned; Paul and Silas are arrested at Philippi; riots start in Ephesus; Paul is mobbed and imprisoned in Jerusalem; and a great storm at sea shipwrecks him at Malta. It is in the midst of these troubles and defeats that the church is called to victory.
The "successful" Christian life must have built into it a certain expectation of failure.
One of my heroes in church history is Saint Athanasius. Under the authority of Bishop Alexander, he won a battle for the orthodox faith against the heretic Arius and his followers at the Council of Nicea in A.D. 325. But the war did not cease simply because 318 bishops signed the document we know today as the Creed of Nicea. Subsequently, Athanasius was made bishop of Alexandria and was five times in exile, banished for a total of at least 17 years. His life was in constant danger. It took decades to clean Arianism out of the churches. Was he not victorious? Yes—but at severe cost.
Luther's life, too, was a constant battlefield. They called him almost every name in the book. His adversary, John Eck, publicly dubbed him "heretical, erroneous, blasphemous, presumptuous, seditious, and offensive to pious ears."
We see John Wesley as a model of piety and godliness, but the pain and agony the man endured were almost without parallel. On one occasion, a cohort of Wesley's, William Morgan, died after a long illness. A false rumor spread that Wesley had caused his death by imposing on him excessive fasting. Hostility to Wesley increased, and people maligned him all the more. Disappointment was a constant companion to the victorious John Wesley.
Some modern evangelicals have taught a bogus notion of victory that has made people unrealistic and passive. Christian victory somehow has been made synonymous not with struggle and pain, but with living the "good life." The smell of smoke and fire that permeated the robes of the ancients has all but disappeared from our vestments. We have been tamed. We have redefined tolerance to justify a cessation of hostilities with the powers of evil. Some of our most visible leaders are succumbing to immorality, divorce, and even a quiet tolerance of "responsible" homosexuality. But though often unrepentant, they still frequently appear on the speakers' circuit, because we're into being "nice."
Sister Mary Ann Walsh, writing in U.S. Catholic, charges Western Christendom with having undergone a "change in attitude which sees the church militant softening into the church hospitable." Yet what are our marching orders in Scripture? "If the world hate you, ye know that it hated me before it hated you" (John 15:18). "But he that shall endure unto the end, the same shall be saved" (Matt. 24:13). "Blessed are ye, when men shall revile you, and persecute you, and shall say all manner of evil against you falsely for my sake" (Matt. 5:11).
Christian victory is not being "Overcomers, Retired." The battles go on. Here are three areas for needed victory:
1. Let us encourage our churches to substitute salt and light for some of the sugar and spice. We need to begin again to know the sort of victory and blessing and humdrum hard work that comes from serving the poor, the widowed, the infirm, the lonely. Jesus Christ often ministered to the people nobody else wanted.
2. Though people won't like us for it, we can draw our lines where the Scriptures do. We can confront and care for those Christians toying with divorce, greed, gossip, sloppy or unethical practice in business, and immorality. We must be aggressive in righteousness.
3. Let us make our spiritual accounts accurate, testifying to God's faithfulness in failure, not just in success. In testifying to our conversion to Jesus Christ, we must not make the B.C. days worse than they really were, or our A.D. days better. If we have occasion to write of our ministry or of that of our church or organization, we need to tell both of those saved and of those who leave the faith—and why. We must report as well about those for whom prayer was offered and who were not healed.
May the Lord grant us victory over the belief that we always have to be victorious!
Carl F. H. Henry, first editor of Christianity Today, is lecturer at large for World Vision International. An author of many books, he lives in Arlington, Virginia.
Have something to add about this? See something we missed? Share your feedback here.
Our digital archives are a work in progress. Let us know if corrections need to be made.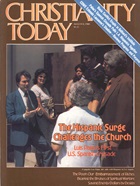 This article is from the August 8 1980 issue.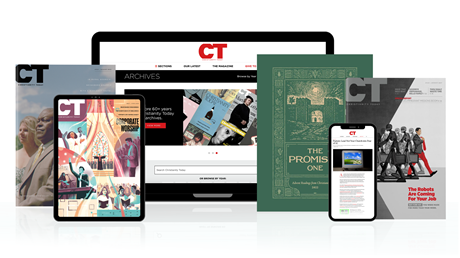 Subscribe to Christianity Today and get access to this article plus 65+ years of archives.
Home delivery of CT magazine
Complete access to articles on ChristianityToday.com
Over 120 years of magazine archives plus full access to all of CT's online archives
Subscribe Now
Spiritual Warfare: Bearing the Bruises of Battle
Spiritual Warfare: Bearing the Bruises of Battle