Musical jewels that sparkle with excitement and emotion.
Christmas is the most festive season of the year musically, and Christmas recordings are a significant way to enjoy this music at home. Each year for many years we have reviewed the new Christmas albums, both for our own enjoyment and as a small part of the preparation for our church music and broadcast ministries. We are frequently asked to recommend albums we especially enjoy. Thus, from the extensive material available, we have chosen what we consider to be the 10 finest Christmas records that are currently on the market. All of these should be available in major record stores.
Choosing the exceptional 10 was at once an immensely enjoyable project and a frustrating one: many superb albums simply could not be included. The ones listed have been perennial favorites in our home. Because of their uniformly high level of musical excellence in originality and performance, they convey to an exceptional degree the excitement and emotion of the Christmas story. In fact, we have performed almost all of the choral and classical selections on these albums in our various Christmas concerts.
Collections of arrangements and relatively short original and classical compositions are emphasized; no major works are included, although many Christmas master-works are on record. All classical selections, with one or two exceptions, are performed with strict integrity to the style of the composer. The result is la crème de la crème in Christmas recordings.
1. The Many Moods of Christmas, The Robert Shaw Chorale and orchestra; RCA LSC-2684. First released in 1963, this is still the ultimate Christmas album. Robert Shaw and Robert Russell Bennett—the latter one of America's premier orchestrators and arrangers for several decades—have brilliantly woven together 18 Christmas hymns and carols, mostly familiar, into four suites. These cover the total range of Christmas moods, from the energetic and playful Scottish "Highland fling" setting of "I Saw Three Ships" to the whimsical "Pat-a-Pan" and the regal processional of "O Come, All Ye Faithful."
2. The Greatest Hits of Christmas, The Philadelphia Orchestra and Chorus: RCA LSC-3326. Eugene Ormandy, William Smith, and Robert Page conduct 14 spectacular arrangements of Christmas favorites scored by Arthur Harris. Using the same type of full orchestra as Bennett, Harris achieves many outstanding musical effects in this 1972 release. The rollicking "Go, Tell It on the Mountain" and the romantic "I'll Be Home for Christmas" alone are worth the album.
3. The Greatest Hits of Christmas, Volume 2, The Philadelphia Orchestra and Chorus; RCA ARL1-0257. It is rare for a sequel to be fully the equal of its predecessor, yet such is unquestionably the case in this 1973 recording. Arthur Harris has fashioned 14 more stunning arrangements of familiar Christmas music, starting with a curtain-raising version of "Hark! the Herald Angels Sing." In "God Rest Ye Merry, Gentlemen," a galloping figure in the orchestra represents a rider spreading throughout the countryside the joyous news of Christ's birth.
4. Christmas in Cambridge, The Clare College Singers and Orchestra, Cambridge; Capitol, SP-10567. English conductor John Rutter arranged all 12 numbers and composed two of them, one his internationally famous "Shepherd's Pipe Carol." (For a discussion of John Rutter and his music, see Refiner's Fire, p. 36). The settings are constantly imaginative as Mr. Rutter brings a fresh, new approach to familiar Christmas music.
5. Carols for Choirs, The Bach Choir and Philip Jones Brass Ensemble; Peters International PLE-091. Sir David Willcocks conducts 14 selections from the 1976 Family Carols concert in Royal Albert Hall, London. Especially notable among this collection of arrangements and original compositions are two by John Rutter: the "Donkey Carol," with its intriguing and affectionate representation in 5/8 of a donkey carrying Mary to Bethlehem, and the Latin American exuberance of "Jesus Child." Alan Hoddinott's "Puer Natus" is also outstanding—but then, so are they all.
6. Music of Christmas, Percy Faith Orchestra; Columbia LE-10082. This first orchestral Christmas album made its initial appearance in the mid-1950s, but it is as bright and fresh as ever. It has been re-released by popular demand. Among the 14 selections is a rarely heard tune for "The Holly and the Ivy." Music of Christmas, Volume 2, is also available (Col. CS-8033), and includes 14 more arrangements in the same style, including the hymn, "Christians, Awake!"
7. Love Came Down at Christmas, Frank Boggs, soloist; Word WST-8080. Mr. Boggs, a bass-baritone, has recorded 20 albums for Word (he was their first artist); this one is his personal favorite. Of special interest among the 12 selections is his own setting of Christina Rosetti's poem, "Love Came Down at Christmas." Whether singing "Once in Royal David's City" or "The Birthday of a King," Mr. Boggs always communicates the intrinsic meaning of the song, and every word is understandable. The fine choral and orchestral accompaniments are by conductor Paul Mickelson.
8. Great Choral Music of Christmas, Roger Wagner Chorale and Orchestra; Capitol STBB-488. This two-record set features 20 numbers drawn from albums released in the 1960s, all of which are out of print. The arrangements exemplify the rich choral sound that was characteristic of the writing of Wagner and Salli Terri, such as "He Is Born" (Il est né), and "Jesus, Jesus, Rest Your Head."
9. A Song for Christmas, Liverpool Philharmonic Choir, tenor Robert Tear, Royal Liverpool Philharmonic Orchestra, Edmund Walters, conductor; EMI HMV Greensleeve ESD-7024. This "Carol Concert at the Liverpool Phil." is another choice English recording. Conductor Walters has arranged 17 international selections—11 of them rarely heard—for choir, children's chorus, tenor, harp, and orchestra. Especially enjoyable are "Babe of Bethlehem" and "Ding-Dong-Doh." "Born in Bethlehem" features antiphonal effects between the two choirs.
10. Nativity, Atlanta Symphony Orchestra and Chorus, Robert Shaw, conductor; Turnabout QTV-S 34647/8. This two-record set is based on Mr. Shaw's celebrated "Christmas Festival" concept, which he pioneered while working with Toscanini and has refined annually, first in Cleveland and now in Atlanta. It is an eclectic combination of classical selections and arrangements of familiar Christmas music. Although emulated by many in recent years, in this album Shaw demonstrates that he is still the master of the genre, and that good choral sound resides primarily in the mind of the conductor as the Atlanta Symphony Chorus again brings to life the classic Robert Shaw sound. This album brings the concert into your home, including four of Alice Parker's "Seven Carols for Christmas" and compositions by Berlioz, Bizet, Brahms, Handel, Menotti, Praetorious, Respighi, and Vivaldi. Especially worshipful is Bach's "Jesus, Shepherd My Beginning."
Ten Treasures 'Out Of Print'
Many superior albums go out of print quickly, but they can occasionally be found and are worth any effort to locate. Among these we would recommend the following:
1. A Christmas Treasure, Julie Andrews, arranged and conducted by André Previn; RCA LSP-8329. A must!
2. A Musical Christmas Tree, Morton Gould orchestra; RCA LSC-3110.
3. Christmas Carols, Temple Church Choir (London); Angel S-35845.
4. Season's Greetings, string orchestra, Felix Slatkin, conductor; Liberty LSS-14013.
5. A Christmas Festival from "The Feast of Lights," University of Redlands Choir, J. William Jones, conductor; Epic BC-1271.
6. The Christmas Album, Virgil Fox, organ; Command CC-11032-SD.
7. The Glorious Sound of Christmas, the Philadelphia Orchestra and Temple University Concert Choir, Eugene Ormandy, conductor; Columbia MS-6369.
8. What Child Is This? E. Power Biggs, organ, Gregg Smith Singers, Texas Boys Choir, brass and percussion ensemble, Gregg Smith, conductor; Columbia MS-7164.
9. Hark! the Herald Angels, Virgil Fox, organ; Capitol SP-8531.
10. The Music of Christmas, Hollywood Bowl Symphony, Carmen Dragon, conductor; Capitol, SP-8393.
I Saw An Angel Standing In the SunRev. 19:17
My world transfigured was, and I apart
Felt singularly stilled, saw from my heart
The blue half-dome of light particulate
Arrested, I entranced, and at the gate
Awaiting. structure, forces, stresses all
Revealed now visible as powers tall
And bearing, unconstrained in solemn peace
The linking chains, yet careless of release.
Thus caryatid strong, they claimed their strength
From Love, who beyond height or breadth or length
Surmounted all. We waited to begin.
I, conscious of their joy, their eyes, came in.
The consciousness remains amid the whirl,
The moving shift and strain of our dense world,
As bright disorder must perplex and blind
The eyes of all, save for the conscious mind
Awake, enlivened, knowable and known
In all the life of Christ. I must be grown;
Thus no retreat, no sheltered haven here,
From action, choice, response, or pain unclear.
This dark estate more lovely grows, not less,
For I am where the Mover stands at rest.
—RICHARD JAMES SHERRY
The Bells, The Stars
We have been having
epiphanies, like suns,
all this year long.
And now, at its close
when the planets
are shining through frost,
like runs
like music in the bones,
and the heart keeps rising
at the sound of any song.
An old magic flows
in the silver calling
of a bell,
rounding
high and clear,
sounding
the death knell
of our old year,
telling the new appearing
of Christ, our Morning Star.
Now burst,
all our bell throats!
Toll,
every clapper tongue!
Stun the still night!
Jesus himself gleams through
our high heart notes
(it is no fable).
It is he whose light
glistens in each song sung
and in the true
coming together again
to the stable,
of all of us: shepherds,
sages, his women and men,
common and faithful,
wealthy and wise,
with carillon hearts
and sudden stars in our eyes.
—LUCI SHAW
Carl F. H. Henry, first editor of Christianity Today, is lecturer at large for World Vision International. An author of many books, he lives in Arlington, Virginia.
Have something to add about this? See something we missed? Share your feedback here.
Our digital archives are a work in progress. Let us know if corrections need to be made.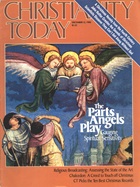 This article is from the December 12 1980 issue.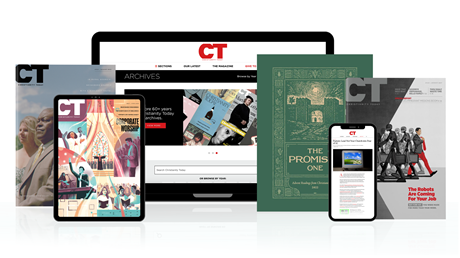 Subscribe to Christianity Today and get access to this article plus 65+ years of archives.
Home delivery of CT magazine
Complete access to articles on ChristianityToday.com
Over 120 years of magazine archives plus full access to all of CT's online archives
Subscribe Now
The Ten Best Christmas Records
The Ten Best Christmas Records