Priming the Preacher
The most valuable lesson I learned in seminary was imparted to me by a professor who stole the idea from John Henry Jowett at an unguarded moment when Jowett was combing his moustache and not paying attention.
"If you have trouble getting a sermon from a text," he advised, "just try to imagine how some great preacher would handle it. Ask yourself, 'How would Joseph Parker handle this text? What would Maclaren do with it?' This will stimulate your creative homiletical juices."
Well, last week I tried it. Monday morning I sat at my desk (while my friends were playing golf), I stared at my text, and I got nowhere. Then I said to myself, "What would Robert Schuller do with this text?" Immediately I thought of window panes, and my conscience stabbed me. I had promised my wife to help her wash windows. That took care of my creative juices for Monday.
Tuesday I was back at my desk (I'm very disciplined), and I said to myself, "What would Balthasar Hubmaier do with this passage?" Don't ask me why I thought of him, because his name flashed into my mind unbidden. I spent the rest of the morning scanning church history books and trying to identify Dr. Hubmaier. This detoured my creative juices; I spent the rest of the day dusting my library (church history books get terribly dusty) and rearranging the books. I still don't know who Hubmaier is.
Wednesday morning I determined to write a sermon if it killed me, and it almost did. "What would Maclaren do with this text?" I muttered. "No doubt he would find three points. He always said he fed his people with a three-pronged fork." The mere mention of the word "fork" started some other juices moving, so I crept to the kitchen for a snack. Before I knew it, my wife had me on a ladder helping her reorganize the pantry. I fell off and nearly broke my neck. That ended the homiletics for the day.
The rest of the week found me in panic. Thursday I envisioned Jerry Falwell and spent most of the day watching television. Friday I conjured up Martin Luther, and soon I found myself nailing up wallboard in our unfinished attic. By Saturday evening, I was beyond fear: I was petrified. Then I recalled that Spurgeon always prepared his Sunday morning sermon on Saturday evening. Immediately I calmed down, reached for a volume of Spurgeon's sermons, and within an hour I was ready. Spurgeon never preached better!
Thank you, Jowett! Thank you, Spurgeon! Thank you, Gutenberg!
EUTYCHUS X
Concerned
Thank you for your comments on the International Year of the Child ("The IYC: More Harm than Help to the Family," Dec. 7). As a parent, a citizen, a Christian, and a minister, I too am concerned about the harm this movement can do.
Surely there are improvements to be made in parent-child relationships and in the way children are treated in general. But to bring in secular humanism and governmental intervention is not the way to bring godly improvement.
REV. JEFF HOOD
Vandelia Church of Christ
Lubbock, Tex.
I sat in total disbelief as I read for the second time your denunciation of the IYC. I couldn't believe that your journal would carry such a poorly written, biased, unfair attack as this one.
REV. RAYMOND GAYLORD
Cascade Christian Church
Grand Rapids, Mich.
Judicious Review
Thomas Howard's judicious review of the new film Jesus ("A Better 'Jesus' Movie," Dec. 21) was especially cogent regarding representational crucifixions. They are impossible, surely. Only Wafer and Wine can show what only the Word can say. We need our Lord's lessons in art as well as in theology if we are to "treat" Truth graphically.
The scenario by St. Luke may be a modest advance over Cecil de Mille and Franco Zeffirelli, but "special effects" will remain forever superfluous to the simplicity of Incarnation. God save Christian film makers from producing any more "religious movies" out of technological tinsel.
MEL LORENTZEN
Professor of Communications
Wheaton Graduate School
Wheaton, Ill.
Right on Target, Mostly
Thank you for the coverage of the New England Pastors' Conference at Sturbridge ("New England Gears Up for a Third Great Awakening," Dec. 7). As an observer of the New England scene for many years, and a native, I think John Maust's comments were right on target, as far as they went. A bit more perspective on the roots of this conference might have helped your readers to see it as one part of a much larger movement here in New England.
Had the headline read, "New England Pastors Gear Up for a Third Great Awakening," it would have fit the story and the event. But to say "New England Gears Up …" and write about one big meeting of the clergy is to telescope past the labors of many who work alone or in small groups.
JOHN RODMAN
Program Director, WEZE
Boston, Mass.
Love or License
My congratulations on an excellent editorial, "Methodists: Choosing Love or License" in the December 7 issue. You drive home some points that we must see as United Methodists in order to have credibility. I am confident that many in our denomination are applauding your directness and relevance.
REV. DONALD CHARLES LACY
First United Methodist Church
Princeton, Ind.
The vast majority of United Methodists support the sentiments you expressed in that editorial. It has been a source of concern to us who deal with the grassroots of the church that our general boards, for some reason or other, simply do not know what the members are thinking, nor do they reflect the commitment to doctrine consistent and compatible with Christian teaching. This is true not only on issues of human sexuality, but on other issues as well.
I am afraid that if the General Conference does not do something about the problem, we will see a loss of membership and consequently a loss of financial support that will be devastating.
REV. LEOPOLD SCHNEIDER
Pearl River United Methodist Church
Pearl River, N.Y.
God has spoken, or so it is implied in the editorial on the United Methodist Church's attempt to express Christian love toward homosexuals. According to the editorial, God does not permit gays to work for his church. If in fact those words were truly the intent of Scripture, and the accepted practice of today's church, I doubt that any gays would ever realize the salvation that Jesus Christ provides for all people.
The editorial seems to fit into a constant pattern of bigotry, hate, intolerance, and ignorance that this magazine produces month after month. If that is your God speaking through these articles, than I am sure that we worship different Gods, read different Scriptures, and offer Christ's message of hope and salvation either to those "normal enough" or to whosoever believes.
REV. CHARLES W. LARSEN
Metropolitan Community Church
of the Resurrection
Houston, Tex.
Naughty, Naughty
You publish my favorite magazine, but I do not favor pictures in your magazine that contain nudity (see Dec. 7 cover of Raphael's "Alba Madonna"). I realize that Raphael is considered one of the greatest artists of all time, and that the "Alba Madonna" is probably his most famous painting. It seems to me that this picture of the Christ babe in the nude is out of line for Christians in these times.
REV. L. B. FRIEND
Milton United Methodist Church
Milton, Wash.
Sharp, Even Brilliant
Harvie Conn's review and analysis of Monty Python's Life of Brian (Refiner's Fire, Nov. 16) is a classic piece of work. Conn brings sharp, even brilliant perspective to a difficult and murky arena—the role of humor in communicating life's learned and revealed truths.
Congratulations to you and him for excellent help to us who are struggling with such matters.
EDWARD L. GRUMAN
Harvie Conn's review made many valid points. Yet even I, a (lukewarm) fan of Monty Python and of "Saturday Night Live," found some of his statements troubling.
He writes, "The agony of it all is in the Christian's inability to find control as he watches this," by which he means that "the Christian" could not help but laugh uncontrollably at parts of the film. I believe I know many Christians who would be able to control their laughter if they were exposed to Life of Brian, and even more who did control themselves by refusing to patronize the film.
The advance publicity certainly indicated where the film was coming from, and to what depraved depths it might plunge. Perhaps "the Christian" should be critical not of how such films are made, but that they are made at all.
ANDY SAYLOR
Perkasie, Pa.
Have something to add about this? See something we missed? Share your feedback here.
Our digital archives are a work in progress. Let us know if corrections need to be made.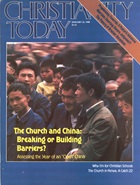 This article is from the January 25 1980 issue.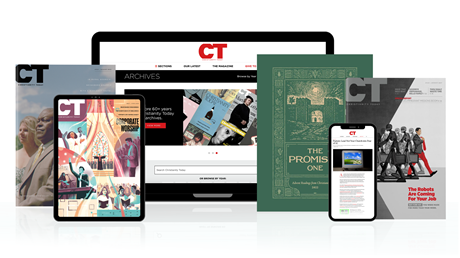 Subscribe to Christianity Today and get access to this article plus 65+ years of archives.
Home delivery of CT magazine
Complete access to articles on ChristianityToday.com
Over 120 years of magazine archives plus full access to all of CT's online archives
Subscribe Now
Eutychus and His Kin: January 25, 1980
Eutychus and His Kin: January 25, 1980