Must specialized ministry drive wedges between evangelism and social action?
Six months have passed since the World Council of Churches Commission on World Missions and Evangelism Melbourne Conference, "Your Kingdom Come," and the Lausanne Committee for World Evangelization Pattaya Consultation, "How Shall They Hear?" Both were concerned with the church's mission in the world. Melbourne listened attentively to the cries of the poor and the oppressed. The LCWE Consultation on World Evangelization (COWE), on the other hand, concentrated on how to evangelize the world's unreached peoples.
The distinction between the two conferences, between concern for the poor and concern for the lost, should not be over-pressed, however. At neither conference was there a total disjunction between these two Christian responsibilities. At COWE one miniconsultant focused on refugees, and another on the urban poor. Similarly, Melbourne did not altogether disregard the necessity of evangelism, as some have unjustly said. Its Section II declared that "the proclamation of the gospel to the whole world remains an urgent obligation for all Christians," and its Section III that we have a "special obligation to those who have never heard the good news of the kingdom."
Nevertheless, the difference in emphasis remains. The Melbourne documents pulsate with indignation over human injustice and with longings to liberate the oppressed, whereas their call for world evangelization lacks a comparable passion. As for COWE, its almost exclusive preoccupation with evangelism led to the issue of "A Statement of Concerns," which originated with Third World evangelical leaders but was quickly signed by a widely representative group of more than 200 others. Although it recognized the useful work done since Lausanne by the committee's Strategy and Theology groups, it went on to criticize it for seeming to have gone back on the Lausanne Covenant's commitment to both evangelism and sociopolitical involvement, and for not being "seriously concerned with the social, political and economic issues … that are a great stumbling block to the proclamation of the Gospel."
The LCWE's executive, to whom the "Statement of Concerns" was addressed, invited three of its leading signatories to meet them and elaborate their criticisms, and was able to assure them that it had no intention of going back on the Lausanne Covenant. Indeed, the Thailand Statement (overwhelmingly endorsed by the participants on the last day, with only one dissenter) includes these sentences: "Although evangelism and social action are not identical, we gladly reaffirm our commitment to both, and we endorse the Lausanne Covenant in its entirety. It remains the basis of our common activity, and nothing it contains is beyond our concern, so long as it is clearly related to world evangelization." It then goes on to reaffirm the covenant's declaration that "in the church's mission of sacrificial service evangelism is primary," and explains the reason for this primacy in the following terms: "This is not to deny that evangelism and social action are integrally related, but rather to acknowledge that of all the tragic needs of human beings none is greater than their alienation from their Creator and the reality of eternal death for those who refuse to repent and believe."
Meanwhile, can anything be done to dissipate the current confusion? My friend David Hesselgrave (see "Tomorrow's Missionaries," July 18 issue), while saying that he thinks it permissible to opt for my wide definition of "mission" as "everything the church is sent into the world to do," asks whether I mean to involve "missionaries" in this "everything," and invites me to be explicit on this point. I am happy to oblige.
It seems to me important to distinguish between polarization and specialization. That is, although we should not polarize on this issue—some Christians defining mission in terms of evangelism and others in terms of social action—we must accept the reality that God calls some to specialize in the former, and others in the latter. The early church first recognized this when the apostles affirmed that their special calling was pastoral (the ministry of the Word and prayer), while the seven were appointed to the social work of caring for the widows (Acts 6). Paul's doctrine of the body of Christ, with all members gifted for different ministries, confirms and universalizes this truth.
Nevertheless, how can legitimate specialization be prevented from driving wedges yet more deeply between evangelism and social action? I have three suggestions to make.
First, in general terms, in spite of our specialist callings, every Christian is sent into the world as both a witness and a servant. Whenever we see someone in need, whether that need is spiritual or physical or social, if we have the wherewithal to meet it, we must do so; otherwise we cannot claim to have God's love dwelling in us (1 John 3:16). Often people have more than one need, and if we love them with God's love we shall do our utmost to relieve their needs. It is then, too, that they are most likely to believe. Verbal witness is not enough. As Jesus said, it is when people "see our good works" that our light shines most brightly and will give glory to our heavenly Father (Matt. 5:16).
Second, each local church should be involved in both evangelism and social action. Since God calls and gifts different people for different ministries, it seems a logical deduction that those with similar gifts and callings should coalesce into specialist study and action groups and be encouraged to concentrate on their particular God-given ministries. At the same time, they should be given regular opportunities to report back to the whole congregation, so that the body of Christ may know what its different members are up to and may support them with encouragement and prayer.
Third, what about missionaries? It is agreed that they neither can do everything (for lack of time and energy), nor should give themselves to any ministry for which they have not been gifted and called, nor should they meddle in the politics of their host country (unless specifically requested by national Christians), since they are guests and aliens in it. Nevertheless, because missionaries have come to identify with another country, all its people's needs and aspirations should arouse their sympathetic concern. They cannot close their eyes to local poverty or hunger, disease or drought, bad farming or exploitation. What, then, should they do if these needs remain unmet, and if they remain convinced of their own continuing calling to evangelism? Should they not do, in principle, what the apostles did in Acts 6, namely take steps to ensure that others are appointed to do the social work to which they have not been called?
My personal belief is that we should develop many more mission teams, so that evangelists, teachers, doctors, agriculturalists, social workers, and relief and development experts can work together in the name of Jesus Christ, offering a humble, holistic service to the whole neighborhood to which they have been called.
John R. W. Stott is rector emeritus of All Souls Church, London, England.
John R. W. Stott (1921 – 2011) is known worldwide as a preacher, evangelist, author, and theologian. For 66 years he served All Souls Church, Langham Place, in London, England, where he pioneered effective urban evangelistic and pastoral ministry. During these years he authored more than 50 books, and served as one of the original Contributing Editors for Christianity Today. Stott had a global vision and built strong relationships with church leaders outside the West in the Majority World. A hallmark of Stott's ministry was his vision for expository biblical preaching that addresses the hearts and minds of contemporary men and women. In 1969 he founded a trust that eventually became Langham Partnership International (www.langham.org), a ministry that continues his vision of partnership with the Majority World Church. Stott was honored by Time magazine in 2005 as one of the "100 Most Influential People in the World."
Have something to add about this? See something we missed? Share your feedback here.
Our digital archives are a work in progress. Let us know if corrections need to be made.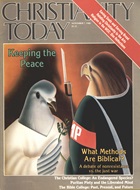 This article is from the November 7 1980 issue.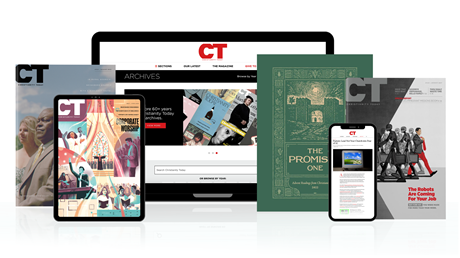 Subscribe to Christianity Today and get access to this article plus 65+ years of archives.
Home delivery of CT magazine
Complete access to articles on ChristianityToday.com
Over 120 years of magazine archives plus full access to all of CT's online archives
Subscribe Now
Saving Souls and Serving Bread
Saving Souls and Serving Bread