Carrying the Promises; Aching from the References
My good friend Art Blair had his right arm in a sling when I met him at the annual church business meeting.
"Making out those reports finally got to you, eh?" I asked.
"Watch it!" he whispered. "Keep your voice down!"
"Don't tell me you were shot robbing a bank?" I whispered.
"Very funny," he said. "Come out in the hall and I'll explain."
As the business meeting opened (with the congregation singing "Bringing In the Sheaves"), Art and I slipped out of the auditorium. We stood in front of the missionary bulletin board, knowing nobody would bother us there.
"I have something entirely new," he said, pointing to his lame arm. "Dr. Kendall said that the Christian Medical Society knew of only three other cases. It's called 'reference Bible elbow.' "
"You got an infection from your Bible?" I gasped.
"Of course not!" he retorted, looking to see if anybody was listening. "I got it carrying my big reference Bible around."
I understood. "Maybe it's the weight of the chains in the chain references that does it," I suggested.
"Quit joking about it," he replied. "You should feel the pain that I'm feeling right now. Why, Dr. Kendall had to give me a shot of cortisone."
I had a brilliant idea: "You could always buy a smaller Bible. I heard about a guy who printed a Bible the size of a postage stamp. But then you'd have to carry a microscope around, and that might be inconvenient."
"Give up my reference Bible!" he quietly shouted. "And have nothing to read during the sermons? There's enough material in those margins to keep me going for years!"
I suddenly got practical. "Doesn't your affliction bother you at work?"
"All of us have to suffer for the Lord," he said, "and it gives me lots of opportunities for witness. You'd be surprised how many unsaved people have never even heard of a reference Bible."
The business meeting was getting under way so we headed for the auditorium.
"Don't tell anybody what I've got," Art whispered as we slid into the back row. "They might think I'm holier than thou because I got an affliction from the Bible. It'll help me stay humble."
Yours for smaller Bibles and bigger saints,
EUTYCHUS X
Dollars and Sense
The two September 5 editorials, "Public Disclosure: Accountability Before a Higher Court" and "Being on the Board—and Getting Off," were models of "speaking the truth in love." It is difficult, sometimes impossible, to press for procedural reforms in the church without sending out signals that some misinterpret.
Both of the editorials related to the responsibility tax exemption lays upon churches and their related organizations. Churches are supported by tax-deductible contributions. The money the government needs but does not get through these tax deductions is provided by those who do not contribute to the church. All of this adds up to a massive privilege extended under our system to the church and its ministry, and there is an attendant responsibility.
Most of our religious people and organizations are fulfilling this responsibility very well. A few are not. I would commend to you and your readers the proposal that the tax exemptions and advantages extended by the national and state government be extended only to those organizations that make an independently audited financial statement available to the public. Under this plan an organization that wished to withhold such information from its donors for whatever reason could go on doing so, but could not go on asking the rest of us to take its good faith without evidence.
SYDNEY E. ALLEN, JR.
Chairman, Department of Philosophy and Religious Studies
San Bernardino Valley College
San Bernardino, Calif.
Two elements spur this investigation: the editorial touching on the Institute in Basic Youth Conflicts and public disclosure, and the seal for the Evangelical Council for Financial Accountability that accompanied the "Jews for Jesus" advertisement. Does the ECFA's existence speak of a trend leading to the evangelical Christian having assurance, through public disclosure, of the proper use of funds?
As a minister I receive in the mail each week numerous requests for aid to worthy projects. As a steward I desire to see any donations properly distributed. I must say, I was impressed by the seal on the ad mentioned above. I just want to know more.
REV. PAUL BRAZLE
Church of Christ
Oklahoma City, Okla.
(Editor's Note: Inquiries may be sent to the Evangelical Council for Financial Accountability, P.O. Box 1750, Pasadena, Calif. 91109.)
Ministry or Business?
Next week I begin my tenth year in the ministry of Christian bookselling. The article by Stephen Sorenson "Christian Bookstores: For Business or Ministry?" (Sept. 5) is the best I have seen on our "ministry-business." While Christian bookstore managers wrestle daily with this dilemma, most pastors have never realized this difficulty facing the bookstores serving them.
A frustration for Christian bookstore managers is the incredibly small number of Christians (including pastors) who ever enter a Christian bookstore. I find many pastors simply do not read and do not share with their congregations about the literature available. I hope that this article will challenge pastors to become more involved in the ministry of Christian literature and see it as a natural extension of their own ministry.
EDWIN BOWDEN
Lebanon Bible and Bookstore
Lebanon, Mo.
The idea that religious bookstores are a "ministry" is preposterous. The answers to three questions will show that most Christian bookstores are a business, not a ministry: (1) Does it give away its product when the customer (or should we call him a "client"?) cannot afford to pay? (2) Does it try to move books discovered to be worthless or harmful by putting them on 25-percent-off sales, and the like? (3) Does it rigidly select its books on the principle of what is pure doctrine, what will edify, and what promotes the gospel—or on the principle of what won't offend its clientele?
REV. ALAN DAN ORME
The University Church
Athens, Ga.
We consider our bookstore exclusively a ministry. A legitimate profit-oriented business would not tolerate the 10-hour lunchless workday at below the minimum-wage salary, or all the "nonprofit" hours spent with customers in counseling and in prayer. Only a ministry would find satisfaction in such things.
We know that we are responsible for what we sell over our counter. And, since the industry is not that "clean," our "tension" is trying to gain back the valuable time lost spent in checking each new "Christian" publication to see if it is of the faith, or another counterfeit.
VICTOR V. BRYDITZKI
Nuggets of Wisdom Bookstore
Auburn, Calif.
Test Questions
After tallying my score on Donald Bloesch's "What Think Ye of Christ? A Test" (Sept. 5), I was rather surprised and dismayed that not only did I miss the narrow gate of orthodoxy, I couldn't even squeeze through the wider door of neoorthodoxy. Indeed, I barely escaped the stigmata of "extreme liberal, humanist, or confused."
I found that I failed the test of orthodoxy because I have been tinged (however faintly) by evangelicalism. I believe that if the Good News is to be meaningful to unbelievers, it must be expressed in language meaningful to them. In other words, evangelical theology is best when it speaks as well or better to the unchurched than it does to the Born-Again-Bible-Believing-Fundamental-Pre/Postmillennial-Orthodox Christian.
To the orthodox, "propitiatory sacrifice" and "vicarious substitutionary atonement" are adequate descriptions of Jesus' suffering on the cross. But to those who are trying to convey the significance of the Cross to a secular world, such cumbersome, scholastic jargon only impedes communication.
JAMES A. GROVES
First United Presbyterian Church
Arkansas City, Kans.
I would like to share some reactions regarding Dr. Bloesch's "puzzle." For the record, I have an M.A. in theological studies. I was nevertheless frankly overwhelmed by the vocabulary of Dr. Bloesch's questions (or should I say "answers"?).
I am not in basic disagreement with the thesis, or purpose, of Bloesch's quiz. Bravo! My hat is off to anyone daring to raise Nicene issues in what seems like a post-Nicene, post-Reformation age in theological discussion, especially within the pages of a popular Christian magazine. But I do think the quiz would have served as a wonderful introduction to an article on some of the heresies and knotty problems raised in early Christological considerations.
WILLIAM D. BLAKE
Lyttleton Street United Methodist Church
Camden, S.C.
News Note
I note in your news article "Churches Go on Offensive over Draft Registration" (Sept. 5) that you identified the American Friends Service Committee as Quaker. While the AFSC is very vocal on many issues and many Quakers support it, many more of us do not support its secular political activities, nor does it speak for us.
With regard to registration for a possible military draft, the California Yearly Meeting of Friends at its annual session in July agreed that we should provide counseling, pray for, and support young persons of registration age in their personal decisions whether to serve or not to serve.
ROBERT D. ESCHERICH
Big Bear City, Calif.
Hungry for More
It was refreshing to find a Christian who has a grasp of the "big picture" regarding the complex world food and hunger problem. However, in her article "World Hunger: Starve It or Feed It?" (Sept. 5), Dr. Bee-Lan Wang failed to clarify an important point. She agrees that an increase in food supply reduces death rates while birth rates remain high. But she fails to emphasize that if this is where we stop, then helping the hungry does indeed increase the problem of poverty and starvation.
What's wrong with a more basic integration of Scripture—that feeding the poor really includes helping them to greater socioeconomic development resulting in reduced birth rates and an increase in self-sufficiency?
A. IRVING DOW
Prosser, Wash.
I couldn't help but feel that Bee-Lan Wang's conclusions were much too simplistic. For example, she suggests that "we" can "ask" the multinationals to stop their exploitative policies, as if "we" are not ourselves guilty of feeding the production-consumption cycle. I've always found it difficult to believe the pastors and church members with "spare tires" felt much compassion anyway, at least in their actions.
PETER BYLER
Chicago, Ill.
Response to the Poor
With so much talk about the "poor" bandied about in evangelical circles today, it was refreshing to read George Sweeting's sensible, biblical article on this subject, "Our Response to the Poor: A Barometer of Belief" (Sept. 5). This was a much needed response to the romanticization and idolization of poverty so prevalent among certain evangelical groups.
SUZANNE GEISSLER
Upsala College
East Orange, N.J.
Dr. Sweeting's approach to the amelioration of the world's massive problem of poverty is in my opinion rather naive and simplistic. While one is expected to do his part by addressing in a positive way the immediate situation, one simply has got to get beyond the pat answers of the "white evangelical community," What is needed is prophetic commitment, initiative, and demonstration on the part of leaders like Sweeting to deal with many of the obvious causes. Much of the cause can be laid at the doorstep of "white evangelical leaders" who have aided and abetted the heresy of a "dichotomized gospel," rather than stressing the gospel of the kingdom with its heavy ethical demands for the believer.
REV. JAMES C. OFFUTT
Peoria, Ill.
Doesn't 'Ad' Up
In your articles (Sept. 5) on the poor and disadvantaged I could hear the frustration and concern on the part of the writers as they sought to deal with the issues that world poverty and hunger raise. The scriptural injunctions about our care for the poor and their plight came through with graphic intensity.
With this in mind, I find it somewhat incongruous to find in the same issue an advertisement for a piece of jewelry that is "simple, sincere, and full of Spirit" that retails in 14K gold for $381.50. This would seem to me to be somewhat akin to the placement of cigarette ads in the Journal of the American Medical Association.
REV. ROY THOMAS
First Baptist Church
Laurel, Md.
Have something to add about this? See something we missed? Share your feedback here.
Our digital archives are a work in progress. Let us know if corrections need to be made.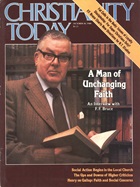 This article is from the October 10 1980 issue.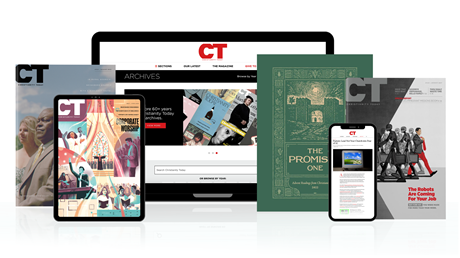 Subscribe to Christianity Today and get access to this article plus 65+ years of archives.
Home delivery of CT magazine
Complete access to articles on ChristianityToday.com
Over 120 years of magazine archives plus full access to all of CT's online archives
Subscribe Now
Eutychus and His Kin: October 10, 1980
Eutychus and His Kin: October 10, 1980