During the last two decades, evangelical seminaries experienced phenomenal growth. A slowdown was inevitable—if for no other reason, than because schools were outgrowing their limited facilities.
However, officials at a number of evangelical seminaries now fear an actual decline in student enrollments. In fact, many of these seminaries reported drops in the number of applications for fall 1980 enrollment. (At press time, it was not possible to determine if the actual number of enrollees had dropped.)
In interviews, various seminary officials indicated an awareness of the present threats to seminary growth: a smaller pool of college graduates from which to draw, inflation and rising costs, and an increased emphasis at Christian colleges on secular—not religion-related—full-time work. Only now, they indicated, are seminaries feeling the repercussions of dipping enrollments, which have caused more than 120 colleges to close since the late 1960s.
Ralph Covell, academic dean of Conservative Baptist Seminary in Denver, indicated: "With universities and colleges undergoing retrenchment and reallocation in order to survive the 1980s, it is impossible for seminaries not to be affected."
Cary Rickman, admissions director at Asbury Theological Seminary in Wilmore, Kentucky, said, "We have been preparing for a drop, knowing the downward trend which has penetrated undergraduate enrollments.… Beyond 1985 we hope we will see the trend move upward, but for now we are all in for a definite drop."
Asbury, Westminister Theological Seminary in Philadelphia, and Gordon-Conwell Seminary in South Hamilton, Massachusetts, all anticipated declines this fall. Gordon's number of applications for 1980 sagged 10 percent from the previous year. Asbury, which had a 58 percent increase in student applications over the past five years, reported a 17 percent drop in 1980.
Not all seminaries are losing students and applicants. Some, which ballooned in the 1970s, continue growing, though at a slower rate. Southwestern Baptist Theological Seminary in Fort Worth, Texas, the nation's largest seminary with 4,336 students (about 3,800 on the main campus) enrolled in spring 1980, has reported annual student increases for the past 13 years—sometimes as high as 20 percent per year in the 1970s. It anticipates a smaller 3 percent annual increase for a few years before enrollment stabilizes.
Dallas (Texas) Theological Seminary shot from 463 students in 1970, to 956 in 1975, to its anticipated figure for 1980–1981 of 1,450 students (an increase of about 75 over the previous year). Public information officer Peggy Wehmeyer said school officials don't expect a drop, and believe the school's strong stand for inerrancy is attractive to many potential students.
Enrollments at other seminaries have leveled off. Fuller Theological Seminary in Pasadena, California, jumped in enrollment each year from 1974 to 1977, but has not grown since. Trinity Evangelical Divinity School in Deerfield, Illinois, peaked in enrollment in 1978 and has since stabilized.
However, almost all major evangelical seminaries reported shrinking application pools, even if their enrollments are currently stable. Fewer students are graduating from college, compared to when the World War II baby boom population reached college age. Even more relevant to the traditionally male-dominated seminaries is the fact that the number of male college students has declined steadily since a peak number in 1975.
Students faced with paying four years' undergraduate debts aren't likely to desire to take on the additional cost of three to four years of seminary. A mid-range cost at an evangelical seminary is $75 to $90 per hour of semester credit. The financial return on the investment is small compared to advanced degrees from law, business, and medical schools.
Censorship On The Shelf: The Bookenders
The followers of Witness Lee, who heads an Anaheim, California-based church organization, have asked a number of Christian booksellers in California to remove from their shelves copies of six books that are critical of the group.
The books include The Mindbenders, by Jack Sparks, which is the subject of a lawsuit filed by the group in June. The organization declines any name for itself other than simply "the local church" in each city in which it has members.
The books unfairly portray the church as a cult, said Eugene Gruhler, a group spokesman in Anaheim. (It claims to be orthodox Christian.) Gruhler said the letters were sent to the bookstores because "so many people are getting a distorted view of our teaching, and they choose not to sell our books." He emphasized that no pressure was being brought on any store.
Mike Castle, of the Christian Discount Book Center in Whittier, is one of the booksellers who received a letter asking for removal of the offending books. "In times past we've found they present quite a few problems," he said, such as followers entering his store and turning literature upside-down. He said he doesn't plan to remove the books and knows of no booksellers in the area who do.
Other books the Lee followers want booksellers to remove are: The God-Men, by Spiritual Counterfeits; The Lure of the Cults, by Ronald Enroth; The Teachings of Witness Lee and the Local Church, by Cal Beisner; and two books by the Christian Apologetics Research Institute Service, Witness Lee and the Local Church and Evolution Into God.
In response to the actual and potential declines, most seminaries are currently mounting organized campaigns to attract students. Terms such as market positioning, recruitment, retention, and prospect awareness have gained respectability in hallowed theological halls, where the mere use of the word "advertising" was considered in bad taste 10 years ago.
Gordon-Conwell director of admissions and career services Kenneth Swetland said, "We haven't had to do recruitment lately because we are riding the crest of a wave in enrollment. Now we are putting more into campus visits, more into advertising, and asking our alumni for aid in recruiting."
Most institutions now have a traveling representative who visits colleges and churches in an effort to get his or her seminary's share of the student market. Dave Buschart, who visited 80 colleges over the past two years as Trinity Seminary's assistant director of admissions, said, "Ten years ago guys like me didn't exist."
Seminaries also are seeking students in non-traditional quarters, and are making adjustments in programs. More efforts are being directed at older and "second profession" prospects. Women and minorities are being recruited in record numbers: such enrollments have prevented some schools from suffering declines.
New programs are catering to the special needs and interests of a new breed of students. (A recent survey of five seminaries showed a 25 percent decline over the past 15 years in the number of students enrolling in basic degree programs.)
After it introduced a myriad of special programs, Fuller Seminary's enrollment jumped by 440 students one year in the late 1970s. "Our special vocationally oriented courses are glutted, and we are turning people away," said Mel Robeck, director of student services at Fuller.
Other schools are pushing through their own innovations, with some degree of risk. Conservative Baptist's Covell said, "The Association of Theological Schools is advising everyone to be careful not to get overextended in terms of faculty or resources."
In a classic "chicken or egg" debate, seminaries must decide whether to spend additional funds to attract students, when it is the declining number of students that is reducing the funds on hand to attract them. At least one school, Asbury, has settled the question to its own satisfaction: it is steaming ahead with a new $6 million School of World Missions and Evangelism, which will offer a combination of M.A., M.Div., and continuing degrees.
No one is quite sure how best to offset the effects of a tightening economy. As the average age of the seminary student increases, he or she is more likely to have family responsibilities and increased financial obligations. At the same time, seminary costs will continue to rise.
"Today students are scared to move across the country without guarantees," said Robeck of Fuller. As a result, seminaries are investing as never before in night courses, part-time curriculums, extension seminaries, and seminary-owned housing to reduce students' financial pressures.
If there is any benefit to the current crunch, it is that the pressures probably will produce a more committed student, seminary officials say. And commitment may be a vital requirement for future graduates, who are increasingly being encouraged to pursue church planting, foreign service, or "tentmaker" ministries because of a glut of ministers among established U.S. pulpits.
Striking Activity at Dubuque Seminary
The Faculty Union Isn't a Social Hall
Most theologians are better exegetes of Scripture than employment contracts. But Dubuque (Iowa) Theological Seminary faculty and staff went on strike last month, and as a result got a modern paraphrased contract, which gave them a healthy wage hike and affirmed their say in school personnel matters.
A local reporter's research indicated this was the first walkout by a theological school faculty since one in the thirteenth century in Paris, France. The strike also was unique in that these theologians have their own union.
There were no cigar-chomping labor bosses walking the picket lines in Dubuque, however. The strikers got smiles with their proof-text picket signs: "A Laborer Is Worthy of His Hire," and "Come, Let Us Reason Together." There were signs in Greek and Hebrew. Another read "Take this job and sanctify it"—a takeoff on the movie, Take this Job and Shove It, which was being filmed in Dubuque.
While relationships were cordial between the strikers and school officials, all parties involved had serious concerns. The strike lasted only three days—ending September 3, the day before the scheduled start of classes—although the striking faculty and staff had indicated they were prepared to stay out indefinitely.
The United Presbyterian seminary had offered an 8 percent wage hike, while its faculty wanted 12 percent. When neither side could agree, the school's 11 faculty and 3 staff members voted unanimously to strike.
In a letter to the theologians, seminary president Walter Peterson (also president of the related 1,000-student, four-year liberal arts University of Dubuque) had said the university lacked cash to meet the request. He explained that the Aquinas Institute of Theology, which shares facilities and building rental costs with the Dubuque seminary, would be leaving next year. He reportedly said the budget already was in the red.
In interviews, faculty members placed the average salary at the seminary at $19,000—low, they said, compared to the other six United Presbyterian seminaries, and in light of the rising rate of inflation.
As it turned out, the faculty and staff agreed upon the administration's proposed 8 percent annual wage hike. However, with an additional $400 each for continuing education, the group figured their actual annual increase was about 10 percent.
Just as important to the faculty and staff was maintaining their voice in school personnel matters. They had formed their own union, the Association of Faculty and Theological Education Professionals, as a protection after the 1973 firings for economic reasons of about half the faculty (six total, five of whom had tenure), according to Donald G. Bloesch, a respected evangelical theologian and author, and Dubuque professor for 23 years. Since then, Bloesch asserted, the administration has fired a number of faculty, even for personal reasons. The union successfully blocked one such firing last year, he said.
Perceptions of the tentative, one-year contract varied. Virgil Cruz, who says that he and Bloesch are among the three (out of eight full-time) faculty members "normally described as evangelicals," believed the contract "reestablished the principle of collegiality." By this, he referred to language in the contract describing the faculty's consulting role with administration in the hiring of faculty.
Prof. C. Howard Wallace, a spokesman for the union throughout the strike, believed the contract at least "preserved" this collegiality. He said the dean of the school still had veto power over the faculty's appointments and promotions committee, but that the contract called for the dean's being "in consulation" with the committee—something the administration had wanted out of the contract. At the same time, president Walter Peterson believed "there was no movement toward a greater role for the faculty." If anything, he said, the contract tended to give more power to the dean [Herbert Manning].
Wallace said he would have preferred that there had been no strike, but that the administration had ignored the union's requests for negotiation: "They did find time to negotiate with us very soon after the strike began," he said.
The contract still allows for the dismissal of faculty and staff in cases of cancellation of a school program, moral lassitude, and financial exigency, he said. However, the union does give its members "added protection" and the "power of the unit," he explained.
The union is a member of the National Education Association (NEA), which represents 1.8 million people in public and private schools, from kindergarten through graduate school. The Dubuque group is the only theological seminary represented among the 12,000 local NEA affiliates, said an NEA representative. Through its staff in the field, the NEA consulted with the Dubuque strikers.
Notwithstanding the union, without the students' support "we might not have swung this," Bloesch said. He thought about 80 percent of the 140-student body had supported its faculty; some participated in a prayer vigil, and some who were not United Presbyterians contacted seminaries of their own denominations and asked for prayer support, said Bloesch.
JOHN MAUST
North American Scene
The nation's largest black denomination noted its one-hundredth birthday this year. The 6-million-member National Baptist Convention, U.S.A., has been characterized—particularly under the ongoing 26-year leadership of president Joseph H. Jackson of Chicago—by staying out of civil rights issues. During the group's recent annual convention, Jackson reaffirmed this stand (often criticized elsewhere in the black church community). He said blacks should start helping themselves, rather than blaming others for their present conditions. Of the so-called black theology, he was quoted as saying: "I fear religion that is so motivated by anti-white sentiment that it would make a god out of blackness. We do not need a second-rate religion and a theology without a living God."
The place of sex education in the public schools has become a hot debate between various church and secular groups. Both would agree, however, on the need for some kind of education: nearly 50 percent of the nation's 10.3 million women, ages 15 to 19, have had premarital sex, according to a new study by Johns Hopkins University professors Melvin Zelnik and John F. Kantner. As described in Newsweek, the study showed that most of the social pressures for remaining a virgin "have disappeared." The researchers' 50 percent figure on sexual activity is double that in their 1971 study.
The United Church of Canada recently elected its first female moderator, Lois Wilson, but a controversial report on sexuality received more attention. The report, which approved premarital sex in certain situations and is too tolerant of adultery and homosexuality for many commissioners, finally was accepted by the General Council as a study document. It will be used in congregations across Canada, and then debated by the 1982 council. The report's approval would split the 2-million-member denomination (Canada's largest), delegates threatened.
Some Canadian churchmen still are pushing for inclusion of a bill of rights in a new Canadian constitution. Particularly, they want "a defined statement of Christian liberty," guaranteeing separation of church and state and freedom of conscience and religion, said president Wesley Wakefield of the Bible Holiness Movement. Holiness, Adventist, and Salvation Army groups are among those supporting the measure, which ran into a major obstacle last month. Premiers of the 10 provinces came out against a national bill of rights, wanting instead to set rights on a provincial basis. That approach is insufficient, Wakefield argued, giving this example: "You can't decide whether Mennonites can be conscientious objectors on a provincial basis—that's national."
A layman compiled a list of United Methodist funding of pro-Marxist and political causes, then sent his 38-page report to 100 selected General Conference delegates prior to their April quadrennial meeting. David Jessup, a former peace corps volunteer who is presently employed by the AFL-CIO's political education committee, cited such figures as $31.000 given over a two-year period to five pro-Cuban organizations by the UMC Women's Division and its Board of Global Ministries. His statistics came from the church agencies themselves, and he used them to support his General Conference petition for financial accountability. Now, the UMC evangelical caucus group, Good News, has published the meat of Jessup's findings in its magazine. Jessup says he first questioned UMC spending when his children brought home Sunday school appeals for wheat shipments to Communist Vietnam.
There is no substance to the rumor that Sun Myung Moon's Unification Church bought out the Proctor and Gamble company, said company spokesperson Sydney McHugh. She added that the group has never bought a single share of the company's stock. The company has been getting a number of inquiries—especially from the North and South Dakota area—McHugh said. She attributes the flap at least partly to the company's emblem, with its "man-in-the-moon" profile. She says the P&G emblem has nothing to do with Moon, and points out that it was patented in 1882—long before the existence of Moon's Unification Church (which does have extensive commercial fishing, restaurant, publishing, and other business interests).
Have something to add about this? See something we missed? Share your feedback here.
Our digital archives are a work in progress. Let us know if corrections need to be made.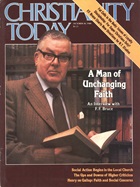 This article is from the October 10 1980 issue.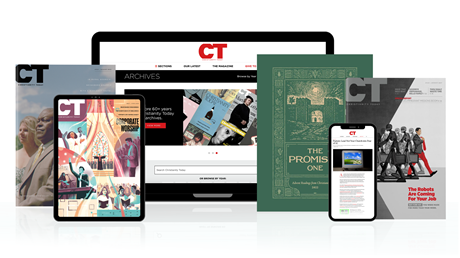 Subscribe to Christianity Today and get access to this article plus 65+ years of archives.
Home delivery of CT magazine
Complete access to articles on ChristianityToday.com
Over 120 years of magazine archives plus full access to all of CT's online archives
Subscribe Now
Scramble for Students Is on as Seminary Boom Days Fade
Scramble for Students Is on as Seminary Boom Days Fade