All that Christ calls us to do in society must be done first in the local church.
There are at least two reasons why Christians should ask the specific, practical question of how might they engage in meaningful social action. The first reason relates to the growing awareness among earnest believers that the Bible clearly teaches that the pursuit of holiness and the development of true piety involve two distinguishable yet inseparable duties: evangelism and social action.
To glorify God, we must proclaim the gospel and care for the needy. We must condemn personal as well as societal sin. We must make the way of redemption plain as we seek justice for the oppressed. Evangelism and social action are equal partners; each is an end in itself, but Christ is the reason for both. Faithfulness to Christ means obedience in both areas.
But it is one thing to be impressed with the clear teaching of the Word of God and another thing to obey. Such a dichotomy should not exist. It is not difficult for evangelical churches to agree that "boat people" from Indochina need our immediate assistance. But what is difficult is to move from the theoretical to the practical: to become responsible for a particular refugee family. It is easy to give money to a relief organization; it is another matter to give time and energy to help one family. How to put our biblical knowledge to work is the question uppermost on the agenda of our local churches.
The second reason stems from the growing popularity of evangelical Christianity—for if the pollsters and the public media are right, evangelicals are becoming the mainstream of active Protestantism.
But how shall we understand this growing popularity? What does evangelical identity mean? Is our image clear and forthright, showing a practice that supports our proclamation? Are we known for a distinctive, sacrificial lifestyle? Do we have a reputation for love? What makes us a stumbling block to the watching world—our hypocrisy or our holiness? Time magazine's report on the evangelical movement (Dec. 26, 1977) stated that the big question facing evangelicals "is what they will do collectively with this passionate sense of God's presence in everyday life."
The question remains: How do we demonstrate to ourselves and to the world the love and justice exemplified in Jesus' ministry and in the experience of the New Testament church? And if the Bible demands social action and our local and world situation calls for it, where do we begin the task?
We are sometimes naive when we talk about social action. We do not understand the size and complexity of the system we confront. Partisan politics, international trade relations, multinational corporations, unemployment, health care, world hunger—all are mind boggling. It seems sufficiently burdensome just to discuss such concerns, let alone do anything about them. The very idea of Christians actually doing something to change the system seems hopeless, and the people who talk about it visionaries, not realists. I believe this accounts for those sincere evangelicals who accept the biblical imperative of social action but whose definition of Christian obedience serves to defend the status quo, and whose perception of the system defeats them before they even start.
The early church did not define social action by what they thought could be accomplished within the Roman system. Instead, they began in the same place we must begin, for all that Christ calls us to do within society at large must first be done in the local church. I am not saying it is necessary to meet all social needs within the church before we can deal with those within society; but the local church—our immediate community of believers—is the place to begin.
The church described in Acts provides a striking demonstration of holistic Christianity. Not only did the believers devote themselves to the Word of God, fellowship, the breaking of bread and prayer (Acts 2:42), but they shared their material possessions to such an extent that there was not a needy person among them (Acts 2:45; 4:34). The church became the training ground for social action. These early Christians show us that concern for the poor, the needy, the widow, and the orphan begins in the church. Thus in Paul's letters to local churches he advised the believers on matters of political importance, family relations, social class divisions, legal issues, and vocational concerns.
Jesus designated the church as the agent of God's sovereign work in the world. In the parable of the sheep and goats in Matthew 25 Jesus emphasizes that social responsibility begins in the community of the king. We meet the Lord as we meet our brothers' needs. Jesus' radical promise to his disciples in Mark 10:29–30 finds its fulfillment in the body of believers. "I tell you the truth, no one who has left home or brothers or sisters or mother or father or children or fields for me and the gospel will fail to receive a hundred times as much in this present age (homes, brothers, sisters, mothers, children, and fields—and with them, persecutions) and in the age to come, eternal life" (NIV). The church is the answer to Christ's promise. As believers in Jesus Christ, not only are we members together of a worldwide body of faith, we are also coworkers in a worldwide family of resources.
While the New Testament does not limit our social responsibility to believers, it does begin with the church. The messianic community reaches out, exemplifying Christ's love and compassion, and the individual Christian is admonished, encouraged, and guided in his or her social concern. Christians reach out in the strength of God's Spirit, supported in prayer and the shared wisdom of fellow believers. To bypass the church—going directly to the system—is to undercut our effectiveness in social action.
But what does it mean to our churches when we say that everything we want to do in society at large must first be done in the church? We might ask several questions.
1. Are we concerned for the poor? Let us begin by meeting the needs of the poor within our fellowship. For some churches this will mean turning to the inner city and recognizing that there are brothers and sisters in Christ there who need financial assistance. Instead of excusing our lack of concern on grounds that the government provides for the poor, we must learn to take a "first-person" interest in the life of our fellow believer.
2. Are we concerned about public school education? Let us begin by preparing our youth to think through the issues with which they are confronted at school. Do parents and Sunday school teachers know what novels their children are reading in English class? Are they aware of the presuppositions accepted in science and social studies classes? Instead of ignoring significant elements in our children's education we must learn to use these to reveal truth more relevantly. The church will be better prepared to call for changes in education when we demonstrate that we can train our own youth effectively.
3. Are we concerned for the elderly? Let us begin by doing more than simply praying for them when they are sick. The earnestness of our prayers will be reflected in the way we meet their needs. A local fellowship could designate several middle-aged people to whom the elderly could turn for advice and counsel on any number of practical matters, from health care to legal assistance. Why should the elderly have to make their own way through government red tape and confusing forms? Why should they go without aid they are entitled to simply because they are not aware of it?
4. Are we concerned about unjust international trade policies? Let us begin by establishing personal contact with Third World local churches. Through our missionaries, we should endeavor to learn about issues and concerns that affect our brothers in Christ. Our prayer interest and financial help ought to move beyond the missionary to the local church. We have a political responsibility to challenge our national policies that exploit people in our brother's country.
These four questions illustrate the practical importance of beginning in the church to meet social needs. When the church is a training ground for social action, we become sensitive to the impact we make on one another and on society. We should bring our vocational concerns to prayer meeting and a biblical sense of love and justice to our jobs. We are guilty of leaving too much to private perspective, cultural habit, and individual whim. There needs to be a free exchange within the local church between laborers and lawyers, doctors and pastors, concerning ethical decisions and the use of material wealth. We need to remind one another, pray for one another, and admonish one another to be truly Christian in all our endeavors. This cannot be done in isolation; it must be done in the fellowship of believers.
It is both biblical and practical to emphasize that social action begins in the church, but it is most important that we also recognize that social action must be informed by the Word of God.
Social action guided by the Word of God is first of all realistic. It will not fall prey to utopian idealism. It will not identify existing or would-be sociopolitical structures with the kingdom of God. It will face man's sin nature squarely. Guided by the Word of God, we shall understand that man is alienated from God and needs redemption. Even though many men do not accept the goodness of Jesus Christ, we realize that under the authority of God's Word we are not excused from acting in behalf of their social well-being. Biblical realism is essential to fulfilling our social responsibility.
Second, social action guided by the Word of God is consistent. The biblical teaching on the dignity of man rests on the fact that man was not only made in God's image but that he was made to find fulfillment in God's moral order, which is clearly expressed in the Bible. Consequently, those who are guided by God's Word often contradict the contemporary humanitarian spirit. Objections to liberalized abortion laws, heterosexual immorality, and homosexual practice may appear anachronistic to many people, but to the Christian they are consistent with a position that upholds man's moral and spiritual nature. Facing societal sin does not mean the believer can ignore personal sin.
Third, social action guided by the Word of God subjects the means as well as the end to the scrutiny of God's judgment. The manner in which we engage in social action should be characterized by love and sincerity. We may be angry and distraught frequently over grave injustices, but our manner of confronting sin should not degenerate into bitterness and blind rage.
Social action begins in the church informed by God's Word and empowered by God's Spirit. We are dependent upon the work of the Holy Spirit to move us to action and to fill us with wisdom. At times we forget that God's Spirit enables us for a life-long task. Social action is not tied to a certain program of limited duration. It is an ongoing task, always pressing for the attention of the church. When it comes to both evangelism and social action we must act as if Christ were coming today and plan as if he were not coming for a thousand years (2 Peter 3:8).
Even as Jesus hung on the cross he fulfilled the challenge he entrusted to the church. To the repentant thief he spoke words of redemption and forgiveness, "Today you will be with me in Paradise." To his mother he spoke words of comfort and concern, committing her into the care of his disciple. Wherever the church of Jesus Christ is vital, an abiding concern will be manifested for the eternal destiny and temporal care of men, women, and children.
The Witness Wing
When I am tuned to the wing of a wren
I am in tune with wonder, then:
aware of the hinge that is muscle … and more …
that feathers are a swinging door.
It opens and closes, opens and closes,
giving a wren what sky it chooses.
I am aware that feathers are roof
above the sturdy warp and woof
of vein and bone. The wing is tough:
sufficient to meet the wind's rebuff:
and tender, too, for it bears along
the sunny, summer sky, a song.
I am aware that ancient weather
and ancient accident could never produce
a wren. It, I know well,
is progeny of Miracle.
I sing Creation when I sing
of a mite of a wren … even the wing.
PEARL LUNT ROBINSON
The Finitude Of Man
I understand that matter can be changed
To energy; that maths can integrate
The complex quantum jumps that must relate
The fusion of the stars to history's page.
I understand that God in every age
Is Lord of all; that matter can't dictate;
That stars and quarks and all things intricate
Perform his word—including fool and sage.
But knowing God is not to know like God;
And science is a quest in infancy.
Still more: transcendence took on flesh and blood:
I do not understand how this can be.
The more my mind is stretched to understand,
The more it learns the finitude of man.
D. A. CARSON
Carl F. H. Henry, first editor of Christianity Today, is lecturer at large for World Vision International. An author of many books, he lives in Arlington, Virginia.
Have something to add about this? See something we missed? Share your feedback here.
Our digital archives are a work in progress. Let us know if corrections need to be made.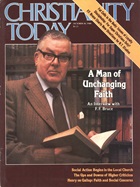 This article is from the October 10 1980 issue.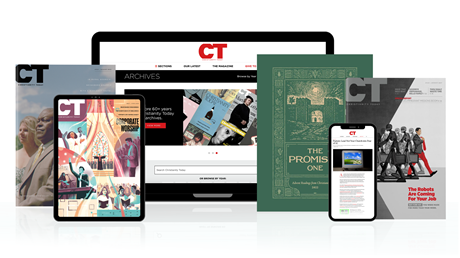 Subscribe to Christianity Today and get access to this article plus 65+ years of archives.
Home delivery of CT magazine
Complete access to articles on ChristianityToday.com
Over 120 years of magazine archives plus full access to all of CT's online archives
Subscribe Now
Social Action Begins in the Local Church
Social Action Begins in the Local Church