Three women countered the trashy paperbacks of their day with a flood of Christian literature.
Evangelical Christianity has always fostered the making and reading of books. More publications appeared in the first two years of the Reformation than in the preceding century. Robert Raikes (1735–1811), editor of the Gloucester Journal and better known as the founder of the Sunday school in England, became impressed with the needs of ragged and neglected children in his city. He decided that their greatest need was to read, write, and learn of God. Schools for the poor were so scarce as to be virtually nonexistent. The Industrial Revolution was in full swing. In their search for cheap labor, employers hired children as young as five or six to work in their factories.
Sunday was the only day the factories were not open. Released from the restraint of the 16-hour workday, the rowdy young laborers thronged the streets, scandalizing respectable citizens with their cursing, gambling, and irresponsible behavior. Raikes thought, "It would at least be a harmless attempt … should some little plan be formed to check the deplorable defamation of the Sabbath."
His "little plan" was the Sunday school. By 1811 when Raikes died, 400,000 students were enrolled in Sunday schools. But Raikes's founding of Sunday schools to teach children to read was only the beginning. A vast market for reading material was created that had not existed before.
These new readers were easy prey for the chapmen or peddlers who had been hawking their crude "chapbooks" to the lower classes for generations. (Shakespeare refers to them in his plays.) These were the only books readily accessible to the poor. They were extremely cheap and their quality matched their price. They catered to public taste (of the baser sort), and though some of them were rather innocuous or even pseudoreligious, the bulk of them were vulgar and crude. Violence, sex, and witchcraft were common themes.
For the poor, there was little alternative to the chapman for securing books. Public libraries as we know them were not yet in existence, and a trip to a regular bookseller would be too costly. Sunday school libraries were beginning to spring up to meet the need, but few books were suitable for the Sunday school's collection. In addition to being clearly written for and relevant to the lower classes, they also had to be acceptable to the Sunday school leaders, most of them evangelicals. These leaders did not approve of the few children's books available. This combination of a large potential audience and few suitable books produced a triumvirate of "Sunday school" writers in late eighteenth-century England: Sarah Trimmer, Hannah More, and Mary Sherwood.
Sarah Trimmer (1741–1810)
The first to emerge as a popular author was Sarah Trimmer, the mother of six sons and six daughters. She supervised the training of her little brood, but she also had a larger vision. After hearing of Raikes's experiment with Sunday schools, she determined to start some in her home town of Brentford.
Though little remains of what she wrote, her output was considerable. Besides writing a number of books, she published two periodicals, The Family Magazine and The Guardian of Education. The former was "especially designed for the instruction and amusement of cottagers and servants, calculated to improve the mind and lead to religion and virtue … The journal's avowed policy was to counteract the pernicious influence of immoral books" (A Critical History of Children's Literature, by Cornelia Meigs et al., Macmillan, 1953). The Guardian of Education gave reviews of children's books and reading guidance. In it Trimmer refuted the philosophies of Rousseau and condemned fairy tales en masse. There's a bit of irony in the fact that Trimmer's most popular book, The History of the Robins, was an imaginative story bearing some resemblance to a fairy tale! It was actually intended for her own children rather than for Sunday school scholars.
Hannah More (1745–1833)
Hannah More was the most prestigious and colorful of the three authors. She was a popular playwright of her era. On the wall of the Theatre Royal in Bristol, where she lived for many years, is the inscription, "Boast we not a More!" attesting to the esteem in which she was held by the theatrical world.
Hannah More's interest in the Sunday school came in a roundabout way. The West Indies slave trade was a social issue of the day. At the height of her career she espoused the cause with a vengeance. She sold oil paintings of a Negro boy to publicize the plight of the blacks and went about showing her friends the plan of an African slave ship.
This interest brought her into contact with a whole new set of people and effected an abrupt change in her life. She became concerned about the plight of the poor in London and tried to arouse her peers by writing three tracts. Because of her fame as a playwright, her tracts were widely read, but their message was ignored. It was this that led her to say, "I am no longer debtor to the Greeks, but I am so to my poor Barbarians."
More stopped going to London, and with the help of her sisters and an Anglican churchman of evangelical persuasion began setting up Sunday schools in the rural area around Bristol. These schools met with great success. But More's greatest contribution to the Sunday school movement was through her literary effort. She believed that to "teach the poor to read without providing them with 'safe' books was not conducive to religious or moral reform."
Never one to do things by halfway measures, More set out to discover just what the young people were reading. She bought every chapbook she could find and perused the whole collection. She was incensed at what she found. As disturbing to her as the more vulgar chapbooks were inflammatory publications of the atheistic and antireligious "School of Paine." His unorthodox approach to religion as well as his revolutionary ideas made his name anathema. In a letter to Macaulay, she fumed, "Vulgar and indecent penny books were always common, but speculative infidelity brought down to the pockets of the poor forms a new era in our history. This requires strong counteraction."
Her counteraction was effective and to the point. Using the format of the chapbook, and with the help of friends, she produced stories in simple, clear language and illustrated them with woodcuts.
When her tracts were ready, More staged a grand opening. Peddlers and hawkers were her special guests. She gave them each an assortment of tracts to sell, a feat made possible by cajoling her friends into making contributions.
The whole affair was a hit as smashing as her play, Percy, had been. Three hundred thousand copies of the tracts were sold in only a month and a half. The sale of these cheap tracts led to the founding of the Religious Tract Society in 1799.
Many of the tracts were written by More herself. One of the most famous was The Shepherd of Salisbury Plain, the story of an honest laborer. This was widely distributed in America as well as in England.
Mary Sherwood (1775–1851)
The last member of the trio was Mary Sherwood. Darton calls her "The most intense moralist of them all." Sherwood was a born story teller. The daughter of a country parson, she had made up stories since she was a young child. Her first real book was published when she was 27, shortly after she had taken charge of a Sunday school.
Mary married her cousin, Henry Sherwood, an army officer who was stationed in India. Life in India brought great sorrow. A small son born there died in her arms. But in spite of her sorrow, Sherwood began to help those around her. She taught the children of the soldiers and Indian children as well. She also continued to write children's stories. Little Henry and His Bearer is often referred to as the first children's missionary story. it was such a part of English culture that Kipling makes reference to it in one of his books.
Mrs. Sherwood's most important book. The Fairchild Family, portrays children in a realistic fashion and, in spite of its didactic tone, has appeal. It enjoyed enormous popularity for many years.
Though the stories of Sarah Trimmer, Hannah More, and Mary Sherwood have passed into obscurity, they filled an important need in their time and left an indelible impression on children's literature.
The momentum of this movement carried it to America where the American Sunday School Union played a significant part in the publication and distribution of books. It was one of the first groups, secular or religious, to set up special criteria for children's literature. To bear its imprint a book must: (1) be clearly and absolutely of a moral and religious character; (2) be graded and adapted to the capacity of the growing mind of the child; (3) exhibit a high order of style so as to constitute fairly good literature; and (4) be adapted for American children. The books were kept small so that a child could handle them easily. They were also cheap so a child could buy them.
This last requirement reflects heavy dependence upon Mary Sherwood and Hannah More. In fact, no American authors of import emerged as they did in the English Sunday school. The vast majority of ASSU books were printed anonymously.
Many books published by the union were sold to the public, but more were distributed through Sunday school libraries. Thus, for the first time, wholesome reading became readily available to a large number of children. This was especially important since public libraries provided little for children until the late 1800s. Their sentiment toward juvenile library use is revealed in the notice some posted: "No Dogs or Children Allowed."
There were scattered Sunday school libraries before the organization of the ASSU, but it was the union that made Sunday school libraries a household word. Where the people went, the Sunday school and its library went. Many a frontier town found a Sunday school library its only source of reading material.
The early libraries of America were in fact largely Sunday school libraries. As late as 1870, the United States Census notes 33,580 Sunday school libraries in the country, containing 8,346,153 volumes. By contrast, at the same time all town and city libraries contained only 1,237,430 volumes, and the total for school and college libraries in America numbered 3,598,537. In short, Sunday school libraries contained twice as many volumes as all town, city, school, college, and university libraries combined! (See Outline of the History of the Development of the American Public Library, by Martha Conner, American Library Association, 1931).
Gradually, changes began to take place that affected the role of the Sunday school and its libraries. School libraries became widespread. Public libraries added children's rooms. Secular publishing houses began to cater to young readers. But the Sunday school with its Sunday school library and evangelical concern for the children of the poor had laid the foundation for the first broad use of children's libraries.
In England they taught the poor to read and in America they made an unforgettable contribution to the masses, but especially to children, giving them something to read. In doing so, they were also able to communicate their evangelical faith to their generation.
Humor In Hebrew
A Situational Hermeneutic
Recently I had occasion to recall an interesting experience I had in connection with the New International Version translation project. After the Salamanca session I went through customs in New York. As one trembling citizen after another in the line in which I was standing passed the customs agent, I saw with some dismay that I had picked a line with a hard-nosed, no-nonsense inspector. When I got up close I detected blood in his eye. The poor guy ahead of me was a college kid wearing a backpack and carrying a big box tied with rope. The agent made him unpack and unravel absolutely everything. And I was next!
Our conversation went something like this:
"Where you coming from?"
"Salamanca, Spain."
"What were you doing there?" (I can see the man's mind is racing, trying to recall whether Salamanca is a known link to the French drug scene.)
"I was working on a new Bible translation."
"W-h-a-t? You're a Bible translator?" (I can see the disbelief in his eyes. He's silent for about five seconds, then he looks over to his buddy in the next line. I just know that what he's thinking is: "Hey Charlie, I just heard a new one. This guy is a Bible translator!" What a thigh-slapper!)
"Yes." (Spoken very quietly, with Christian resignation.)
"What part of the Bible did you translate?" (Thank God for little favors. At least he knows there are several parts.)
"Genesis and Leviticus."
"You read Hebrew?" (Maybe that blood in his eye is the blood of Abraham?)
"Yes." (Spoken a tad more confidently.)
"What's the word for 'iron'?"
"Barzel."
"What's the word for 'milk'?"
"Chalav." (Now I'm rising to the challenge; blood is returning to my feet and hands and face.)
With a magisterial wave of his hand he sends me on my way rejoicing, signs my ticket, my baggage untouched, not another word said.
JOHN JESKE
Love
Love bade me welcome: yet my soul drew back
Guilty of dust and sin.
But quick-eyed Love, observing me grow slack
From my first entrance in,
Drew nearer to me, sweetly questioning,
If I lacked anything.
A guest, I answered, worthy to be here:
Love said, You shall be he.
I the unkind, ungrateful? Ah my dear,
I cannot look on thee.
Love took my hand, and smiling did reply,
Who made the eyes but I?
Truth Lord, but I have marred them: let my shame
Go where it doth deserve.
And know you not, says Love, who bore the blame?
My dear, then I will serve.
You must sit down, says Love, and taste my meat:
So I did sit and eat.
GEORGE HERBERT (1593–1663)
Echo-Making
The only One who makes a man's the one who can.
Men do not make, they take the thing once made
And build clay shadows—
marble, jade,
They carve for pleasure, praise, for trade,
An echo of a creature—image strayed
Into their fancies. Only man the under-maker
Catches sunset with a brush or thinks he can,
Hopes in ink to draw December; apes, plays
Proud creator for a span of days—clay, stone,
Jade, paint remember God made man.
DAVID WICK
Carl F. H. Henry, first editor of Christianity Today, is lecturer at large for World Vision International. An author of many books, he lives in Arlington, Virginia.
Have something to add about this? See something we missed? Share your feedback here.
Our digital archives are a work in progress. Let us know if corrections need to be made.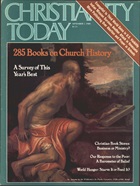 This article is from the September 5 1980 issue.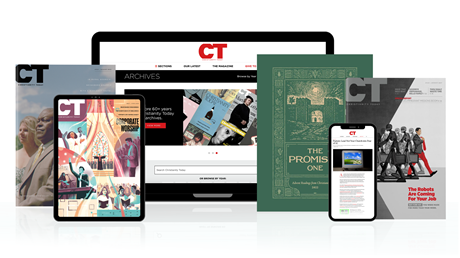 Subscribe to Christianity Today and get access to this article plus 65+ years of archives.
Home delivery of CT magazine
Complete access to articles on ChristianityToday.com
Over 120 years of magazine archives plus full access to all of CT's online archives
Subscribe Now
Give the Children Good to Read Something
Give the Children Good to Read Something