As Mozart's short life showed, being one of God's chosen vessels hardly makes for a smooth journey.
The announcement that Peter Shaffer's Amadeus won most of the major 1981 Tony awards suggests that American theatre may be experiencing some interest in theological issues. While hardly constituting major interest in Christian matters, it points up some interest and insight in theological questions that should command the attention of evangelicals.
Amadeus is an impressive production, well acted and imaginatively staged by John Bury. The play, on the life and career of Wolfgang Amadeus Mozart as seen through the eyes of one of Mozart's most resentful fellow composers, the long-since forgotten Antonio Salieri, alternately deals with the doctrine of election and God's sovereignty and a reverse view of the Faust legend. It is not simply a routine biography of a famous composer.
The perspective of the drama comes from Salieri, in old age, looking back on his life. At the outset, he informs us that, as a youth, he dedicated himself to God, asking only for the gift of music, and pledging in return to use this gift for God's glory.
Salieri's prayer is apparently heard. He rises quickly in the world of music of his time and finds himself court composer under Joseph II, emperor of Austria. On the surface, Salieri has maintained his vow, but at a deeper level, pride and self-satisfaction begin to surface in his character. The turning point occurs when the much-heralded protégé, Mozart, then about 20, visits the court of Joseph II. At first, Salieri, playing the role of tutor, is delighted to make the acquaintance of the young musician. Before long, he sees that Mozart's musical ability is not simply profound: it goes beyond genius. Salieri recognizes in it the music of God himself. It dawns upon him that the gift for which he prayed and made his vow to God has been given to another. His resentment becomes overwhelming when he perceives the young Mozart to be neither pious nor terribly cultured. He cries out to God, "That gift which should have been mine you have taken and given to an obscene child!"
Salieri comes to see himself as the butt of a monstrous cosmic joke. God has ignored his prayers and pledges and, incredibly, has bestowed a divine gift on a wayward adolescent who cares nothing, apparently, for God or his glory. In the course of all this, Salieri himself is unmasked. His true desire was for fame, not God's glory. Furious, he vows to destroy the divine gift in Mozart, and this, of course, means destroying Mozart.
He is remarkably successful. Rather than writing music for the glory of God, he is now bent on silencing, or at least muffling, God's glory in Mozart's music. Mozart's career is stifled at each turn, while Salieri's work, on the other hand, finds an evergrowing audience. He gets all he wants: fame, a secure standing at court, a respectable family and an attractive mistress, as well as the satisfaction of Mozart's quick demise. Before he can really enjoy all this, however, he realizes that God is visiting him with a terrible punishment. To Salieri is given the gift, which many of his contemporaries lack, of hearing unmistakably the voice of God in Mozart's music. At the same time, he is more than aware of the mediocrity of his own work. He realizes that his own music will be forgotten while the divine gift in Mozart will insure the eternal value of his work. Salieri descends to the level of hell Karl Barth described as having your own way and being stuck with it.
Mozart, on the other hand, shows some signs of repentance. His Don Giovanni reveals a contrite identification with the legendary Don Juan. Ironically, the only work Mozart can get at the end of his life is transcribing the music of Bach. His Requiem shows Bach's influence and serves as his own final testament. His career ends where Salieri's began: giving explicit glory to God.
Peter Shaffer's drama may or may not be entirely factual, but that is beside the point. Amadeus presents in a clear if unintended way an essentially Pauline-Augustinian view of the sovereignty of God.
The strong view of election is seen in Amadeus, and here we must agree with Salieri that Mozart, as a person, seems almost totally undeserving of his gift. He is far more interested in satisfying the cravings of his youthful libido. The modern view is that God ought to act according to human expectation. If we are honest, we must admit that Salieri's viewpoint is what we would be inclined to take. Why Mozart? Anyone who hears Mozart's Mass in C or Requiem must confess to having heard "the voice of God."
The argument in Amadeus goes beyond this—and is strongly reminiscent of Barth's evaluation of Mozart. (He maintained that the angels played Bach while "on duty." In their free time, they delighted in playing Mozart.) Mozart's music is not divine when it deals with some explicit religious theme, Barth would argue; Mozart's music was heavenly because of its very nature: it expresses a beauty, joy, and profundity beyond anything in the created order. This applies at least as much, for example, to the piano concertos as to the requiems and masses. Not everyone will agree—I'm not sure I do. The point is that this view of the divine character of Mozart's music is what makes the argument of this play work. God has chosen to express his voice through an instrument that seems scarcely appropriate, at least in terms of human judgment.
The play is also accurate theologically in showing that being a chosen vessel of God hardly makes one's life easy. Is God's election, for example, worth the pain and agony of dying in misery at age 36? Though the play does not seek to deal with Mozart's "salvation," his contrition is nonetheless present, and the Requiem suggests a turning to God. Unlike absurd examples of evangelical "biographies," here turning to God only creates more earthly misery. And yet, when we have given Salieri a final hearing, and have considered the abject state of Mozart near death, we are left with the music of Mozart's Requiem, his final composition (portions are played in the last act). He truly speaks the language of heaven; he has only this. The final suggestion of the play is that Mozart has glimpsed something of the reality of God through music.
The ultimate test of Mozart's music, Amadeus seems to say, is whether we hear the voice of God in it. Salieri heard it all too clearly, and hardened his heart; Mozart's heart was opened. God's ways are not our ways and yet we, like Barth, see more of the truth of the divine character through this example of God dispensing his gifts, "after the counsel of his holy will" (Eph. 1:11). God's magic flute plays on.
PAUL LEGGETTMr. Leggett is on the staff of the General Assembly Mission Council of the United Presbyterian Church, U.S.A., while he finishes work on a Ph.D. dissertation at New York's Union Theological Seminary.
Have something to add about this? See something we missed? Share your feedback here.
Our digital archives are a work in progress. Let us know if corrections need to be made.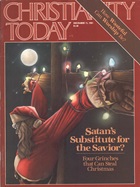 This article is from the December 11 1981 issue.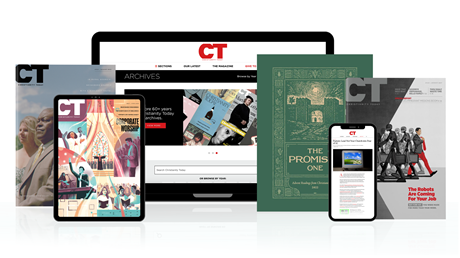 Subscribe to Christianity Today and get access to this article plus 65+ years of archives.
Home delivery of CT magazine
Complete access to articles on ChristianityToday.com
Over 120 years of magazine archives plus full access to all of CT's online archives
Subscribe Now
Refiner's Fire: Theology Opens on Broadway
Refiner's Fire: Theology Opens on Broadway