Have evangelism and social action eaten up time needed for communion with Christ?
Evangelicals are losing out in the logistics of spiritual warfare. Economists once were concerned that a generous supply of paper money in circulation should have sufficient gold cover. Similarly, and without metaphor, there is plenty of preaching, we are dealing the Word as never before—but there is little solid spirituality behind it. Galatians 2:19–20 seems to have lost much of its place of prominence among us and the union of the believer with Christ is no longer a central concern.
There are few seminaries that emphasize the ancient discipline of ascetics (the doctrine of Christian spiritual life) in their curriculum; in fact, the very term seems to have been forgotten. Are evangelicals still the people of prayer (and thus the unseen spiritual backbone of the nation) that they used to be? Or has evangelistic and social action eaten up the hours of silence and of simple communion with Christ? Saint Augustine used to say: He who does not know the Scriptures, does not know Christ. Are we certain in evangelicalism that the extensive reference made to Scripture all the time and in so many ways is also matched by an intense and profound understanding of Scripture?
I am convinced that the deepest problem of evangelicals today (and, for that matter, of liberals and neo-orthodox too) is a decline of spirituality. It shows through where the organizational mentality takes over. Even the lack of commitment to social responsibility, of which evangelicals are sometimes accused, must have its roots in a lack of spiritual life, and can only be repaired by a recovery of this very center. We need to direct our attention to the rebuilding of a biblical spirituality; those with an awareness of social needs especially dare not ignore this concern.
Not only those who groan under their labors but also those who like to work need times of outward as well as inward quiet when they seek the presence of the Lord. We must interrupt our activities with periods of prayer so that peace and perspective may continue to be ours. "The unfolding of thy word truly illuminates; it imparts understanding to the simple" (Ps. 119:130). It is our privilege to turn to moments of stillness. It is here that we find concentration and creativity. Without them, our utterances become superficial. The great things always came out of silence.
Can we expect to live a truly Christian life if it does not arise from fellowship with Christ? Authentic Christian action originates from quiet times set aside for prayer, for communion with our Lord.
In the midst of our busy lives we need to hear the message of Mary, Martha's sister, who, seemingly unconcerned with pressing duties, listened to the Master. He commended that sense of proportion: "Only one thing is needful. Mary has chosen the good portion which shall not be taken from her" (Luke 10:42). For a loved one we will always have sufficient time. It is in those times spent with him that Jesus will prove the "wonderful counselor" promised to us, and "teach us wisdom in our secret heart." If you want to go wide, you have got to go deep.
Calling for more quiet, of course, is not calling for quietism nor is it an invitation to the life of a hermit. In a seeming paradox, Scripture proposes a spirituality of the kingdom. Paul, pointing out his life's theme, wrote: "Him we proclaim, warning every man and teaching every man in all wisdom, that we may present every man mature in Christ. For this I toil, striving with all the energy which he mightily inspires within me" (Col. 1:28–29). The inspiration received served the purpose of missions. Paul's fellowship with Christ resulted in a love that urged him to help bring people nearer to God. Spirituality then, is the backbone of service. There is no way around the double commandment of love: love of God and love of neighbor.
We have the compelling example of a "spirituality of the kingdom" in the One who would work almost to a state of exhaustion, yet at the same time was a man of prayer. He made himself available to each and all but was able to help them authoritatively because of those times of silence spent alone with his heavenly Father. In the days of utmost stress and strain, when he was surrounded by demanding multitudes, Jesus, "very early in the morning, while it was still dark, rose and went out to a solitary place, and there he prayed" (Mark 1:35).
Let us go and do likewise.
KLAUS BOCKMÜHLDr. Bockmühl is professor of theology and ethics, Regent College, Vancouver, B.C.
Have something to add about this? See something we missed? Share your feedback here.
Our digital archives are a work in progress. Let us know if corrections need to be made.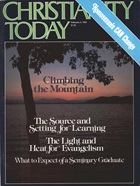 This article is from the February 6 1981 issue.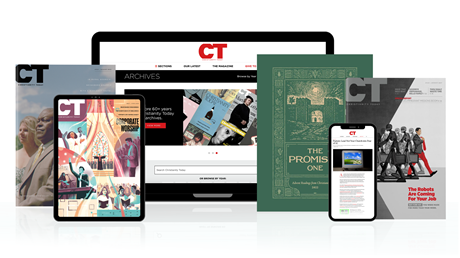 Subscribe to Christianity Today and get access to this article plus 65+ years of archives.
Home delivery of CT magazine
Complete access to articles on ChristianityToday.com
Over 120 years of magazine archives plus full access to all of CT's online archives
Subscribe Now
Toward a Spirituality of the Kingdom
Toward a Spirituality of the Kingdom