Comedy, in passing from myth to reality, loses its innocence.
Laurel and hardy refined the tit-for-tat gag into a comic masterpiece. "Reciprocal destruction" never looked funnier than in their 1929 two-reeler, Big Business. In their efforts to sell Christmas trees to resistant Californians, they come across the redoubtable James Finlayson. His irritation at the boys' persistence grows into a mounting frenzy. Piece by piece he destroys their Model T Ford as they, piece by piece, with equal vengeance, destroy his house.
Is this merely comedy? Or is it something more? Or is the "something more" part of what makes the comedy?
More than one will agree with the film producer who said, "If I want to deliver messages, I go to Western Union." Film comedy especially would seem to suffer rigor mortis when subjected to metaphysical autopsies. Stan Laurel, author of many Laurel-Hardy gags, reacted as most of us would at the sight of a philosophical scalpel. "We were trying to do a very simple thing, give people some laughs, and that's all we were trying to do."
Is he right? Are there more than just laughs behind Diane Keaton's dialogue with Napoleon in Woody Allen's 1975 Love and Death? Napoleon enters her room with the comment, "I heard voices."
"I was praying," she replies.
"I heard two voices."
"I do both parts."
In Manhattan (1979), a friend charges the Woody Allen persona with being too rigid and self-righteous. "You think you're God."
Allen responds, "Well, I've got to model myself after someone."
Why does Maurice Yacowar, in Loser Take All (1979), describe the Woody Allen films as "guilt-edged cinema"? Why does he compare the atheism of Ingmar Bergman with that of Allen? "As in Bergman's work, the voice of God cannot be heard; but Allen fills the silence with one-liners."
Great comedy, as Allen put it in 1974, "is intellectual without trying to be." Drama looks into the broken celluloid mirror and cries. Comedy laughs. Humor confesses, "I do not believe in an afterlife," and adds, "but I am bringing a change of underwear." It faces a shattered world and tries to keep your sanity by losing it.
The comedy art of the 1920s Mack Sennett films displays this integrating function. Slapstick builds its effects not around chaos caused by people, but around people caught up in chaos. The Keystone Kops are a comedy version of Sisyphus, toiling to push his rock up the hill. The game itself becomes the fun. And through the game, Harold Lloyd-like, we hang in there.
Two contradictory elements in the world we see are integrated in the Keystone comedies. On the one hand is the body as a machine, the mechanized man of nature. Charlie Chaplin's friend staggers under a large sack of flour. His legs begin to buckle. No one thinks of removing the sack from his shoulders or helping him with his burden. They just push his legs back into the perpendicular, as if they were props. The sharp, curt, staccato movements of so many Sennett comics are much more machine-like than any form of comedy that had existed before. Man is filmed as a package of conditioned reflexes.
The humor comes by integrating all this with the other contradictory element in our "worldview" doll house, the freedom of innocence. An overzealous anesthetist gives Ben Turpin too much gas. He swells up like a zeppelin and floats slowly across the room. The possibility is unreal, childlike. Hal Roach, a Sennett studio graduate, put it: "Actually the great comedians are representing or portraying children or the things children do." The absurdity of the comedy builds on this innocent freedom in contrast to a mechanized world.
Sennett slapstick throws pies at the shock of speed and mechanization. But it is not a protest against them. It accepts them as a child accepts them. Is this why we are still drawn to this classic period?
Charlie Chaplin took this perspective further. He preserved the slapstick point of view by refining it into a mythology. He carried it to the point of protest and tragedy. He underlined the innocence by underlining the cosmic hostility. His tramp became a mythical symbol, Charlie Everyman. "This fellow is many sided," he once explained, "a tramp, a gentleman … always hopeful of romance and adventure.… However, he is not above picking up cigarette butts or robbing a baby of its candy."
The early Chaplin did not tamper with the problem. Comedy never does. As Woody Allen puts it, "when comedy approaches a problem, it kids it but it doesn't resolve it. Drama works it through in a more emotionally fulfilling way."
But as Chaplin's work proceeded into the era of sound, the dark side emerges more clearly, and the myth destroys itself. The tramp survived City Lights (1931) and Modern Times (1936), but the world was growing darker. The 1940 caricature of Hitler, The Great Dictator, had some great comic moments. But the world was losing its innocence and there was less reason for laughing. By 1947, the tramp was dead and Chaplin turned to "black comedy" about a modern Bluebeard, Monsieur Verdoux. The final descent was the deeply autobiographical and bitter A King in New York (1956). It was the least funny of Chaplin's films, a funnyman's revenge on an uncaring America.
Myths, by their very nature, die when the sense of innocence dies. As man's substitute for divine revelation, they must come to grips with the reality of sin and man's estrangement from God. But they must do it without God's definitions. And they must do it by rebuilding man's sense of hope. Hope, in film comedy, is translated as innocence. The camera dramatizes this psychology of Romans 1. The child sits in the lap of his heavenly Father, slapping his face and telling him he is not there. Contradictions melt into naïvité.
This may be the reason for Chaplin's greatness in the full-length films of the 1930s. He went beyond slapstick to myth. Slapstick and fantasy make the real world seem funny. Chaplin used reality to make our fantasies seem mythical.
In the last decade, Woody Allen has come closest to recapturing this innocent element. Like Chaplin, he has created a persona, the schlemiel always put upon, the Jewish outsider—like the hero in Sleeper (1973), who confesses that as a schoolboy he was regularly beaten up by Quakers. His optimism is far more fragile. "He cannibalizes his neuroses. He seizes his fate as an anxiety-ridden, aging adolescent and makes fun of himself. What bravado. What courage. What time is it?" The world of Woody Allen is even gloomier than Chaplin's. But it is comprehensive enough to allow for mythologies. Politics (Bananas, 1971), love and death, sex, religion are recurrent themes.
In Annie Hall (1977), and in Manhattan (1979), he moves from slapstick to the mythic level. Annie Hall seeks to reconcile us to man's imperfect lot by resisting the temptation simply to do funny things. It exposes the drama of life through comedy. Manhattan, says the film critic Yacowar, "details the professional and romantic compromises by which man avoids confronting his insignificance in the cosmos and his inability to control his fate." Allen's funny is not so much funny-funny as cosmic funny.
The latest Allen release, Stardust Memories (1980), was not treated kindly by critics. It was assaulted by Pauline Kael for reworking past themes without progress. Stanley Kauffman saw Allen turning sour on his audience. Allen may have reached his Monsieur Verdoux level. The innocence is evaporating. The core has been exposed and it's all bad.
In Play It Again, Sam (1972), Allen, at his friend's urging, sidles up to a beautiful girl in an art gallery. While he screws up his awkward courage, she looks at a painting and interprets it. She sees "the hideous, lonely emptiness of existence" in this "useless, black strait jacket in a black absurd cosmos." The juxtaposition of images makes it funny. In Stardust Memories, the innocence has burned away. The image of the world is the same. It is no longer funny. Woody Allen the "theologian" has moved from Norman Vincent Peale to Reinhold Niebuhr.
Kauffman suggests compassion for Allen himself. But his compassion seems cold, with a hook in it. Kael ended her review with a comment that will strike many of us. "He may be ready to become a Catholic convert." Will compassion call us to pray for Woody Allen and see the searching soul in the guilt-ridden man on the film couch?
HARVIE M. CONNDr. Conn is associate professor of missions and apologetics at Westminster Theological Seminary, Philadelphia.
Have something to add about this? See something we missed? Share your feedback here.
Our digital archives are a work in progress. Let us know if corrections need to be made.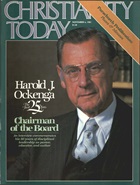 This article is from the November 6 1981 issue.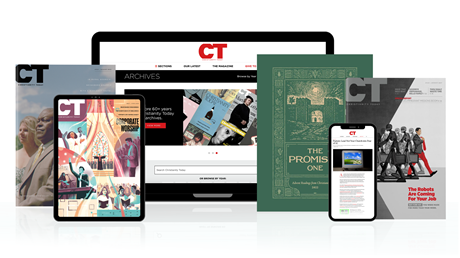 Subscribe to Christianity Today and get access to this article plus 65+ years of archives.
Home delivery of CT magazine
Complete access to articles on ChristianityToday.com
Over 120 years of magazine archives plus full access to all of CT's online archives
Subscribe Now
Refiner's Fire: Please Pray for Woody Allen
Refiner's Fire: Please Pray for Woody Allen