Attempts to suppress reports of scandal fail.
King of all the religious publishers in Nashville is the sprawling Southern Baptist Sunday School Board (BSSB). It has 1,500 employees, provides annually 164 million pieces of literature to 35,000 Southern Baptist churches, and operates 65 bookstores and two national conference centers on an annual, self-supporting budget of $109 million. It is a far cry from 1891 when board founder J. M. Frost set up shop with one desk in a friend's office.
After surviving financial crises, doctrinal disputes, and civil-rights quarrels, the Southern Baptists' most powerful agency has been shaken by a sensational trial, resulting from a $1.5 million suit brought by former personnel officer Donald Sloan Burnett. He charged the BSSB with assault and battery, wrongful discharge, gross negligence, outrageous conduct, false arrest, imprisonment, and defamation. After two weeks of eyebrow-lifting testimony, a jury in Judge Joe Loser's Third Circuit Court in Nashville awarded Burnett a $400,000 judgment against the board on defamation. Judge Loser threw out the other charges, and subsequently reduced the judgment to $60,000. This was accepted on September 1 by Burnett, who could not afford the money for and was unwilling to suffer the anguish of a protracted new trial.
In trial testimony, scores of board personnel were named in allegations of sexual and financial misconduct and neglect of duties. Burnett charged that board officials had tried to have him committed to a mental hospital. The jury verdict centered on alleged defamation by BSSB president Grady Cothen in a chapel talk to board employees in which he tried to explain the bungled commitment attempt. Most of the crucial events happened in July and August of 1976.
Burnett, an Oklahoman, had dropped out of Southern Baptist Theological Seminary in Louisville because of his wife's health, and thereafter pastored a Nashville church and worked at the municipal library. In 1967 he worked in the board's church library department, and in 1968 became an employment representative, recruiting for the board on Baptist seminary and college campuses and speaking in chapel services. In July 1976, at age 37, he was earning $18,000 a year and had been praised in an employee publication.
By this time, Burnett testified, he had become "alarmed at the number of divorces and the number of persons who had resigned in what I thought were unusual circumstances," and at reports from women who said they had been sexually harassed by male superiors.
Early in July, Burnett talked to De-Vaughn Wood, vice-president for finance, and his complaints were relayed to William O. Thomason, executive vice-president, and to Cothen. Burnett's charges had specifically mentioned Wayne Chastain, director of the management services division, and various women employees. Burnett urgently sought a meeting with Cothen, a former college and seminary president, and executive director of the Southern Baptist General Convention of California before joining the board in 1974. Burnett, by Cothen's remembrance, said he was under surveillance by unnamed parties and feared he might be "framed" or "ambushed." They met at Cothen's house, and Cothen taped the conversation.
Burnett reported his suspicions of wrongdoing. He suggested there might even be two-way mirrors in some bathrooms. But he gave no "specific" evidence, and said, according to Cothen, "God has given me dreams and visions," and that he was "God's person to clean out the board." Cothen arranged with Burnett for the president's office to receive any further information. Burnett agreed that Thomason also should be kept informed. A former board editor of a parents' magazine, Thomason held a doctorate in psychology and counseling from Southwestern Baptist Seminary.
Burnett testified that following his initial meeting with Cothen, he heard that Thomason was involved with two women in the board's employ. When he told two associates he intended to give this and other details on wrongdoing to Cothen, they strongly advised against it, citing Thomason's alleged previous involvement in moral problems. "I knew then," recalled Burnett on the stand, "that I had put my head in a noose."
During the next few days, a series of frightening events occurred that made Burnett feel his life was in danger. Clicking noises made him suspect his phone was tapped. A neighbor reported a prowler outside Burnett's home. He became sick while eating pizza at a country club, and thought someone had tried to poison him. While Burnett and his wife were vacationing at Sea Island, Georgia, Burnett learned that a Robert Jackson—the name of the board's photographer—from Nashville was registered at the hotel. He concluded that his enemies had tried to photograph him in a compromising position (it was a different Robert Jackson). Burnett saw a further attempt to entrap him when at the hotel a woman engaged him in "almost intimate conversation."
Returning to Nashville much disturbed, he recounted the latest incidents to Cothen, and said he was carrying a gun. Burnett spoke of God commanding Ezekiel to kill 70 false prophets who were merchandising in the temple. He urged Cothen not to talk to Thomason since he was one of those being accused, but Cothen apparently did talk to Thomason and both agreed that Burnett needed psychiatric treatment. Cothen felt he was "potentially homicidal and could do harm."
Cothen disclaimed knowledge at that time of Thomason's involvement with Ann Hutcherson, an interior decorator whom he had counseled about marriage problems with her husband. Mrs. Hutcherson admitted that her husband later believed Thomason to have broken up their marriage. Burnett agreed to see psychiatrist Daniel Calhoun, not knowing he lived next door to Thomason.
"I still trusted Dr. Cothen," Burnett said on the stand. Afterwards Calhoun advised that Burnett be hospitalized for tests. Burnett responded that if he felt he needed help he would go to his family physician. "It occurred to me," Burnett testified, "that I had thought of every way they could disgrace my testimony, but I never thought of them trying to find me insane or put me behind bars or in a cell. Who would believe the testimony of a crazy man?"
Calhoun told Cothen that Burnett was, in his opinion, a paranoid schizophrenic, potentially homicidal, and did indeed need treatment. Calhoun said he would arrange for a second evaluation, required under Tennessee law for involuntary commitment. Cothen and his associates consulted with board lawyers about plans for apprehending Burnett. Cothen arranged with the Metro (Nashville) chief of detectives, Major Bowers, to have a police car pick up Burnett beside Cothen's car in a secluded area of a board parking lot. The police would take Burnett to Parthenon Pavilion, a private facility, where Dr. Bill Sheridan might provide the needed second signature.
Cothen testified: "I was afraid his hostility level to certain members of the board was so great he might kill someone, if startled inadvertently. So we made the joint decision to put this man under the care of a psychiatrist."
Cothen admitted these plans were not discussed with Burnett's family, and that he had unsuccessfully tried to involve Dr. Arnulfo Agbunag, Burnett's family doctor. Cothen conceded, too, that he had heard about two Nashville chaplains who had called to verify organizational responsibilities of certain employees after reportedly counseling board secretaries tormented with guilt over adulterous relationships with highly placed board men.
The apprehension was set for August 4. The police became confused and drove into another parking lot in full view of dozens of offices. Directed on a ruse to the place where Cothen and the police were waiting, Burnett was encouraged by Cothen to get in the car. Burnett protested. Cothen insisted. "I was afraid, if I ran," Burnett testified, "that people coming out of the board would say, 'Here's Don and police officers and they're arresting him and he's crazy.' I didn't want to leave that impression." He got in the car.
At the mental hospital Burnett threatened to sue for violation of civil rights. Eventually, after talking by telephone with Agbunag, Dr. Sheridan released Burnett and refused to sign the commitment papers. By arrangement, Burnett met with Agbunag at Madison Hospital, but refused to register there, "afraid I was going to be drugged." Burnett called a Baptist lawyer who later declined to pursue Burnett's case after talking with board officials.
On August 4, Cothen tried to explain to board employees in chapel what had happened in the parking lot. It was, he said, "an attempt on our part, acting upon competent advice, legally and medically … to get some help for one of our brothers.… He has not done anything bad.… He deserves our prayers." But, added Cothen, "He will not return to the board until he obtains help, if he needs it."
Dismissing The Problem
In August 1976, Cothen gave Burnett a three-month paid leave of absence, promising he could return to the board with proper certification from a psychiatrist. Burnett testified he consulted Dr. James Cheatham of Dalton, Georgia (who found nothing wrong with him), because the board has "influences and connections that are unbelievable … in this area." Burnett admitted continuing his investigation of alleged wrongdoing, and said his suspicions about Thomason and Chastain were "confirmed."
On September 5, Thomason resigned. Two others about whom Burnett had made allegations subsequently left.
Judge Loser dismissed Thomason as a defendant, but he and Cothen were questioned about Thomason's involvements. Cothen admitted learning about Thomason's "relationship" with Mrs. Hutcherson, and said he could not accept Thomason's account of it as "wholesome and healthy," and Thomason's report that his wife wanted him to marry the woman upon her death. Cothen conceded he offered to keep Thomason on if he would end the relationship. When Thomason declined to do so he forfeited his $50,000-a-year job. He married Mrs. Hutcherson three weeks after his wife's death.
Cothen further admitted in testimony that he did not fire Wayne Chastain until early this year following an investigation that purportedly disclosed various shortcomings. The departure of Thomason and Chastain was noted only as "resignations."
One trustee called Cothen at the outset of the trial, saying he hoped Baptist Press, the official SBC news agency, would wait until the trial was over, and not print mere allegations. Cothen reportedly gave assurance that he was watching the reporting process carefully, and hoped that BP would let the board's information officer write the news story. BP officials told CT it was "normal policy" to have staffers of SBC agencies write news stories about events and persons in their own employment.
The official SBC news story on the trial was authored by Linda Lawson. It was reviewed without changes by Cothen and sent to BP. Dan Martin (BP news director) and Lawson agreed to omit the forced resignations of Thomason and Chastain as irrelevant. The story also failed to note that Cothen was personally present in the parking lot. Martin defended the piece as written and edited on "sound journalistic principle."
Jury foreman Dr. Rowland Ahrens said in an interview that the jury had taken the firings into account, and carefully considered the judge's instructions on defamation. "If you just simply listened to the word [Cothen's chapel speech]," Ahrens said, "then there certainly wasn't anything to say that was defamation. We looked at the big picture." Ahrens said the jury thought it important that Burnett had gone "from being considered a good employee … to having his whole reputation wiped out in one month." On Burnett's alleged paranoia the jury implied that anyone going through his experiences had reason to be "fearful."
The jury, said Ahrens, did not see Cothen as an evil man; his desire was to do the best he could for the board. Burnett, commented Ahrens, "was probably more strict than the average person, but … he didn't seem to be out of character for that particular organization."
The jury, recalled Ahrens, took less than an hour to render a verdict in Burnett's favor. They then added up the damages to Burnett since 1976: $124,000 for loss of his house, on which he had been unable to keep up payments; $50,000 for difference in income between his board salary and what he had earned as an insurance salesman; $40,000 for lost retirement benefits; $86,000 for loss of character—a total of $300,000 as compensatory damages. To this they added $100,000 in punitive damages.
Repercussions
After the trial, Burnett confided a deep hurt, particularly over broken ties with former friends. "Some of us," he said, "went to the Sunday School Board and other agencies feeling God led us there. Sometimes we got the impression that management was making decisions not on the basis of God's will … or the people's good. It was just simply business.… Many times some of us would try to bring up some kind of spiritual subject and it seemed to be completely out of place." As to the current situation at the board, Burnett stated, "I'm not saying things are worse than in 1976, but I believe many of the problems are still there."
Burnett said most Southern Baptist churches had closed their doors to him since the 1976 incident. He and his wife, now a kindergarten teacher, attend a small independent chapel, but hope eventually to continue as Southern Baptists. "We pray for those responsible for what happened. We've found the Lord helps a lot."
Contacted by phone, Cothen said: "The verdict was not supported by the evidence. The remission by the judge tends to support my thought. The pertinent evidence came out in court. There were repeated admissions from the plaintiff that his imagination had run away with him." Cothen declared that high moral and spiritual standards continued to be held at the board.
An article in the Tennessean, which had mentioned the firing of Thomason and Chastain, has raised some concern among Southern Baptists.
Jack Harwell, the Georgia state Baptist editor, observed, "I think this is another case where the kingdom would have been served better by going ahead and telling the whole story from the beginning."
Deeper rumbles come from leaders of the more conservative bloc. Texas Appeals Court Judge Paul Pressler (a leader of the SBC biblical inerrancy coalition) has called for a trustee investigation and a report made to Southern Baptists. "I personally am distressed to see attacks being made on individuals who raise the possibility of problems existing in Southern Baptist life," Pressler said.
Reaction is even stronger from Fred Steelman, minister of the 2,500-member Red Bank Baptist Church in Chattanooga and a key figure in the Tennessee Baptist Convention. "That was a stupid thing to do to Burnett in the parking lot," he said. "This raises serious doubts about Dr. Cothen's ability to run a multimillion-dollar Christian organization. It also makes me wonder how objective Dr. Cothen has been in dealing with problems at the board since." Steelman called for a "thorough" investigation by board trustees and a full report to Southern Baptists.
Moderator Jerry Songer called the board to express concern on behalf of some pastors in the Hamilton County (Chattanooga) Baptist Association, and was assured that the executive committee of the trustees had affirmed Cothen's administrative leadership. Songer was further assured that board officials, including Cothen, would consider meeting with the Chattanooga pastors about matters alleged in the trial, which had been the subject of a lengthy front-page piece in the Chattanooga Times.
Burnett said if Cothen or board officials engaged in such informational meetings, then he would ask for equal time. He reported that Baptist Press, the day after CT's inquiry, had called him for a statement. He told them, he said, "in light of the fact that you've never once called me during the past five years for my side, and have printed everything the board and Dr. Cothen said, I will never give a statement to BP."
Southern Baptist associations will hold annual sessions this month, with state conventions meeting in November. Indications are that the Sunday School Board affair and Baptist Press reporting on the issue will be hot topics of conversation.
JAMES C. HEFLEY
Capitol Hill
Augsburger Starts Inner-City Church
An evangelical church has taken root in the midst of Washington's Capitol Hill area, under the pastoral care of Myron S. Augsburger. The new work, Washington Community Fellowship, is loosely associated with the Mennonite Church and is expected to take initiative in addressing inner-city needs by cooperating with other ministries.
Augsburger, president of Eastern Mennonite College (EMC) and Seminary from 1965 to 1980, began leading worship services in June at Reformation—Lutheran Church, just east of the Capitol. This fall, his congregation of between 35 and 45 will move to recently purchased facilities in a racially mixed neighborhood in Washington's northeast quadrant.
Sensitive to the city's demographics, Augsburger expects the church to "aim at middle-and upper-middle-class people and then reach both ways."
According to 1980 census data, the number of whites aged 25 to 39 who live in the city rose 33 percent over the last decade. The Washington Post reported that "city officials believe many in this group are young professionals … who have been heavily involved in the renovation boom on Capitol Hill."
At the same time, due to shifts in other age brackets, Washington's black population is holding steady at about 70 percent of the total. Together with ongoing ministries such as Tom Nees's Community of Hope and John Staggers's One Ministries, Augsburger is "planning how to reach the needy of the city." He envisions a board of 13 elders, including men and women, blacks and whites, to direct the church and "to demonstrate by involvement our commitment to inter-racial ministry."
One former Capitol Hill resident termed Washington Community Fellowship "an answer to prayer." Noting that there have been no significant evangelical works there in the past, he said, "evangelicals have long needed a church on the Hill where they can worship together," instead of scattering to the Virginia and Maryland suburbs for services on Sunday.
For Augsburger, the church is helping to "fulfill a dream to offer a more holistic ministry and serve people at their point of need" by "developing a community of disciples." He is currently living on the third floor of Sen. Mark Hatfield's Georgetown home, and has also initiated an interdenominational Sunday evening vespers service at Georgetown Baptist Church.
Augsburger enumerated some of the difficulties encountered in this new ministry, including "a tendency for people to be enamored with the myth of power" and a problem of "class consciousness that militates against cooperation."
He and his wife Esther made the move to Washington at the urging of four different Mennonite missions boards, and because they feel it will "enhance our growth into new areas." Augsburger expressed a "conviction that after a stint in the inner city, I will teach theology with a different conditioning" than if he had remained in academia.
After leaving EMC over a year ago he pursued postdoctoral studies at Princeton Theological Seminary. He will continue to serve as adjunct professor at EMC and also at Associate Mennonite Biblical Seminaries in Elkhart, Indiana.
BETH SPRING
WCC In Dresden
Central Committee Urges Ban On Neutron Bomb
Thirty-six years after the fire-bombing of Dresden near the end of World War II, the World Council of Churches Central Committee meeting in the East German city urged a ban on the neutron bomb "and any other such weapons." The 11-day session opened with a service in the eighteenth-century Kreuzkirche at which Bishop Johannes Hempel said that GDR (East German) Christians would show their guests "our life as it is, with its strengths and with its weaknesses."
A similar note was struck the next day by Bishop Albrecht Schoenherr of Berlin-Brandenburg. GDR Christians, he said were resolved "neither to conform uncritically to the socialist society of the German Democratic Republic nor to reject it in principle." Referring to the Nazi era, Schoenherr declared that one result was German church sensitivity to "ideological distortion."
WCC deputy general secretary Konrad Raiser referred at a press conference to "remarkable cooperation" from the GDR government, from which greetings were brought by Klaus Gysi, state secretary for religious affairs. Some journalists nonetheless had been put off the trip to Dresden because of red tape and limitations put on foreign press activity in East Germany.
General secretary Philip Potter affirmed a WCC program emphasis on "supporting, strengthening, and sustaining the weak, the sick, the maimed, the marginalized, the poor, the oppressed and deprived," though he observed that some efforts toward that goal "encounter opposition and even hostility."
Last summer the Irish Presbyterian Church and the Salvation Army withdrew membership from the World Council of Churches, largely on the grounds of the WCC's political statements and its handling of its Program to Combat Racism.
More Vietnamese boat people flood into Hong Kong.
Hong Kong officials cite a resurgence of Vietnamese refugees entering Hong Kong as evidence that the face of the refugee problem is changing. This may mean that Hong Kong will have to absorb as many as 10,000 who cannot be resettled. It may also mean that relief agencies in the U.S. and throughout the world will have to change their agendas if they hope to meet the renewed challenge.
Recent counts by the Government Information Service (GIS) of Hong Kong place the current refugee population at 18,000 and reveal that arrivals for the first five months of 1981 were double that of the same period in 1980. Stacked against predictions made in April 1981 by UN officials that the refugee problem would be all but over by July of this year, these figures are worrying not only government officials but also relief organizations whose resettlement figures are subsiding after a good showing last year.
According to current GIS information, Hong Kong should still expect to have more than 12,000 refugees if present arrival and resettlement rates continue.
"The exodus is still on," says David Roads, chief information officer for GIS. "And now we're getting the bicycle repairman, fisherman, and farmer instead of the professionals and skilled tradespeople of the past."
With this new refugee profile, officials suspect that, as is being argued on the floor of the U.S. Congress, more and more of the refugees may be economic, not political.
Resettlement of "blue collar" refugees is becoming more difficult. "Countries are reluctant to take them," Roads says. The Hong Kong government has spent more than $25 million in the last three years on refugee work.
Refugees sometimes complicate their own situations as well. One Hong Kong English newspaper, the South China Morning Post, recently stated that about 20 percent of the current refugee population fell into a category called "residual refugees." Residuals fit into two main categories: "no shows," refugees who refuse to show up at an interview with another potential sponsor country because they want to resettle in the U.S., thus jeopardizing their resettlement chances altogether; and "Refugee Processing Center (RPC) refusals." The latter refuse to go to the RPC, a kind of holding center in Bataan, Philippines, where refugees intent on resettling in the U.S. receive language and culture training.
Meanwhile, relief work continues in the camps, and hope remains. World Relief Corporation representatives visiting the Western Quarantine Anchorage barge in Hong Kong harbor talked with a man who said he had traveled with his family from Da Nang, South Vietnam. His reason was "liberation." He said, "My country should not be ruled by Communists." After further questioning, he was asked if he would like to ask any questions of the World Relief visitors. "Where are we going," he smiled. "When will we get there?"
Have something to add about this? See something we missed? Share your feedback here.
Our digital archives are a work in progress. Let us know if corrections need to be made.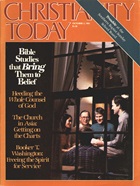 This article is from the October 2 1981 issue.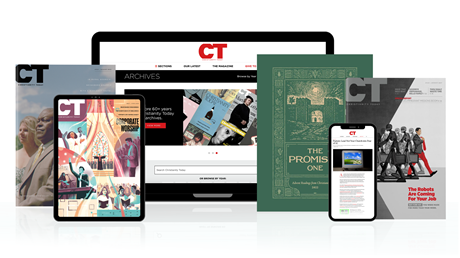 Subscribe to Christianity Today and get access to this article plus 65+ years of archives.
Home delivery of CT magazine
Complete access to articles on ChristianityToday.com
Over 120 years of magazine archives plus full access to all of CT's online archives
Subscribe Now
Former Southern Baptist Sunday School Board Officer Wins Settlement
Former Southern Baptist Sunday School Board ...