Apprehension of the great abyss gave way to ready anticipation.
I stand at death's door. Countless millions have stood at this same place.
I have read in newspapers and magazines, and I have heard on television and radio the thoughts, the anguish, the dismay of some who have been told that time was running out for them. Unless life is suddenly snuffed out by some calamity, eventually all who are mentally responsible come face to face with the knowledge that the end is near. So few are prepared. Knowing all the time that the goal of living is dying, they, like Ponce de Leon, continue to search desperately for a "fountain of youth."
The records of those who are suddenly faced with the prospect of dying are often remarkably similar. At first there is a confusion of despair and unbelief mingled with a hope that somehow a mistake has been made, or that by some miracle or scientific discovery the process of dying may be reversed. Along with the black despair there comes a mind-shaking fear because of the unknown. Is there something beyond? Is there just the blackness of nothingness as some would have us believe? Are we just animals trying to escape from something we neither know nor understand?
Time does not diminish the despair and fear. There are nagging thoughts of tasks unfinished, future plans all ended, important projects begun but never completed. These add to the hopelessness of the helplessness against an enemy that cannot be controlled or conquered.
Not only is there the physical agony of dying, but the mental pain increases as loneliness creeps in. Old friends seem embarrassed to communicate. They do not want to talk of death; neither do they have words of comfort. Even loved ones in the family approach me with sadness showing in their expression and manner. Sometimes they have words of comfort, but sometimes they make trite remarks such as "you'll make it," or "things will work out all right." So the suffering is a lonely ordeal. Silent weeping is a daily experience—no one understands. The darkness of long nights emphasizes the distresses of the body and mind. It is the time for cursing the fate that has befallen. It is the time for calling on God, if there is a God—a god or gods who never answer. It is a time for wishing for the end of the suffering, yet fearing to die. The clutch of the cold hand of fear never relaxes.
Sometimes concerns for the family, concerns for the anguish of the suffering of others around the world, and concerns for a world in turmoil, especially as related to loved ones, rest heavily on the mind. But from an isolated, purely selfish viewpoint, these things seem remote and do not matter much any more. They have no real relationship to the great distress immediately before me. The pleasures of living have ceased to excite or delight the senses. A beautiful home, lovely possessions, money in the bank, and stocks and bonds are all empty satisfactions. Past honors, accomplishments, or talents are no more useful or pleasant than a handful of dry dust to be borne away on the first gentle breeze. Each moment of every day should be precious, but time offers little more than waiting for the final curtain to be rung down.
Must dying be only a time of suffering and despair? Is there no alternative? As the grim door of death is before me, wealth, were it available, cannot help. Medical science has failed me. Political influence and power are useless. Love of family and friends cannot alter the march of time or the final plunge into eternal blackness, and no religion can help me.
I open and read the books of the philosopher and I find no comfort there. I read of the marvels of scientific discovery and again there is nothing to relieve my distress. I study the books of great literature; all are empty pages. Positive thinking in itself is futile—my life is not restored to me. Religion may give me instruction on how to live, but it is too late for that. I need to know how to die. Karl Marx thought he had something for the suffering masses of humanity, but he has nothing for me. Democracy may offer a higher standard of living, but it has no answer for dying. I turn to the Bible, God's Word. If I find no answer in it, then the blackness of death settles upon me forever.
Light began to dawn for the psalmist three thousand years ago when he pictured the shepherd leading his sheep, although his concern was for himself. When he wrote, "Though I walk through the valley of the shadow of death," the same fear clutched his heart that causes me to tremble today. The valley was dark and lonely; there was no beauty. The slippery stones forced him to stumble and fall. The water was cold and its wetness added to his misery. Every shadow hid an enemy that sought to destroy him, and fear struggled in him because the end would be an unknown death—until he made a great discovery: "I will fear no evil: for thou art with me."
He did not need to walk the valley alone. He recognized One who could lead him through. Now the valley walls became a place of beauty; lovely, delicate ferns grew from every crevice. A gentle hand helped him over the slippery places. The water became a cool refreshment to satisfy his thirst, and the shadows were a place of quiet rest. All fear was gone, and he knew there was a glorious future ahead with safety and love and peace and never-ending life, because, "Surely goodness and mercy shall follow me all the days of my life; and I will dwell in the house of the Lord for ever" (Psalm 23).
That is beautiful for the psalmist—but what about me? I must search further. I come to the Gospel of John and I read: "For God so loved the world, that he gave his only begotten Son, that whosoever believeth in him should not perish, but have everlasting life" (3:16). I begin to see beyond the death of the body. It will suffer and die, but beyond is "everlasting life," a life without end—not dependent on a system of philosophy, or a scientific discovery, or a national inheritance, or a religion, but dependent by faith on a revelation of God in a person, Jesus Christ.
EUPHORIA
The window frames the insouciant oak
Standing like a Hindu goddess with a single leg
Lifting indistinguishable sets of arms up, up,
Around, and beside.
Down the hill the people drive away
In their unannealed cars
Like the knowledge of a turned page.
My death will come sooner than I can make ready
To receive it with thanks, I suspect.
They are wrong who say Death waits for us,
As if Time were a road and Death a state trooper
Hiding behind a billboard on his motorcycle.
No. Death is not like a man.
Death is the regret that cannot be imaged.
Death does not tarry
But comes like the novel's ending.
It was done before I ever bought the book.
JOE MCCLATCHEY
I read on: "He that believeth on him is not condemned: but he that believeth not is condemned already, because he hath not believed in the name of the only begotten Son of God" (3:18). My learning continues. Dying is a fearful thing because I stand condemned before a Holy God. I understand I am lost forever because I am a condemned sinner until I reach out in faith to Jesus. Then, by his grace, all guilt is taken away, all sins are forgiven, and no condemnation remains because God has "laid on him the iniquity of us all" (Isa. 53:6). The fear of the blackness of death is replaced by joy in the divine light of everlasting life. "He that believeth on the Son hath everlasting life; and he that believeth not the Son shall not see life; but the wrath of God abideth on him" (John 3:36).
There is more. Jesus said to Martha: "I am the resurrection, and the life: he that believeth in me, though he were dead, vet shall he live; and whosoever liveth and believeth in me shall never die" (John 11:25–26). Dying and death are no longer a problem because a miracle has happened.
First, I learned I was a hopeless, helpless sinner; second, I learned that God in Jesus Christ gives me never-ending life; and third, there were no other conditions attached when by faith I believed and accepted from God the free gift of eternal life. Some who will not believe make complicated interpretations of these verses. Others say that it is too simplistic and other factors enter in. Still others give strange meanings to the words, but the truth remains—death is gone forever and God gives me eternal life.
In my mind I can hear someone say: "But suppose you are wrong?" Even that thought does not terrify me. Let those who will suffer their despair, their fears, their loneliness, and their frustrations to continue until the end. But as for me, I have traded all that for a sure hope, a mind at rest, at peace with God, with my fellow men, and with myself. I lost the blackness of death and gained a glorious eternity.
I have the sure Word of God, to which John gave emphasis: "But these are written, that ye might believe that Jesus is the Christ, the Son of God; and that believing ye might have life through his name" (John 20:31). So that there need be no doubt, John wrote again: "These things have I written unto you that believe on the name of the Son of God, that ye may know that ye have eternal life, and that ye may believe on the name of the Son of God" (1 John 5:13).
Jesus told his disciples and it passes on to me: "In my Father's house are many mansions: if it were not so, I would have told you. I go to prepare a place for you. And if I go and prepare a place for you, I will come again, and receive you unto myself; that where I am, there ye may be also" (John 14:2–3).
Now I stand on the threshold of death's door without fear but, rather, with joyful anticipation. As the door swings open, I know the divine light of God's eternity will pour out upon me. There will be loved ones with hands outstretched, and Jesus my Savior will be reaching toward me with a loving greeting.
"Welcome home, my child, welcome home!"
Have something to add about this? See something we missed? Share your feedback here.
Our digital archives are a work in progress. Let us know if corrections need to be made.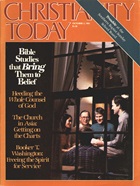 This article is from the October 2 1981 issue.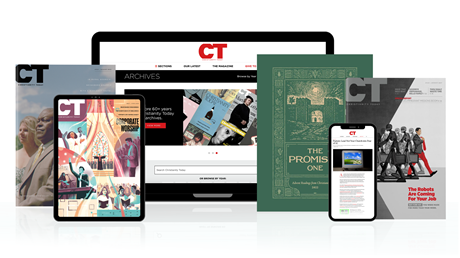 Subscribe to Christianity Today and get access to this article plus 65+ years of archives.
Home delivery of CT magazine
Complete access to articles on ChristianityToday.com
Over 120 years of magazine archives plus full access to all of CT's online archives
Subscribe Now
My Walk toward Death's Door
My Walk toward Death's Door