Never in recent history has the church been handed such opportunity to affect society.
President reagan's communications skills and political expertise have captivated Washington, D.C. His budget authorization package was passed in late June by the House, and by the first week of August, both the Senate and House had accepted the conference agreement. Speculative economic forecasts cloud the exact budget reduction, but many analysts quote $35 billion as a conservative estimate.
The appropriations process, which began in early September, calls for appropriation committees to operate within the parameters of the authorization schedule. For example, the school lunch program has been authorized at a $3.2 billion spending level. Appropriations for that program cannot exceed $3.2 billion. Thus, the $35 billion in cuts are already guaranteed, and additional reductions are expected.
Democrats may pursue various political tactics designed to slow the budget process. If their maneuvering has been successful through October 1, Congress will be forced to pass a continuing resolution, funding programs at 1981 levels.
This would be disastrous for Reagan's momentum, and another television appearance would be necessary. The slowdown strategy would be the only way Reagan would be precluded from receiving the proposed $35 billion in cuts.
Public philosophy has been altered significantly, and budget reductions have a supporting groundswell that is able and ready to snuff out any last gasps from proponents of the now outdated Great Society mentality. The conclusion remains the same: the government is dramatically altering its budget policy and philosophy.
What this means is that never in recent American history has the church literally been handed such an opportunity to affect society. Instead of chastising Reagan's "heartlessness," the church needs to begin preparing and planning for the imminent ramifications of the budget reductions.
Government'S Social Programs
Traditionally, the United States government was primarily responsible for defending the country, budding roads and bridges, maintaining law and order, and so on. Rarely did the government dip into the treasury to buy food, clothing, or shelter for individuals. These basic needs were supplied by local communities or churches shaping what Reagan calls "the frontier spirit that used to be."
In the last three decades, social (centralized cities, isolation), political (ripening of liberal dogma), and spiritual (gradual default by churches involved in community problems) reasons all contributed to extending the role of federal government into the realm of social services. During this time, churches became captive to values of the nation's compatible culture. Christianity became domesticated, confined to the status quo. Church clergy began to seek governmental assistance and legislation for needs that they could not with theological and ecclesiastical motivations commend their own membership to supply.
The evolving proposition, that only the federal government could or would aid the neediest members of modern society, revolutionized the functions of the state. This theory fostered a host of social programs, which sprouted as astronomically as did the theory itself.
Government has certainly strained to fulfill its so-called moral responsibility. Social programs have increased geometrically in both size and scope. Between 1970 and 1980, outlays for social services programs skyrocketed from $90 billion to $300 billion. Food stamp and nutritional aid spending increased 779 percent since 1972. Funds from at least one of the five major social services programs—food stamps, school lunches, subsidized housing, Medicaid, and Medicare—are now dispensed to 34.4 percent of U.S. households. As these social programs swelled, a seldom-mentioned fact became apparent: most government social programs were failing.
Statistics show that the total value of federal resources consumed by the poor in 1979 was enough to elevate every officially poor family 30 percent above the poverty line. Yet poverty levels were unchanged in 1979 and have virtually remained constant (approximately 12 percent) since 1968.
Many superficial reasons for welfare's inefficacy are obvious. Social services programs: (1) promote the concept of remaining poor by destroying incentives to work; (2) deny the poor explicitly what they need—jobs and money—while showering them with goods and services the government thinks they should have, in amounts deemed appropriate; (3) render the father of a poor family optional while rewarding growth in family size; (4) are subject to fraud and abuse by both recipients and administrators.
Other, more esoteric reasons for social services incompetency exist. (1) Bureaucracies responsible for doling out social service funds consider program beneficiaries categorically, not individually. (2) Government is limited by its broad gambit of responsibilities. Consistently prioritizing poverty programs is neither feasible nor advisable. (3) Finally, government has undertaken what is basically a spiritual ministry. The social service agencies lack two key ingredients in their restorative recipe for society: the underpinning of love and the motivation of Christ.
Biblical Survey
Even a cursory scan of the Scriptures will reveal a distinctive emphasis on the economically deprived. Biblical commandments regarding concern for the poor are so unequivocal that they are a fundamental challenge, testing the love and earnestness of the Christian community. These maxims are discovered in basic texts like the Lord's Prayer and are interwoven throughout the policies and practices of the early church.
Careful examination yields the following biblical principles that should formulate Christian action.
• Destitution and poverty are inescapable ills of sinful societies (Deut. 15:11; John 12:8).
• Individuals served by Jesus must become compassionate servants to the spiritual and social needs of the poor (Luke 10:28–37; 1 John 3:16–17).
• Believers should perceive their worldly riches as temporal gifts from God and use them for his glory (Ps. 62:10; Luke 12:15–21).
• God is pleased by and blesses Christians who give to society's less fortunate (Prov. 19:17; Eccles. 11:1).
These are not nebulous principles but relevant precepts that can and must be embraced by the Christian community. The Scriptures illustrate the ease of applying these principles, and the ensuing benefits, using the first-century church as example (Acts 4:32–37; 6:1–7).
The early church believers made their financial resources unconditionally available to others. Their joyous attitude of surrendering all, which was pivotal to the church's fervent social efforts, cultivated a disentanglement from the material affairs of life (2 Cor. 8:1–5, 13–15; Rom. 15:26–27). A contagious spirit of loving unity developed (Acts 2:44–46) and God rewarded this ministry (Acts 2:41–47).
Unfortunately, today's church is floating rapidly downstream from these biblical precepts. Some religious leaders are paddling furiously toward the early church lighthouse, but casual observations of the modern church show these endeavors to be futile. Perhaps today's Christian does have more to sacrifice than the "fanatical" first-century believers. Rationalizing, however, will not exonerate the church from the serious consequences of its inaction (Matt. 25:31–46).
The church must once again become a visible model, a light on the hill (Matt. 5:14–16), within which economic differences are surmounted. Only then can the church, with integrity, prophetically challenge cultural values. Only then will the church have an inherent vitality that will interest the world.
Practical Conclusions
To return to the Reagan budget cuts, government officials estimate that one out of six families will be forced off the welfare roles or have benefits reduced because of Reagan's slashing tactics. Four hundred thousand families will be shoved off Aid to Families with Dependent Children. One million persons (36,000 households) will be ineligible for food stamps while 35 percent of those remaining on the food stamp rolls will lose at least six dollars a month.
These marginal welfare recipients, who will turn to the church for support, present an unprecedented opportunity and challenge for the church to reassert itself by plugging the gaps Reagan has chiseled from special services programs. Failure of the church to respond will mean relinquishing authority back to the state and certain loss of respect for the church by observant Americans. Failure to respond will mean continued tax escalation and government infringement.
Churches must seize this occasion to:
• Fulfill God's commandments by mirroring the efforts of the early church while reaping the resultant blessings;
• Demonstrate to society the power of love;
• Perfect the social services system.
Local church efforts, carefully administered by deacons, will definitely surpass most of the intangible difficulties now encountered by bureaucratic institutions. Fraud and abuse can virtually be eliminated while recipients of local church giving will obtain more than government handouts; they will receive caring relationships along with a community of compassion.
Now is the opportune moment to commence writing a new chapter in the history of the church. There are three features that must mark this effort.
First, church clergy and laymen must allow the Holy Spirit to make them uncomfortable individually as they attempt to empathize with those within the poverty-stricken segment of our society.
Second, Christians must sacrifice individual time and money, as the Lord directs. The only safe rule is to give more than can be spared; that type of giving brings fear of insecurity, but dependence on God.
Third, the church must develop small prayer groups to concentrate on specific needs of the poor within their particular community. The group will first have to strive to resolve economic inequities within the church itself. The movement could then spread throughout the community and to neighboring churches.
If these three measures are implemented quickly, they will afford the church the opportunity to overcome the challenge Reagan's budget cuts offer. Now is the time to renew those religious convictions from which our morality springs.
Have something to add about this? See something we missed? Share your feedback here.
Our digital archives are a work in progress. Let us know if corrections need to be made.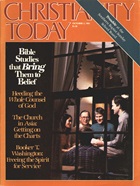 This article is from the October 2 1981 issue.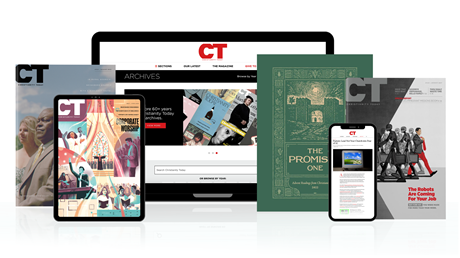 Subscribe to Christianity Today and get access to this article plus 65+ years of archives.
Home delivery of CT magazine
Complete access to articles on ChristianityToday.com
Over 120 years of magazine archives plus full access to all of CT's online archives
Subscribe Now
Reagan's Budget Cuts Challenge the Church
Reagan's Budget Cuts Challenge the Church