E. V. Hill knows where the money is.
People usually think of south central Los Angeles as the site of the Watts riots or police shootouts with the Symbionese Liberation Army, not as home of the World Christian Training Center (WCTC). The center's sign barely stands out among liquor stores and dry cleaners. Once inside, however, it is clear this is more than another storefront mission. It is the high command post for E. V. Hill's war on poverty.
As pastor of the Mount Zion Missionary Baptist Church, Hill has definite evangelistic ideas concerning the needs of the poor. "Those who will save the city are not the politicians, the educators, the media, the police, the businessmen or the man in the street," he says, "but the Christian."
Established in 1970, Hill's WCTC has as its goal the "salvation of the city." It offers a basic ten-week program in Christian doctrine and personal evangelism in courses taught by staff or visiting specialists. Graduates become "block workers" who strive to win their entire block for Christ. In addition to this basic program, a number of others now flourish.
The only WCTC program to use government funds, hence the most controversial, is the center's Work Experience Program.
Funded by a CETA grant (Comprehensive Employment and Training Act), the program evaluates, trains, and places youths from 16 to 21 years who are high school dropouts, ex-offenders of the law, gang members, or handicapped. Now in its third year, the program has placed hundreds of area youths in jobs or back in school, and boasts a placement rate higher than other CETA projects.
William Seitz, the center's executive director, said "they [the government] didn't want to give this program to the WCTC because they said the church couldn't handle it. Initially, they gave us a terrible rating and recommended funding of only 30 percent." But Hill's close association with Los Angeles Mayor Tom Bradley eventually helped them land the grant. One hundred percent funding was promised if they could place 15 of the first 50 youths. They placed 37. Seitz said WCTC is one of the only CETA groups that "knows where the money is." He sees public officials as divided over the program; one group wants to continue the funding based on its success, another wants to "finish it off because it is proving them wrong."
Although teaching of Christianity is not allowed, staff personnel claim dedicated Christian instructors make a real impact with their personal interest in individuals.
The center's $408,000 CETA grant runs out September 30, mainly due to Reagan's budget cuts, but the city of Los Angeles has promised continued funds, WCTC also seeks funds from local industries and business to help train people.
In cooperation with the courts, the center offers the Volunteer Action Center, a referral service allowing offenders to do community work instead of serving jail sentences.
That deteriorating neighborhoods might fall victim to demolition with further displacement of the poor was the concern that launched Operation Looking Good. With the help of this community clean-up project, numerous houses have been painted and hundreds of trees planted. Workers in the program direct residents to available city funds for community improvement projects. Other social programs include ministries in convalescent homes, on skid row, and in prisons. In most of these the WCTC cooperates with existing organizations and churches. The center also helped send 200 children to camp this summer.
Two new programs in the works concern youth gangs—a big issue in Los Angeles—and the deaf. The state of California recently denied funding for the center's gang program, but is currently reviewing their program for the deaf. Director Seitz feels the deaf are often bewildered by the red tape of state programs and would like to use the WCTC as a one-stop referral service.
A new addition to Bible-related spiritual programs are WCTC's university extension courses. College-credit Bible courses taught by Fuller Theological Seminary and Biola University staff will be offered at the center at reduced prices. And plans are being made to expand the entire WCTC concept to other major cities, including Dallas and Cleveland.
In waging war on poverty, E. V. Hill has managed to violate every orthodoxy of liberal poverty fighters. He is a man of humble beginnings from the South who personally nominated Martin Luther King for leadership of the Southern Christian Leadership Conference. Yet he has outraged black and white liberals by heading Black Clergy for Reagan. Critics who deride Reagan as antipoor do not bother Hill at all. "It was necessary to elect Ronald Reagan," he said. His only reservation is the administration's somewhat slow response to suggestions for a task force on poverty. Reagan did offer Hill the post of chairman of the U.S. Civil Rights Commission, but he turned it down, feeling he could be more effective in other areas.
Defending his conservative approach, Hill said, "White liberals have used us more than they have helped us." Even though they "marched and wept with us in the South, they also were not totally honest. They left with the jobs and the power."
Real antagonism, Hill insists, stems from the fact that he has insider's knowledge about how to help the poor. He told about a white liberal woman on one of Mayor Bradley's poverty commissions who stridently advised him what black people needed. Hill suggested she ask him what blacks need: "I've been one all my life," he said.
Hill's double-edged comments thrill conservatives and chill liberals. "Capitalism is the right way, the biblical way," he says. "Democracy cannot work if half the people decide to freeload. Government is not our great white hope." Hill easily sheds the criticism these statements elicit and is respected even by those who differ with him because of his "poverty credentials" and impressive record.
Some Christians have criticized Hill recently because of his association with Moral Majority. Although he was raised to hate white conservatives because they were "bigots and ku-cluckers," Hill has found through personal experience that this was not so. He says Falwell's church and college have numerous black students and members. And a group of students from Falwell's college spent this past summer working in the ghetto with Hill's evangelism program. Hill explains his Moral Majority ties by saying, "Anyone who calls for biblical morality will catch it from everybody."
Hill's ability to secure cooperation and funds from white evangelicals for work among ghetto poor has, without doubt, been his biggest coup so far. He works with Billy Graham, Bunker Hunt, Bill Bright, and Stan Mooneyham in a situation that is "totally open." His concern is that white evangelicals "put as much into the ghetto as they have into foreign missions."
Hill has myriads of programs and successes in his wake. But he has not lost his first love, which he says is "telling people how to be saved." Neither does Hill feel he is one of a kind. Are there other younger black pastors on the rise who think like he does, loving the gospel and the poor? Hill says without hesitation, "The woods are full of them."
Have something to add about this? See something we missed? Share your feedback here.
Our digital archives are a work in progress. Let us know if corrections need to be made.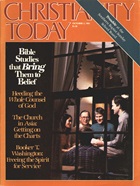 This article is from the October 2 1981 issue.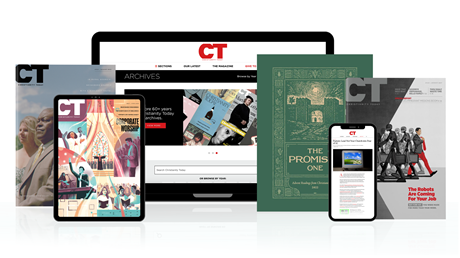 Subscribe to Christianity Today and get access to this article plus 65+ years of archives.
Home delivery of CT magazine
Complete access to articles on ChristianityToday.com
Over 120 years of magazine archives plus full access to all of CT's online archives
Subscribe Now
WCTC Sends in Christians, Not Government, to Save City
WCTC Sends in Christians, Not Government, to Save City