Like Nietzche, her faith cannot be easily dismissed.
Ayn rand is dead, at the age of 77. Author of novels such as The Fountainhead and Atlas Shrugged, she was for many years one of the leading voices of our time against Christianity. The temptation is for Christians to gloat (as in that popular bit of seminary graffiti: " 'God is dead"—Nietzsche. 'Nietzche is dead'—God."). But her ideas live on, and I have met many who, knowingly or not, embody them. For many, these ideas represent the most powerful and attractive attack upon our faith around today.
Like Nietzsche, Rand's faith cannot be as easily dismissed as the naïve belief in the unaided progress of mankind we often refer to as "humanism." She did not believe that humankind would become better simply as a result of an evolutionary process. For the most part, her world was populated with people who were, in her sense, totally depraved; only the few would ever rise to satisfy the rigorous demands of her moral vision.
She described this morality as "the virtue of selfishness." For her, the ideal person was one who had a clear conception of where his own happiness lay, and who pursued this personal ideal with heroic effort. This world is filled with people who are afraid of their own desires, she felt, people who are too lazy and timid to chart clearly a course that will lead to productive achievement, which is the highest aim of man. It is only when an individual unashamedly sees his own fulfillment as the higest moral purpose of his life that he can make for himself—and for others—a life that is more worth living.
What Rand called "rational selfishness" cannot be passed off lightly as mindless self-interest. Her trust in man's most genuine desires led her to posit that what is most beneficial to an individual will be of the greatest help to others.
She had, for instance, a strong ideal of friendship: she did not see it as based on any desire to "help" the other by bowing low to give of one's self, but rather as a relationship between two people who can know and appreciate each other as individuals precisely because each has labored hard and long to find and to develop himself. Also, she pointed out, the greatest benefits to mankind have been achieved by people who single-mindedly pursued their own ambitions, thereby producing ideas, works of art, and products that enrich our lives, and stimulate and challenge the best parts of us all.
Where her writings hit us as Christians the hardest is in her critique of "altruism." Altruism, she claimed, is basically a lie. We pretend to be selfless, while all the while we are reaping subtle, egoistic rewards. People who work for charitable causes usually do it in order to feel better about themselves, and often in order to win the adulation of others. What is most objectionable in this is that the true motives are so concealed. People become altruists, she felt, because they are weak, because they want to hide the fact that they have nothing positive to live for themselves.
Such a critique merits our attention, I feel: Are we being humble, self-abasing—and even kindly—only because it is the easiest path toward a falsely conceived self-respect?
Rand's views led her naturally to an unflinching support of laissez-faire capitalism; she could be described as several miles to the right of Goldwater with respect to the free market. And this brings up a question for many of us who are both Christians and believers in free enterprise: Are we aware of this possible split in our moralities?
I have met a number of folk who share Ayn Rand's views. Some of them are simply selfish people in a destructive way. But there are others who have my somewhat puzzled respect. They are kind and gentle, and even have a sort of natural humility about them (none of which is antithetical to Rand's position). But their friendship is, in a sense, hardheaded. They do not stoop to aid so much as they display a desire for their friends to become more than they are now: they challenge their friends to better themselves. They are humble in recognition of their own shortcomings, yet they are unabashed in their efforts to deepen and expand themselves.
How are we to respond to such people? The answer is dialectical, involving both learning from them and giving them an answer they desperately need. As fallen people, we need to see that Rand's critique of altruism hits home more often than we care to admit, and that we often misuse Christian notions of humility and reliance upon God in order to shirk responsibilities we ought to take on.
But it is also clear that there is much missing in Ayn Rand's world view. The fact of the matter is, we are completely fallen people who Cannot go it alone. While much of our weakness is due to things we could profitably work on, in the final analysis we need the strong arms of a loving Savior in order to make our lives worth living, and in order to be of service.
Our notion of Christian love needs looking into. Because of the incarnation of Christ, love is a genuine presence, a true power in this world. It is not a matter of a strong person condescending to aid a weak person; we are all weak. Rather, it is the binding force, given us of God, that always infuses both parties with his presence. When we try to love in our insufficient ways, we should always look for what God has to give to us through the other person.
So it is that in dealing with Ayn Rand's thought we come not to a compromise position, asserting that "we can be strong, too," but rather to a deepening sense of humility. But humility and love are not weaklings. They are avenues for Christ's redemptive strength.
Mr. Cory is self-employed, a free-lance writer living in Chicago.
Have something to add about this? See something we missed? Share your feedback here.
Our digital archives are a work in progress. Let us know if corrections need to be made.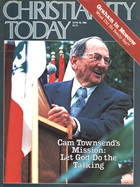 This article is from the June 18 1982 issue.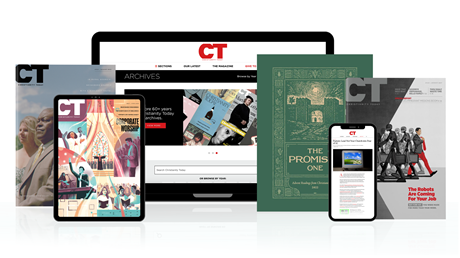 Annual & Monthly subscriptions available.
Print & Digital Issues of CT magazine
Complete access to every article on ChristianityToday.com
Unlimited access to 65+ years of CT's online archives
Member-only special issues
Subscribe
Refiner's Fire: Rerouting Ayn Rand's "Virtue of Selfishness"
Refiner's Fire: Rerouting Ayn Rand's "Virtue of Selfishness"