When I was getting started in my profession, I used to wonder what happened to preachers when they got old. (In those days, "old" meant somewhere in the 40s. I have since recalculated.) I supposed that old preachers, like old soldiers, did not die; they just faded away. Now that I have reached middle age, I am getting my answers.
Not that I am old. (As I mentioned before, I have recalculated.) True, I can no longer sign John 8:57 after my name ("Thou art not yet fifty years old"), but there are plenty of other verses to choose from. My friends who own pocket calculators tell me that nobody can know when he is at middle age until he knows how long he will live. But even if the Lord graciously grants me fourscore years, I am still past that midpoint, and that makes me a middle-aged minister.
Dante found himself "in a dark wood" when he arrived at "the middle of the road of life," but it was his own fault. He admitted that he "strayed from the straight path." Byron had nothing good to say about the middle years: "That horrid equinox, that hateful section / Of human years, that half-way house, that rude / Hut …" His experienced estimate was that our middle years are the time "when we hover between fool and sage." I think Byron must have followed Dante off the straight path.
Not that middle age doesn't have its special problems. Bob Hope once defined middle age as that time of life "when your age starts to show around your middle." My wife told me that swimming was good for my figure, and I asked her if she had ever looked at a duck's figure. Many golfers I know are tediously overweight, and I don't golf anyway. I still get my exercise by carrying books up and down the stairs and occasionally strolling about the neighborhood.
But I sometimes have a problem understanding what is going on in the high councils of Christendom. A whole new vocabulary has developed while I was out of the room parsing a Greek verb. The church renewal movement has occasionally given me slight headaches, and I have to pray extra hard before reviewing books by some authors. The new "tell-it-like-it-is" school of biography and autobiography upsets me. I sometimes feel like taking a shower after reading such stuff, and I suppose that dates me.
All sorts of new winds are blowing. Fences are coming down that used to seem sturdy. The fellow who used to draw the boundary lines was ran over by a gang of protest marchers and we don't see him any more. Perhaps that's the biggest problem of the middle-aged minister: he is not always sure where he belongs. He is too wise to follow every flag that marches by, and yet he has no desire merely to be a spectator.
Some ministers solve this problem by jumping on a noisy bandwagon and hitching their future to an evangelical superstar, a "man with a cause." Their own light is dim, so they live on a borrowed glow. "There is safety in numbers." they argue; but, as a witty British minister once remarked, "There is more safety in exodus."
I have never felt happy on a bandwagon. Like Thoreau, I tend to listen to a different drummer. I have never asked my friends to follow my flag; all I have asked is that they give me the privilege of following it myself, and I will do the same for them. Jehovah is a God of infinite variety and there is no need for us to be carbon copies or clones. Too many middle-aged ministers huddle together for warmth and safety when they ought to be out cutting new trails for the gospel.
All the books tell me that my middle years are a time for evaluation. I am embarrassed to confess that I never had an identity crisis. My parents always reminded me who I was, and when they forgot, my two brothers and sister took up the quarrel with the foe. I don't recall that any of my professors ever lectured on the subject, although more than once I did have a crisis trying to identity what they were lecturing about.
The books also tell me that the middle years bring threats of fear of failure. Perhaps they do. My own feeling is that God and his people have treated me far better than I deserve, and that God has balanced the blessings and burdens in a beautiful way. My early optimism has become realism; I trust there is no pessimism. I am not as critical as I used to be, not because my standards are lower, but because my sight is clearer. What I thought were blemishes in others have turned out to be scars. In my earlier years, I was one of the six blind men describing the elephant. Today I can see the elephant clearer and also the other five men.
A friend once said to me, "I want to get mellow, but not rotten." A good point. I recall that one of the great saints prayed, "Lord, don't let me become a mean old man." I suppose this has special relevance when we see others achieving goals that, to us today, are either dreams or memories. When I read the news columns of religious periodicals, I am amazed at the number of "immature young men" who are filling important places of leadership. Why, I knew some of those fellows way back in Youth for Christ days! They were just kids!
It is easy to look at the future in a rearview mirror, but that kind of driving always leads to a collision. God is building his temple, and I would rather stand shouting with the youths than sit weeping with the aged. True, some things are changing; but they have always been changing. I am reminded of the reader who complained to William Randolph Hearst that his newspaper was not as good as it used to be. He replied: "It never has been." I believe that God still saves the best wine until the last, and that the path of the just still gets brighter and brighter, even if we sometimes find ourselves looking at the glory through our tears.
Yes, there are many compensations to the minister who reaches middle age. I have lived long enough to be thankful for unanswered prayer. Here and there, I meet people who were helped along the way by something I said or wrote. I admit that it makes me feel old when I dedicate the children of parents who were little imps in churches I have pastored, but it makes me feel happy to know I helped to give them a good start. I have fathers and mothers, brothers and sisters in the Lord all over the world, and that gives me a good feeling—especially when I travel and need someplace to hang my hat.
I like to think I have matured a little. I don't know as much about prophecy as I used to, and I have stopped hunting for obscure texts that will stun congregations. I have learned the hard way that there is a difference between an outline and a message, and I wince when I remember some of the sermons I have preached. How patient were those congregations that listened and loved and encouraged! They came for bread, but too often I gave them a stone—but they were kind enough not to throw it at me.
God has taught me that he blesses people I disagree with and does not ask my permission. No, I have not abandoned my theology. The foundation is still the same, but I must confess that I have rearranged the furniture and even tossed out a few pieces that don't seem so important anymore. I have learned to love my neighbor, even if he wears a different label from mine. And I have learned not to be afraid of truth, because all truth is God's truth, no matter what the channel. When I meet a new Christian friend, I major on what we agree on and let the disagreements take care of themselves.
Regrets? Just a few, but nothing major. God has ruled and overruled, and I have no room for complaint. I am not running around quite as much—not because there are no opportunities, but because I have rearranged my priorities. William Culbertson, the late president of Moody Bible Institute, once said to me, "We do more by doing less." He was right. I am no longer infatuated with the latest church-growth scheme or intimidated when I fail to attend the latest seminar. Instead of reading the books of the hour, I am concentrating on the books of the ages and learning a lot more.
Above all, I am trying to encourage and help those who are coming along. After all, people encouraged me in those early difficult years, and real Christian encouragement is a rare commodity these days. God changes his workmen, but his work goes right on. I want to be like David and serve my generation in the will of God.
I want to keep growing, even though the older I get, the more difficult it becomes. Why? Because there is no growth without challenge, and there is no challenge without change. When I was younger, change was a treat; now it tends to become a threat. But I need change—not novelty, but change—the kind of experiences that force me to dig deeper and lay hold of that kingdom which cannot be shaken. There is no time to waste on scaffolding; I must build on essentials, not accidentals.
The same Lord who started me on this path will see me through to the end. I have no desire for a road map of the future; one day at a time is sufficient. I am doing my best to act my age and not trying to imitate a teen-ager. At the same time, I don't want to drift into what a friend of mine calls "sanctified senility." Balance is the key word, isn't it?
The mind grows by what it takes in; the heart grows by what it gives out. "Age imprints more wrinkles in the mind than it does on the face," wrote Montaigne. I would rather have a wrinkled face than a wrinkled mind. The Indian summer of life has its own glory and beauty because God made it that way, and I hope to enjoy it with him as long as he allows. Ministry thrives on maturity, and time cannot destroy what we do in the will of God. There is no time to wallow in evangelical nostalgia, not as long as there is a world to reach with the gospel.
Middle age? It is just another stage in a grand and glorious life that has been planned for us by a loving Father.
Could we want anything better?
A former pastor, Warren W. Wiersbe is currently engaged in radio and conference ministry, and serves as associate teacher on the "Back to the Bible" broadcast. Author of some 50 books, he and his pastor son are currently collaborating on a volume on the subject of pastoral ministry. He wrote CT's Eutychus X column for nearly three years.
Have something to add about this? See something we missed? Share your feedback here.
Our digital archives are a work in progress. Let us know if corrections need to be made.
This article is from the May 21 1982 issue.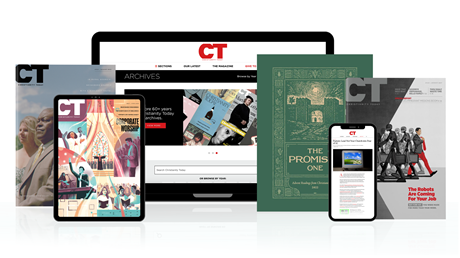 Annual & Monthly subscriptions available.
Print & Digital Issues of CT magazine
Complete access to every article on ChristianityToday.com
Unlimited access to 65+ years of CT's online archives
Member-only special issues
Subscribe
Mid-life Crisis? Bah, Humbug!
Mid-life Crisis? Bah, Humbug!