Assets increase, but the soul slides nearer bankruptcy.
Christians who read john updike are often eager to speculate on the writer's religious faith. "Oh, he must be a Christian," some say. "Look at the theology in his books." But no one ever says point-blank, "Yes, John Updike is a Christian. I heard him say so."
A 1968 Time magazine cover story on Updike included a short reference to a religious experience he had around 1960. It said Updike was raised a Unitarian amid Lutherans and Amish of southeastern Pennsylvania, joined the less-liberal Congregational church in 1959, and a year later, when the awareness of the passing of time pressed closely upon him, he felt a constant sense of horror about death. The fullblown religious crisis lasted several months, and Updike got through it only by clinging to the stern theological teachings of Karl Barth.
One might conclude that, yes, Updike may have had a conversion experience. Whatever the case, his works of poetry and fiction seem to be shot through with Reformation theology. Many articulate a powerful sense of sin and its far-reaching effects on people.
In his novels Rabbit Run (1960), Rabbit Redux (1971), and now the Pulitizer Prize-winning Rabbit Is Rich (1981), this sense of sin exists in its most graphic and troubling form. The books develop a tragic character, Harry "Rabbit" Angstrom, who has led a steadily decaying existence since his glory days as a high school athlete.
In Rabbit Is Rich, Harry has become a prospering Toyota dealer. At middle age, he is making a financial go of it, while the rest of the world seems to be running down, and on empty. But there is counterpoint here: as Harry's assets increase, the equity of his soul slides nearer bankruptcy. Harry knows this but seems powerless to help himself. He is a midlife survivor, a soul hanging by an unraveling thread. "In middle age you are carrying the world in a sense and yet it seems out of control more than ever, the self that you had as a boy all scattered and distributed like those pieces of bread in the miracle." Harry's fragments are scattered along a trail of mistakes: the ghost of an extramarital affair that haunts him; a tormenting, bruised fatherhood; a relentless hourly lust that seems demonic.
Can the slide of Harry's "good American soul" (Norman Mailer's term) be traced back to his childhood conception of God? There is a feeling of slippage here. Harry feels that God somewhere deserted him; in his mind, he and God have not been on speaking terms for quite a while.
This "stony truce" is further complicated by a nourished, focused anger at God for the way things have gone for Harry. He blames God for life, for death. "A girl called Jill died when Harry's house burned down, a girl Nelson [Harry's son] had come to love like a sister. But the years have piled on, and the surviving have patched things up, and so many more have joined the dead, undone by diseases for which only God is to blame.… Think of all the blame God has to shoulder."
With God so nebulous, Harry's sins run unchecked; but he is not completely without conscience. He looks back on his affair of 20 years earlier, the memory triggered one day when a young woman he knows to be his own offspring strolls into his Toyota dealership. He thinks: There is no getting away; our sins, our seed, coil back.
But stabs of conscience or not, Harry's sins—and the sins of those closest to him—collect like iron shavings on magnets. Harry's whole existence edges toward trouble. Sexually, Updike tells us, he tries to picture things that will turn him on. But he is running out of pictures. His wife, Janice, brags to her mother about her own affair, which happened simultaneously with Harry's. Why the two have stayed together through the years is at least partially summed up thus: "One of their bonds has always been that her confusion keeps pace with his." The absence of peace, drummed into Harry's head by a crusty Sunday school teacher in his youth, has arrived. Harry believes everyone starts behind an eight ball, and that he and his circle of mateswapping friends are tumbling down a chute together. In a grumble of stale bitterness, Harry thinks: We are all of us filled with a perfect darkness.
Nowhere is Harry's darkness greater than in the relationship between himself and his son, Nelson. It seems exactly Freudian, with father and son unconsciously wanting to kill each other. After dropping out of Kent State University, Nelson has returned, still bitter, wanting a share in the family business. With him is Melanie, a girl he spends nights with but will not marry because he plans to wed Pru, a girl who is pregnant by him. Taking Nelson into the business means Harry will have to fire Charlie, his best friend, and also the man who participated in his wife's affair.
But take Nelson into the business is what Harry must do; his wife and mother-in-law insist. One day, sitting by a swimming pool with Janice and friends, Harry thinks that "someday what would give him a great deal of pleasure would be to take a great round rock and crush [Janice's] skull with it." But this frustration is not even close to the feelings of anger and hatred and spite he has for Nelson.
In the book's most rueful scene, Harry watches Nelson fumble through the marriage ceremony with his pregnant bride. "The burning in [Harry's] tear ducts and the rawness scraping at the back of his throat have become irresistible, all the forsaken poor ailing paltry witnesses to this marriage at Harry's back roll forward in hoops of terrible knowing, an impalpable suddenly sensed mass of human sadness concentrated burningly upon the nape of Nelson's neck as he and the girl stand there mute while the rest of them grope and fumble in their thick red new prayer books after the name and number of a psalm announced.… Rabbit cannot contribute … because he is weeping, weeping, washing out the words, the page, which has become as white and blank as the nape of Nelson's poor mute frail neck.… There is this place the tears have unlocked that is endlessly rich, a spring."
Rabbit Is Rich cries real tears—tears of pity, of anguish, of the soul running a race for cover—tears that began their flow with Rabbit Run and Rabbit Redux. That these books bawl with human despair and ache with vulgarity, abrasive language, hopelessness, and sin really isn't surprising. What continues to surprise, though, is that the characters, the settings, the problems and dilemmas that set the conflict in motion, are so down-the-street, so mid-American. Are these the full implications of a secular humanism so widespread and rampant that no part of society is exempt from its presence and effects? It is a question critics such as Dean Doner started asking 20 years ago.
Says Doner, writing about Rabbit Run, "Harry 'Rabbit' Angstrom is fleeing from a great number of things, many of them the usual pressures, the usual traps, of contemporary life. Few novels delineate more clearly the claustrophobic nature of our institutions: an economy which traps a man into a mean, petty, lying hucksterism; housing which traps a man and his family into close, airless, nerve-shattering 'togetherness'; unimaginative, dirty cities which offer no release for the spirit; the ugly voices of advertising and television; the middle-class morality which wars with man's nature. These are the common villains. But behind all these forces, as though they were mere façades, lies the real net which snares this Rabbit. That net is essentially the total implications of humanism, the denial of the Unseen …"
Formerly assistant editor of LEADERSHIP magazine, Mr. Pawley is currently a free-lance writer living in a Chicago suburb.
Have something to add about this? See something we missed? Share your feedback here.
Our digital archives are a work in progress. Let us know if corrections need to be made.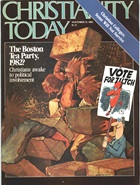 This article is from the November 12 1982 issue.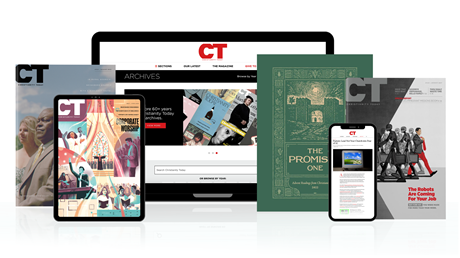 Annual & Monthly subscriptions available.
Print & Digital Issues of CT magazine
Complete access to every article on ChristianityToday.com
Unlimited access to 65+ years of CT's online archives
Member-only special issues
Subscribe
Refiner's Fire: Updike's Rich Rabbit: Suffocating in Sin
Refiner's Fire: Updike's Rich Rabbit: Suffocating in Sin