For his college. He's the president. And he's 66 years old.
College presidents don't usually bike across country these days, but Judson Baptist College President Herb Anderson is an unusual man. At an age when most presidents would be settling down to retirement, Anderson, 66, biked 2,300 miles to Washington, D.C., last summer, to save his central Oregon college from financial collapse. The only Conservative Baptist liberal arts college in the country, Judson is over $1 million in debt.
Judson must show it has the means to erase much of that debt by next month to prove financial stability to a regional accreditation commission. Anderson's bike trip, from which he hoped to raise $250,000, showed the thin thread on which the college's future hangs.
On July 31, he and 15 Judson students left the college in The Dalles, Oregon, and arrived at the Capitol steps in Washington one month later. Trip supporters requested 1,116 Conservative Baptist churches across the country to pledge money for each mile bicyclists rode.
Anderson, an avid bicyclist who leads yearly trips up and down the West Coast with students, made the trip on a Schwinn bicycle donated by two businessmen. He visited Conservative Baptist churches along the route, got police escorts through small towns, and appeared on radio and TV talk shows. He called the trip his "last hurrah."
"I wanted to bike across the country once in my life and here was the opportunity," he said. "Even if we hadn't needed the money, I would have done it, anyway. But 1982–83 is our crisis year. Either we make it or we don't. We're just treading water now."
Anderson's gamble seems to have paid off. Although the bike trip directly resulted in only $40,000 in pledges and contributions, trip publicity caught the attention of the Murdoch Foundation of Vancouver, Washington, which is linked to Tektronix Inc. of Beaverton, Oregon. It is the world's largest manufacturer of computer terminals.
The foundation, which also donates to other private Oregon colleges, recently awarded Judson a $200,000 grant. It will give the college another $190,000 providing Judson can raise a matching $190,000. The total $580,000 would, said Anderson, "bring us close up to our current expenses."
Christians along the bike route gave the bicyclists royal treatment, putting them up in private homes, providing meals, and taking up offerings. After Anderson was interviewed on broadcast evangelist Jim Bakker's PTL Club, he was handed a $10,000 check. "I burst into tears," the president admitted.
Anderson praised the hospitality his group experienced as they crossed the country along the 1976 Bikecentennial bike trail. Biking to Boise, Idaho, they drove over the Rockies, then rode their bikes through Colorado, Kansas, Missouri, and Kentucky. Detouring to North Carolina, they headed north through Virginia to Washington, D.C., where they were greeted the morning of August 30 on the Capitol steps by Senate Chaplain Richard Halverson.
"Judging from the people we met from all walks of life, America is stronger morally and spiritually than is thought," Anderson observed. "As the media is avant-garde, we get the idea that America is slipping from its foundations."
When Anderson became college president in 1981, he inherited some immense problems. In the fall of 1980, Judson relocated from Portland, the largest city in the state, to The Dalles—population 12,000—a city one-twentieth Portland's size. Faced with having to renovate its smaller Portland campus for $10 million, the college was offered a 64-acre campus in The Dalles for $1.4 million. It sat on the site of a former tuberculosis hospital.
College officials snapped up the bargain, found a savings and loan bank to lend them the funds, and prepared to move east to the other side of the Cascade mountains. Judson was in the middle of spending over $1 million to remodel the old hospital into a college campus when the savings and loan backed out of the arrangement. Unable to secure another loan. Judson had to rely on trustees and friends to borrow money on their names from banks, then loan it to the college.
Despite this setback, the college went ahead with the move and in the process lost half of their faculty who were unwilling or unable to leave Portland. When former Judson president C. Neil Davis left in the spring of 1981, Anderson, a familiar name in Conservative Baptist circles, was made president.
"They asked him to take on Judson because of the high regard Conservative Baptists have for him," said Russ Shive, general director of the Conservative Baptist Association of America. "He can instill a sense of trust and warmth toward the school. He's held in high esteem and has a good track record."
"Anderson is so well known throughout the U.S. that he was one of only two or three persons who could have brought credibility to the school," said businessman Lorne Richman, a trustee who chairs the development committee. "That guy is so humble. When he came here, money started coming out of the woodwork. People figured that if Herb Anderson was for Judson, they would back it, too."
Anderson has held six pastorates in Oregon, the presidency of the Conservative Baptist Association of America, the general directorship of the Conservative Baptist Foreign Mission Society, served on the boards of various Conservative Baptist groups, and been involved in youth work and college instruction. He had been chairman of Judson's Bible and philosophy department one year when he was asked to become president. After his appointment, money didn't start coming out of the woodwork right away. Beginning in the fall of 1981, salaries for Judson's 25 faculty and 15 staff members were late, and since last April, they have not been paid at all. The college offered faculty and staff free meals at the college cafeteria and the chance to draw small amounts of money from the business office in case of emergencies.
"Their response was mixed, but overall good," said Anderson, who is living off social security. "They are very loyal. They believe the Lord brought them there." Several faculty are driving wheat trucks and working the cherry harvest; others are living on savings.
Anderson said the lack of salaries "gets to you" every so often, but "there's that assurance that we'll make it; that all those bills will get paid." His confidence comes from a lifetime of difficult situations, he adds—situations from which no one but God could have rescued him.
As an example, he cites his stint as general secretary for Inter-Varsity Christian Fellowship soon after he had graduated from Wheaton College in the 1940s. He went on missionary recruiting trips with never enough money to complete the trips. Always, the money was supplied during the trek, such as the time he was short $8 and a stranger handed him a $10 bill.
Despite the economic woes, Anderson's commitment, self-effacing demeanor, sense of humor, and willingness to serve has won him the admiration and support of Judson faculty, students and staff, according to Dr. Charles McKinney, Judson vice-president for fiscal affairs.
Some 70–80 students may leave Judson if the college does not receive a four-year accreditation in December, said Martin Bush, Judson vice-president of academic affairs. (The school has 300 students.) In Oregon, teachers must be certified by an accredited school, and if Judson fails to meet the accrediting commission's financial standards, many students would have to go elsewhere to graduate.
Although Judson's financial woes could prove its undoing, its academic program is quite strong, said Bush. Its class of 1982–28 seniors—scored high in their Graduate Record Exams, whereas these same seniors had entered Judson with average Scholastic Aptitude Test scores.
"It's obvious we're doing a good job," said Anderson. "We should do everything to maintain. Why shouldn't [Conservative Baptists] have our own colleges to develop our own leaders and missionaries? Judson is for our denominational strength." (The denomination has two seminaries and three colleges).
"In a recession, the educational enterprises get cut first," said Earl Radmacher, president of Western Conservative Baptist Seminary in Portland. "If anything could do it for Judson, Anderson's grand gesture [the bike trip] would do it. That's the level of his enthusiasm."
Anderson and other Judson supporters are not going to let the college go without a fight. When the president announced the bike trip along with a plea for funds this June at the national gathering of Conservative Baptists in Roseville, Minnesota, he told delegates, "Give me Judson or give me death."
Anderson receives much support and ideas from trustee Richman, who suggested Judson move to The Dalles. Ten years ago Richman, an incurable optimist, founded the JBC 500 Club, which solicits people to donate $500 to the school in the form of $100 yearly increments. This technique has raised $500,000 so far.
After Richman volunteered as trustee development director a year ago, the trustees dreamed up ways to coax funds out of Judson's constituency. They concentrated on personal contacts on the premise that people will give to an organization their best friends are involved with. A Circle of Friends campaign aimed at the 100 closest friends of the college raised $75,000 in two months. A JBC 100 campaign soliciting students to ask friends and family for money netted $25,000. A Christmas letter appeal for funds brought in $220,000.
Judson invited a team of retired Portland Trail Blazers to play the Judson team in two games. The event brought in many residents from The Dalles, who rarely have the chance to see professional-level basketball. Although the venture netted only $8,000, Judson beat the Trail Blazer alumni both times and gained credibility in the community.
City officials have been cooperative, said Anderson, partly because Judson is the city's only four-year college, and The Dalles benefits by $2.6 million yearly in school business.
Also of help has been Stewardship Bank of Oregon, a Portland bank owned by Christians. The bank will eventually tithe its profits to Judson and other Christian schools. So far, it has lent Judson $400,000 through trustees and is willing to lend out more.
Judson's income has thus risen to meet current expenses, but what it needs is money to meet its backlog of debts. Not included in these immediate debts is the $1.2 million purchase price it will pay the state at 6 percent interest for the next 33 years.
When asked why he took on such a formidable task when he could be relaxing in retirement at his 58-acre farm in Monmouth, Oregon, Anderson said he likes college students and sees much potential in the school. As for jumping on what could be a sinking ship, well, "That's the story of my life," he said.
"I gravitate to need," he explained, "and I've often left a safe and comfortable place to meet yet another need. I've never been able to stay comfortable for long in one place; I've always moved on to a needier place. Had I to live my life over, I'd stay longer in each place, but I could never say no when there was a need."
Every morning Anderson jogs to a hill overlooking the campus, looks down on the college, the city on the banks of the Columbia River, and Mount Adams in the distance, and prays that Judson will survive.
Besides, "how far do you go to where you want to close a school?" he asked. As if he couldn't imagine reaching that point, he replied, "We'll make it. God is our source. There has been a growing confidence that we'll make it."
Perdonslia
John D. Jess, founder of the "Chapel of the Air" radio broadcast, has announced his retirement after 43 years as speaker on the daily quarter-hour program. Jess began the broadcast in 1939, at the age of 26. He was heard six days a week until 1977 when failing health caused him to cut back. Five years ago, Jess's nephew, David Mains, took over some of the broadcasts. The program is now heard on nearly 300 radio stations nationwide.
Have something to add about this? See something we missed? Share your feedback here.
Our digital archives are a work in progress. Let us know if corrections need to be made.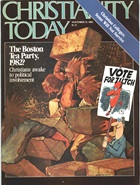 This article is from the November 12 1982 issue.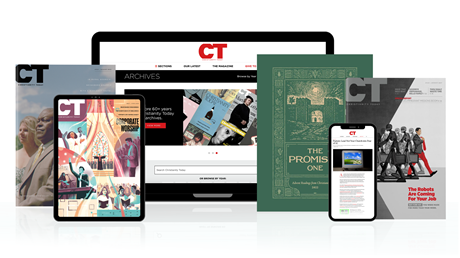 Annual & Monthly subscriptions available.
Print & Digital Issues of CT magazine
Complete access to every article on ChristianityToday.com
Unlimited access to 65+ years of CT's online archives
Member-only special issues
Subscribe
This Man Peddled Cross-Country to Earn Money for College
This Man Peddled Cross-Country to Earn Money for College