1. Sin does not exist. This view makes some strange bedfellows: Communists, atheists, secular humanists. They would explain problems like rape and murder in different ways, but not as the result of sin dwelling in the soul. Some think it is due to economics. Some think it stems from a lack of education. Some think it is a failure to think positively.
2. Sin is something everyone has, butno one is born with. This is classical Pelagianism. According to this view, every person is born sinless, but we all "catch it" and "get infected" with it. I often ran into this when I rang doorbells 29 years ago. I tried to convince people of the doctrine of original sin, but they wouldn't accept it. They thought sin was something we do, not something we are. Since a newborn baby is innocent of rebellious acts, it is not a sinner. Repentance, for people holding this second view, means they are not going to lie any more, or get drunk any more, or commit adultery any more. Some may accept Christ as their Savior to escape the effects of their sins. But they remind me of an absolutely clean field in Iowa—not a weed anywhere. But where is the corn?
3. We are born in sin—that is, everyperson is born as rebellious as Adam waswhen he willfully chose to disobey God. This is called "federal theology," and traces to Saint Augustine. Each child, from his conception, is as guilty of rebellious disobedience as if he were Adam himself. This view makes no distinction between "Adam's sin" and "original sin," as if every newborn baby has chosen by an act of free will to disobey God. From this viewpoint, to bring a child to salvation he has to be led into a negative experience of conviction of sin as soon as possible. Catechize him, program him to say, "I am a sinner. My heart is wicked." This is supposed to produce such a sense of guilt that repentance will result. To be genuine, this has to emerge in self-humiliating, self-denigrating statements like, "I'm totally worthless." As a result, God will reward him by forgiving him his sin. In this system, repentance becomes a meritorious "good work," and, for salvation, is in addition to belief in Christ.
4. My view is that every person is conceived and born in sin. But this condition is, unlike that in the third view, a state ofunbelief first—before it is an act of rebellion. The core of sin is lack of faith, a total inability to trust oneself, ones parents, or God.
While Adam and Eve were aware of Gods existence, and could have either remained innocent or become rebellious, we, as their children, were never given that option. Born nontrusting, we become naturally fearful and adopt negative reactions to relationships that we see as threatening because of our alienation from the Father-God. Lack of trust makes us unable to love, barring an act of God's grace. So every human becomes fearful, then angry, then rebellious.
But when a person is saved by God's grace, he becomes a trusting person at his inner core. The nontrusting core is transformed—reborn—through an experience of redemption. This happens when we meet the Ideal One, Jesus Christ. In this experience, we see that he treats us with compassion rather than condemnation, offers us forgiveness rather than rejection, loves us before we have repented. "While we were yet sinners, Christ died for us." His nonjudgmental love allows us to experience genuine grace. We do no merit it, even by the act of repenting.
Encountering such unjustified mercy, we sinners find ourselves incapable of not repenting. Repentance, then, becomes not a self-condemning act that feeds a negative self-image, but a truing from sin to the Savior. We turn from "I am nothing and nobody," to "I am somebody"—a friend of Jesus, redeemed by him.
Now "I can do all things through Christ who strengthens me," because he assures me of my incredible value in his sight. He has assumed the punishment due my sins, by experiencing separation from God on the cross.
Original sin, then, is distinct from Adams sin. The evangelist's first objective is not to contrive a sense of guilt. Rather it is to lead the already fearful, nontrusting person into a personal experience with Jesus Christ. By the Holy Spirit he discovers hope, and this leads to faith. Then love becomes a possibility, and miracles happen—he is born again.
The sense of human dignity that was Adam's nature before the Fall now descends on him. False humility and false pride dissolve, and a satisfying, sacred self-esteem takes its place—the Savior's kiss on the heart of the new believer. "By grace are ye saved by faith, and that not of yourselves, it is the gift of God."
Our digital archives are a work in progress. Let us know if corrections need to be made.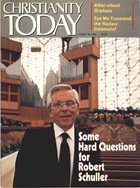 This article is from the August 10 1984 issue.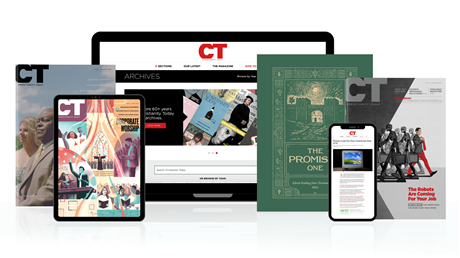 Find hope and historical insight. For a limited time, explore 60+ years of CT archives for free!
Daily devotions from Timothy Dalrymple during this pandemic.
Hundreds of theology and spiritual formation classics from Philip Yancey, Elisabeth Elliot, John Stott, and more.
Home delivery of new issues in print with access to all past issues online.
Join now and get print issues access to archive PDFs.
Schuller Clarifies His View of Sin
Schuller Clarifies His View of Sin