Consider the picture of the satellite and what John the "Revelator" envisioned when he wrote:
"And I saw another Angel fly in the midst of heaven, having the everlasting Gospel to preach unto them that dwell on the earth, and to every nation, kindred, and tongue, and people."
(Revelation 14:6)
DBS—"SATELLITE TO HOME" TELEVISION
DBS (Direct Broadcast Satellites) is a new technology that will play a primary role in the fulfillment of the Great Commission to preach the Gospel directly to people around the Earth from the "midst of Heaven", bypassing local broadcast and cable systems.
Dominion Video Satellite, a Christian controlled corporation, is one of a handful of companies to receive a license from the U.S. Government for this type of service to the entire Nation—a unique gift that God has given to His people.
Because of their high power and unique orbital slots, Dominion's Direct Broadcast Satellites, which are now under construction, will be capable of transmitting up to eight separate channels of television programs directly to a small, inexpensive 24-inch dish shaped antenna placed on any home, business or apartment.
DOMINION—A NETWORK FOR CHRISTIANS BY CHRISTIANS
Dominion DBS is felt by many to be the platform God is building to provide His people with a cost effective television and radio network capable of reaching nearly any home on the North American continent without the expense and control associated with secular television stations and cable systems.
DBS will usher in a new era in Christian television and radio, and serve a need that has not been met through the secular broadcast industry.
UNITY AND SUPPORT FROM FAMILY AND RELIGIOUS BROADCASTERS
CBN, PTL and the new ACTS NETWORK programming will be featured on Dominion DBS channels.
An "all religious" channel will carry dozens of prominent Evangelists and Teachers such as Robert Schuller, Kenneth Copeland, Oral Roberts, Jerry Falwell, John Osteen, David Mainse, Mother Angelica, Charles Stanley, John Giminez, Jimmy Swaggart, Marilyn Hickey, Fred Price, and many, many others who will provide regular programming throughout the day, including prime time.
NEWS AND EDUCATIONAL CHANNELS
A national and international News Channel is planned. Christian universities will be invited to provide live satellite to home credit and non credit educational courses.
VIDEOTEXT AND RADIO SERVICES
Stereo radio, weather service, stock and commodity market quotations, personal computer programming, video games, shopping by video catalog and much, much more will be available on a Dominion DBS home receiving system.
BECOME A DOMINION "CHARTER HOME AFFILIATE"
Those who place their orders early for a Dominion DBS home receiving system will become "Charter Home Affiliates" and be guaranteed installation in time for special inaugural broadcasts of the Dominion Network.
During the advance sales period, special "early bird" pricing on sales and installation will prevail. The total cost of a complete DBS home receiving system, produced and installed by a well known consumer electronics firm, is about what you would expect to pay for a quality color television console.
Special recognition and memorabilia to accompany the first satellite launch will be given, identifying "Charter Home Affiliates" as "pioneers" with Dominion in helping to establish this innovative and much needed, God centered satellite to home network.
Only a limited number of homes nationwide will be guaranteed installation of DBS home receiving equipment in time to receive inaugural telecasts.
Send in the RESPONSE CARD or write DOMINION NETWORK, 29201 Telegraph Road, Suite L-8, Southfield, Michigan 48034 for more information on how you can become a Dominion DBS "Charter Home Affiliate."
The ecumenical body elected two leaders with conservative theological roots and hopes to interact with more evangelicals.
The two top leaders of the National Council of Churches (NCC) voiced a common theme of spiritual renewal at last month's meeting of the council's governing board. Philip R. Cousin, a bishop in the African Methodist Episcopal Church, was elected as NCC president. He said he wants to see the ecumenical organizaton recapture a "fire and fervor" that has ebbed over the years.
That will happen only if mainline Protestants find a common theological foundation for their activities, the NCC's new general secretary suggested. "The quality of all our work and of all our life together in the ecumenical movement depends first, last, and always on our relationship to God in Christ and to one another in Christ," said Arie R. Brouwer. Former general secretary of the Reformed Church in America and former deputy general secretary of the World Council of Churches, Brouwer was elected to replace retiring NCC general secretary Claire Randall.
An emphasis on becoming a "community of communions"—rather than a cooperative agency with a political agenda—pervaded the meeting in New Brunswick, New Jersey. That emphasis was evident in a report on "future mission and resources" that calls the council to be Christ-centered, responsible to its member churches, committed to the poor, and cooperative with Christians outside the NCC. The council's 266-member governing board, made up of representatives from its 31 member denominations, approved the report.
The evaluation was under way before criticisms of the NCC reached their peak early last year, but the report addresses some of the structural problems raised by critics. In 1983, Reader's Digest magazine and CBS's "60 Minutes" featured reports about church members objecting to NCC support for leftist causes abroad. In addition, an independent United Methodist newspaper critiqued the council, recommending more accountability to member denominations and a larger role for smaller, more conservative members. James Wall, editor of the Christian Century, joined the chorus, saying liberal church leaders should stop alienating rank-and-file church members who have no use for radical Third World politics.
Brouwer said it has become "fashionable to trash the NCC," and he is determined to extricate the council from that position. He and the NCC's governing board anticipate that new leadership, reorganization, and increased contact with Roman Catholics and conservative evangelicals will help restore the council to a position of leadership and credibility in American church life.
In his first speech as NCC general secretary, Brouwer noted that his background is not in the liberal, mainline tradition. "I belong to that generation of midwestern-evangelical-Reformed-pietist patriots for whom the pledge of allegiance to the flag was a nearly sacred part of our daily school experience."
Today, Brouwer is wary of labels, but he said, "I would clearly call myself evangelical. I would not use the word 'pietist' about myself today. I am not a social activist, but I am clearly socially active." He said his view of Scripture conforms to the Belgic Confession, which says the Bible is the "infallible rule of faith and life."
Like Brouwer, Cousin also emerges from a tradition of theological conservatism. He was elected to a full two-year term as NCC president. Last year he completed the unexpired term of former NCC president James Armstrong, who resigned his post (CT, Dec. 16, 1983, p. 46).
In addition to electing leaders with conservative roots, the governing board approved a report that is expected to give the board greater control over the NCC's autonomous program units. The program units have been accused of pursuing political goals with scant accountability to the council or its member churches. The report also gives smaller and often more conservative denominations more influence within the governing board.
A variety of Orthodox denominations—among the most theologically conservative NCC members—welcome the reorganization. However, critics of the NCC doubt whether the changes will make much difference in what the council does. Diane Knippers, program director for the Institute on Religion and Democracy (IRD), said the NCC reorganization will alter the way in which decisions are made but may not change the substance of those decisions.
IRD, an advocacy and research group made up of conservative mainline Protestants, has spoken out against instances of a leftward tilt in the NCC's programs and policies. NCC spokesmen defend their stance by saying the American church has a prophetic calling to hold the U.S. government accountable to the demands of the gospel. It is not as important, they say, to criticize excesses of the left in other nations.
Knippers questioned this reasoning: "Increasingly, people are realizing that the whole world listens to what our churches say. Especially in the Third World, where nations are forming their own identities, what our churches say about the democratic experiment versus totalitarianism makes a real difference. To say democracy has all sorts of problems without putting it in context is very damaging."
Knippers said the council's intent to give smaller bodies a higher profile is a positive step, but it does not address the real problem of representation in the NCC. Council delegates from larger denominations "do not begin to represent" the lay people in their congregations, she said.
Some governing board members said they hope the council will evolve into an open forum, similar to the United Nations. "If it were to do so, its thrust would not be toward reinforcing its own biases, but toward really reaching out [to others]," said Vladimir Berzonsky, a governing board member from the Orthodox Church in America.
That goal is sometimes thwarted by the actions of NCC program units. What comes out of the program units puts the NCC in the headlines, shaping its public image. A recent example is the inclusive-language lectionary, a collection of Scripture readings altered to eliminate sexual bias, including masculine references to God.
Initiatives such as the lectionary stand in the way of NCC cooperation with evangelicals, but council leaders are seeking ways to bridge the gap. The centerpiece of their outreach to other Christians is a proposed all-inclusive "gathering of Christians" planned for the early 1990s. Whether evangelicals outside the NCC will participate is open to question. Without commenting specifically on the proposed gathering, National Association of Evangelicals (NAE) executive director Billy A. Melvin said, "We are not going to confuse our constituency by involving ourselves in anything that would give the impression there are not sharp distinctions between the NCC and us."
However, NCC overtures to the evangelical community appear to be on the increase. Robert Neff, the NCC's second vice-president, said an NAE official was invited to address the NCC governing board within the past two years, but declined. "NAE sees the NCC as anathema," Neff said. "I would hope it would reassess the possibility of conversation. The day has to come when those barriers need to be dropped."
Roadblocks to cooperation are legion in terms of form as well as content. Many evangelical churches are not organized into a denominational structure that lends itself to representation of, for instance, all Southern Baptists. And some evangelical leaders question whether "dialogue" would accomplish anything. "It's not a lack of understanding one another," Melvin said. "The bottom line question is: Are we going to stand on the authoritative Word of God and order our ministries accordingly, or are we going to play lightly with the Word of God and allow everyone to become a law unto themselves?"
No official dialogue between the two organizations has occurred, although former NAE president Arthur Gay met informally with former NCC president Armstrong. Melvin mentioned the inclusive-language lectionary and the NCC's consideration of the predominantly homosexual Metropolitan Community Church (MCC) for membership as indications of the gulf separating conservative and mainline Protestants (CT, Dec. 16, 1983, p. 42). "The fact that the MCC was given serious consideration reflects the theological bankruptcy of the council," he said.
At last month's meeting, the NCC governing board agreed to continue dialogue with the predominantly homosexual denomination. The group's application for NCC membership remains on hold.
BETH SPRINGin New Brunswick
Have something to add about this? See something we missed? Share your feedback here.
Our digital archives are a work in progress. Let us know if corrections need to be made.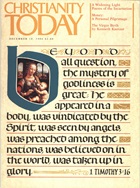 This article is from the December 14 1984 issue.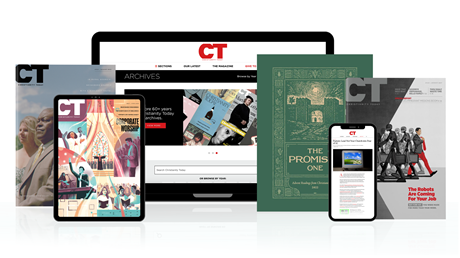 Subscribe to Christianity Today and get access to this article plus 65+ years of archives.
Home delivery of CT magazine
Complete access to articles on ChristianityToday.com
Over 120 years of magazine archives plus full access to all of CT's online archives
Subscribe Now
Dominion over the Airwaves
Dominion over the Airwaves