Alice E. Ball, a general secretary of the American Bible Society, is the first woman to be elected chairman of the United Bible Societies Council. The council is the highest policy-making body of a worldwide fellowship of 69 Bible societies. The societies translate, publish, and distribute the Bible in more than 180 countries and territories.
William F. Keucher last month was inaugurated as president of Central Baptist Theological Seminary in Kansas City, Kansas. He formerly served as the seminary's interim president. Keucher is a former president of the American Baptist Churches in the U.S.A. He also served as president of the denomination's Foreign Mission Society and pastored churches in Pennsylvania, Kansas, and Michigan.
Leaders in the Jewish community insist that Unification Church founder Sun Myung Moon and his followers are anti-Semitic. The Moonies say such charges are false, and they have revised their scriptures to prove it.
Rabbi A. James Rudin, director of interreligious affairs for the American Jewish Committee, has led an attack on the Unification Church and its leader. Rudin said Moon's Divine Principle, the Bible of the Unification Church, "reveals an orientation of almost unrelieved hostility toward the Jewish people, exemplified in pejorative language, stereotyped imagery, and sweeping accusations of collective sin and guilt.
"Rev. Moon is contributing to a theologically reactionary mentality whose traditional fixations on anti-Semitism have been repudiated in recent decades by virtually every major Catholic, Protestant, Greek Orthodox, and evangelical group and leader," Rudin said.
The Unification Church has attempted to counter such charges by revising Divine Principle. In an article published in the Journal of Ecumenical Studies, a Moon disciple tried to explain away Moon's apparent anti-Jewish statements. Andrew Wilson, a Harvard University doctoral candidate and a graduate of the Unification Theological Seminary, wrote that the Unification Church rejects the idea that the Jews were responsible for the crucifixion of Jesus. He says they also eschew any suggestion that Jewish suffering since the crucifixion is God's punishment for their rejection of Christ.
"From a Unification perspective, since Christians, Jews, and Romans, representing all humanity, participated in the murder of Christ, each one of us today also participated in that sin," he writes.
Wilson, who was converted to the Unification faith from Judaism, admits that to reach his conclusions he had to reject some of Moon's statements in Divine Principle. "A primary reason why Divine Principle contains remarks that could be interpreted as anti-Semitic about the faithlessness of the Jews toward Jesus and their subsequent suffering is precisely as a warning to Christians not to be complacent and make the same mistake," he argues.
When American Jews reacted so strongly to the English translation of Divine Principle in the 1970s, Moon took out a full-page ad in the New York Times to repudiate the charges. Since then Moon and his followers have tried to distance themselves from the wording of Divine Principle. In 1979, Moon said of the Jews, "Their oppression was not a punishment from God, but was the same glorious sacrificial role that Jesus was given in order to complete the restoration of mankind."
In 1980, the Holy Spirit Association for the Unification of World Christianity, as the Moonies are officially known, published Outline of the Principle, Level 4, a revision that Wilson says "has all but replaced Divine Principle as the church's instructional standard." The new text takes a first step, he says, toward the removal of anti-Jewish language from Divine Principle.
Richard Quebedeaux, senior consultant to the church's New Ecumenical Research Association and head of the movement's efforts to arrange conferences with Protestant ministers and other clergy, said copies of the revised Divine Principle have been sent to Rudin and other Jewish leaders, "but they haven't responded." He insists that the Unification Church is not anti-Semitic. He says much of the Jewish opposition is caused by the fact that the movement attracts Jewish people, "particularly bright young Jews who've gone to all the best schools."
Evangelicals most familiar with the Unification Church agree that it is not and never has been anti-Jewish. However, Ronald Enroth, professor of sociology at Westmont College and an expert on cults, said the movement does stress the Jewish rejection of Jesus as the Messiah.
J. Isamu Yamamoto, author of a book about Moon called The Puppet Master (InterVarsity Press), says the general thrust of the movement is not anti-Semitic. "They would, in fact, try to appeal to Jews, as they do to Christians, as brother believers," he said. 'But of course, on a deeper level, they are convinced that all other religious groups, including Jews, are not the truth."
James Bjornstad, academic dean of Northeastern Bible College and author of The Moon Is Not the Son (Bethany House), said Unification beliefs are flexible. "Doctrines are subject to change as Moon receives new revelations," he said. "If you look at the testimony of ex-Moonies, you will not find them saying the movement is anti-Semitic."
Have something to add about this? See something we missed? Share your feedback here.
Our digital archives are a work in progress. Let us know if corrections need to be made.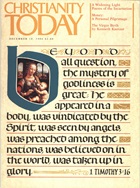 This article is from the December 14 1984 issue.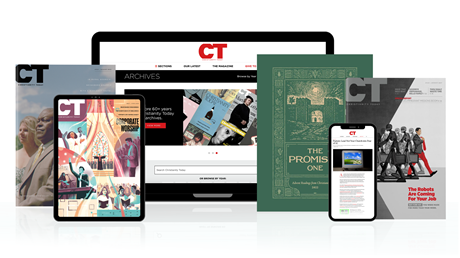 Subscribe to Christianity Today and get access to this article plus 65+ years of archives.
Home delivery of CT magazine
Complete access to articles on ChristianityToday.com
Over 120 years of magazine archives plus full access to all of CT's online archives
Subscribe Now
Personalia Update: December 14, 1984
Personalia Update: December 14, 1984