Survey results published before last month's election indicate no relationship between evangelical Christian beliefs and political party affiliation. The extensive research project calls into question the Religious Right's claims of mobilizing a monolithic bloc of Christian voters.
The report was based on a survey conducted for the Institute for Government and Politics, an affiliate of Paul Weyrich's Free Congress Research and Education Foundation. Factors such as income, race, education, and occupation appear to influence voting and political activity to a greater extent than religious belief or practice. However, on specific moral issues, support may be "activated" among evangelicals by political candidates who make a straightforward appeal on religious grounds.
The report, The Evangelical Voter, was written by Stuart Rothenberg and Frank Newport. It looks beyond 1984 to assess whether evangelicals constitute a special interest group, similar to organized labor or minorities. If there is cohesion among evangelicals, and if they are easily reached via the pulpit or through religious broadcasting, then political organizers would do well to appeal to them. If not, the efforts of conservative groups to do so may be a colossal waste of time and resources.
In fact, the report points out, massive voter registration drives may have the opposite effect of what groups like Tim LaHaye's American Coalition for Traditional Values expect. "Mass registrations of people who can be identified as fundamentalist Christians bring to the polls more Democrats than Republicans, if nothing else is done," Rothenberg and Newport conclude. This is particularly true for congressional and local races, in which voting behavior is less likely to be influenced by idealistic or symbolic factors that weight presidential politics.
The survey of 1,000 evangelicals nationwide reveals 52.9 percent are registered as Democrats and 33.3 percent are Republicans. The phenomenon of crossover voting, crucial to Republican victories, is evident among Christians, with 47.1 percent saying they usually vote for Democrats. When the survey sample is divided by race, Democrats still come out ahead among both blacks and whites. White evangelicals are registered 48 percent Democrat and 37 percent Republican, and black evangelicals split 88 percent Democrat and 6 percent Republican.
Based on the survey, Rothenberg said he would characterize evangelicals as "a swing constituency with a Democratic bias."
The survey, conducted by Tarrance and Associates of Houston, offered a hypothetical contest between Ronald Reagan and U.S. Sen. John Glenn (D-Ohio), an early Democratic contender for the presidential nomination. Among evangelicals, Glenn would have come within striking distance of Reagan with 37.2 percent support compared with Reagan's 41.3 percent. Against Mondale, however, Reagan scored much higher, gaining 47 percent to Mondale's 32 percent.
"As a political constituency, evangelicals are very much up in the air," Rothenberg said. "They are cross-pressured on many issues. I am struck by the lack of coherence and consistency on some issues." Evangelicals tend to support a nuclear freeze and higher defense spending, for instance. They are antiabortion, but sympathetic to exceptions in "hard cases." They favor school prayer, a conservative rallying point, as well as the Equal Rights Amendment (ERA), a centerpiece of liberal policy.
The study explored attitudes toward four advocacy groups: the National Conservative Political Action Committee, Moral Majority, National Education Association (NEA), and National Organization for Women. "Sizable numbers of evangelicals are unaware of even the most widely discussed and politically active of these groups," the report says. All except the NEA have roughly equal percentages of respondents who favored and opposed the groups.
The report says individuals who regard religion as "very" or "extremely" important are more likely to favor tuition tax credits, less likely to favor the ERA, more likely to support voluntary school prayer, less likely to favor birth control information in public schools, and more likely to consider Acquired Immune Deficiency Syndrome (AIDS) a form of divine punishment of homosexuals. Political candidates or groups hoping to mobilize a religious constituency, the report concludes, will benefit most from emphasizing these issues.
Once the message is defined, the medium to communicate it must be in working order. Among black evangelicals, churches are efficient vehicles for political organizing. But white evangelicals seldom are confronted with politics from the pulpit. Forty-five percent say it would make no difference to them if they were.
A second vehicle for reaching evangelical voters with political messages is religious radio and television broadcasts. The report estimates that one-third of all evangelicals watch religious television on a regular basis. Another third say they never watch religious programming. Respondents were asked for their opinions about television programs, and half responded favorably while 30 percent criticized them, leading the report authors to conclude that there is "evidence of some backlash towards TV evangelists."
But among the frequent viewers of religious television, there is significant potential for political organizing, the report said. "The hard core of evangelicals who do watch are precisely the types of people who apparently are attitudinally predisposed to listen to what is said on these programs about the religious views of political candidates."
For the survey, a broad definition of "evangelical" was used. The final sample included 218 Catholics as well as a smattering of Mormons, Jehovah's Witnesses, Unitarians, and Christian Scientists, all of whom hold theological views that differ substantially from orthodox evangelicalism.
Out of a general nationwide sample, respondents had to affirm that they "personally believe that Jesus Christ is a real person who lived on this earth and was also the unique son of God." In addition, they had to answer "yes" to one of two other questions: "Does a person need to personally accept Jesus Christ as his or her savior in order to have eternal salvation and to be saved from eternal hell?" or "Would you call yourself a born-again Christian, that is, have you personally had a conversion experience related to Jesus Christ?"
Have something to add about this? See something we missed? Share your feedback here.
Our digital archives are a work in progress. Let us know if corrections need to be made.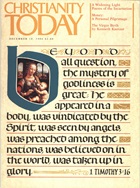 This article is from the December 14 1984 issue.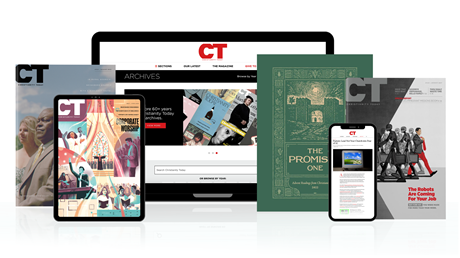 Subscribe to Christianity Today and get access to this article plus 65+ years of archives.
Home delivery of CT magazine
Complete access to articles on ChristianityToday.com
Over 120 years of magazine archives plus full access to all of CT's online archives
Subscribe Now
A Study Finds No Connection between Christian Beliefs and Political Party Affiliation
A Study Finds No Connection between Christian ...