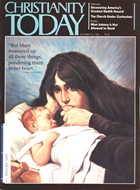 This article is from the December 12 1986 issue. Subscribers can read all of CT's digital archives.
Thoughts On CT'S Thirtieth
Your Thirtieth Anniversary Issue [Oct. 17] was remarkable. Your enumeration of problems was comprehensive and you offered timely solutions. May I suggest one more bright ray of hope: in the same year CT began, George Eldon Ladd said, "God will not permit Satan to exercise his power in human history forever.… [The] glorious destiny for man will be achieved only by the personal, visible, glorious return of Christ.… The second coming of Christ is thus both the Blessed Hope of the Church and the hope of human history."
NORMAN L. MEAGER
Akron, Ohio
Congratulations on CT's thirtieth anniversary. The special issue articles were illuminating and useful, although they cloud some factors known to actual participants in beginnings. For example, the reference to Fuller Seminary's founding faculty incredibly passes over the name of Dr. Everett F. Harrison, one of the central three.
CARL F. H. HENRY
Arlington, Va.
Defining The IBR
The nature of the Institute for Biblical Research, mentioned by Mark A. Noll [Books, Oct. 17], may not be as self-evident or well known as the Evangelical Theological Society or the Wesleyan Theological Society. The IBR in the U.S. was inspired by the model of the British Tyndale Fellowship for Biblical Studies begun at Cambridge by scholars such as F. F. Bruce and D. J. Wiseman. The purpose of the IBR is "to foster the study of the Scriptures within the evangelical context."
EDWIN YAMAUCHI
Miami University
Oxford, Ohio
Pat Robertson'S Prayers
I am not necessarily a Pat Robertson supporter, but I have followed reports of his candidacy with some interest [News, Oct. 17]. It will be interesting to see what criticism he receives. A case ...
1
Letters