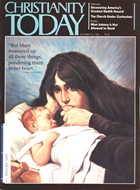 This article is from the December 12 1986 issue. Subscribers can read all of CT's digital archives.
When a reader unfamiliar with Flannery O'Connor's works begins to read her novels and short stories, a not uncommon response is to ask, "Was this woman really a Christian? What kind of person would write stories like these?"
The questions, though not unreasonable, have led some biographers to extrapolate a life from O'Connor's violent stories, and then to reinterpret the stories based on their reconstruction of her life. In a letter, Flannery O'Connor herself warns against this circularity;
"I reckon you are more interested in people than in art, which is as it should be, but when you read a poem you are only entitled to comment on the poem as a poem. What you seem to do is read the poem, judge the poet, and then the poem from your judgment of the poet." Earlier she wrote, "Any story I reveal myself completely in will be a bad story."
Careful Portrayal
The reader, then, who sees the major heading "Life and Work" in Harold Fickett and Douglas Gilbert's new book Flannery O'Connor: Images of Grace (Eerdmans, 1986, 151 pp.; $18.95, paper) may understandably feel cautious about Fickett's claims. But Fickett overcomes this reservation with his careful portrayal of O'Connor's short life and his thoughtful analysis of her work.
In an early section, for instance, he cleverly links the young Mary Flannery (as she was then called) with a precocious 12-year-old girl in O'Connor's story "A Temple of the Holy Ghost." Without excess, he forges a convincing link between the perceptions of the child and her adult creator, who is reflecting on the child in her own past.
Throughout the work Fickett shows the development ...
1
Transforming Images