The Magazine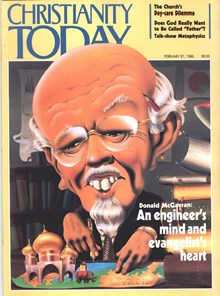 Read CT online anywhere you go.
Subscribers get full print and digital access, including:
10 award-winning print issues
PDFs of each issue
Full web access to ChristianityToday.com
60+ years of magazine archives
Table of Contents
The CT Archives are a rich treasure of biblical wisdom and insight from our past. Some things we would say differently today, and some stances we've changed. But overall, we're amazed at how relevant so much of this content is. We trust that you'll find it a helpful resource. - Mark Galli, editor-in-chief
Also in this Issue:
Editor's Note: February 21, 1986
A Message from the Publisher: February 21, 1986
Eutychus and His Kin: February 21, 1986
"Do You Believe in Hell?"
What's Right with Evangelical Worship
Violence for Fun
The Father of Church Growth
The Missionary that Needs No Visa
Does God Really Want to Be Called "Father"?
Breaking the TIe that Binds
Classic & Contemporary Excerpts from February 21, 1986
Leaders Meet to Discuss the Future of the Episcopal Church
Where Is Jerry Falwell Headed in 1986?
Remembering Martin Luther King, Jr.
Christians Help the Reagan Administration Assess Policies on South Africa
Missionary Statesman Oswald Smith Is Dead at 96
Fuller Seminary Cancels Course on Signs and Wonders
Successor Takes over after Death of Herbert Armstrong
How Did Evangelicals Prepare for the Elections?
Talk-show Metaphysics
Is Art above Ethics?