The Future of Religion: Secularization, Revival, and Cult Formation, by Rodney Stark and William Sims Bainbridge (Univ. of Calif. Press, 1985, 571 pp.; $14.95, paper). Reviewed by Robert Webber, professor of theology, Wheaton (Ill.) College, and author of the forthcoming book Celebrating Our Faith (Harper & Row).
During the past decade, we have heard much about the secularization of the West. And both religious and nonreligious forecasters have proclaimed the impending death of religion.
In this detailed and provocative work, Rodney Stark and William Sims Bainbridge pose serious questions about this supposed dawn of a religionless society.
Their starting point does not proceed from any religious bias. They are not saying, "We want religion to be preserved in the West, and here's how to do it." Instead, they approach the future of religion with the tools of social science. And their conclusions (based on surveys, consensus, historical case studies, and ethnographic field expeditions) run counter to the social theorists who predict the death of religion in our time.
Stark and Bainbridge do not deny that secularization has occurred in the West. Nor do they deny that the revolutions of science, reason, technology, and new world views based on naturalistic assumptions are not formidable foes to religion.
But their underlying thesis is that secularization stimulates religious innovation. Consequently, history is cyclical—a reciprocal action takes place between the erosion of old religion on the one hand and the rise of new religious institutions on the other.
The Need For Transcendence
Stark and Bainbridge define religion as human organizations primarily engaged in providing general compensators based on supernatural assumptions. By this definition, of course, they purposely include all religious faiths (including Christianity) that have some kind of otherworldly belief. They make no attempt to distinguish between the truth content of religions. The issue they address is not the truth, but the persistence of religion. Thus, they argue, religion will survive, not because it is true, but because there is a universal human need to experience transcendence.
Two of their findings are of special interest to CT readers:
First, the recent popularity of occult beliefs and movements does not stem from the rise of new kinds of "consciousness," but from weakness in conventional religions. This conclusion highlights the need to maintain healthy churches and evangelistic outreaches. While exposes of cults and sects will always have their place, a church with the gospel at its center and a community of people living in a mutually supportive relationship is most effective.
Second, secular meaning systems cannot provide general explanations about life that replace religion. This is good news for those who are given to hand wringing over the pervasive influence of secularism. It supports the scriptural assertion that the gates of hell will not prevail against the church.
The thesis of Stark and Bainbridge seems to explain the phenomenal rise of evangelical Christianity and the charismatic movement in this country. The more the secularists proclaim the absence of God, the greater is the recovery of the presence of God. As the authors themselves put it—"We explore the meaning of the aphorism that trying to drive out religion is like driving a nail—the harder you hit, the deeper it goes."
A Compassionate Vision
If I Should Die Before I Wake by Jerry Falwell (Nelson, 1986, 219 pp.; $12.95, cloth). Reviewed by LaVonne Neff, special projects editor for the publishing division of Youth for Christ.
Six years ago, I was asked to lead a discussion following an antiabortion film then making the rounds of college campuses. Watching the film for the first time along with the young adult audience, I grew more and more concerned.
The film's content was not the problem. It was well documented, biblical, and scientific. What troubled me was what the film did not say.
I knew that, by the law of averages, there would be girls in the audience who had had abortions, pregnant students who did not know which way to turn, and boys who had persuaded their girlfriends to terminate a pregnancy. For these hurting young people, the film showed no compassion and offered no hope of forgiveness. Sin was denounced, and sinners were left out in the cold.
When the news media have caricatured antiabortion crusaders as caring more for an inch-long fetus than for an adult woman, they have been interpreting early films, speeches, and writings that paid more attention to the intellectual than to the human aspects of abortion. In early chapters of If I Should Die Before I Wake …, Jerry Falwell admits that he too once paid scant attention to the needs of young women who were pregnant and terrified.
Jerry's vision; Jennifer's story
His new book could not be more compassionate. Chapters alternate between "Jerry," who summarizes his antiabortion work and outlines his new plan to set up a network of homes for unwed mothers, and "Jennifer," who tells her own gripping story.
It is Jennifer's story that will sell the book. A likable young woman from a middle-class suburban home, Jennifer had already had an abortion (at the request of her churchgoing parents) when she became pregnant a second time. Her experience of pregnancy at a group home and then at a private home, both sponsored by Falwell's ministry, is the heart of the book.
The small beginnings of a national network: Liberty Godparent Home in Lynchburg, Virginia, cares for women with unwanted pregnancies and provides an alternative to abortion. Inset: writer Jennifer Simpson.
It would be a shame, however, for readers to skip Falwell's chapters, because his vision of a national network of caring, nonjudgmental, supportive homes for pregnant girls and young women deserves a serious reading and a widespread response.
Six years ago, the antiabortion movement was young. In its immaturity, it may have alienated some young people who most needed to face their sin so they could go on to forgiveness and healing. If I Should Die Before I Wake … reflects the movement's coming of age. Without compromising its stand against taking human life, it seems to be turning to compassion and reconciliation. Law is supplanted by gospel. Falwell's—and Jennifer's—book is a big step in the direction of grace.
Have something to add about this? See something we missed? Share your feedback here.
Our digital archives are a work in progress. Let us know if corrections need to be made.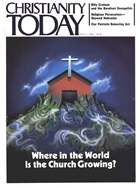 This article is from the July 11 1986 issue.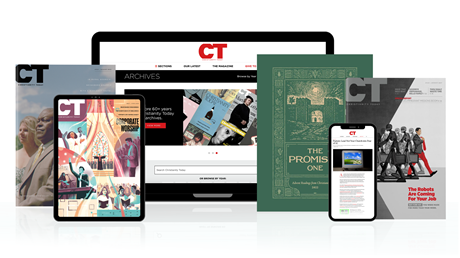 Subscribe to Christianity Today and get access to this article plus 65+ years of archives.
Home delivery of CT magazine
Complete access to articles on ChristianityToday.com
Over 120 years of magazine archives plus full access to all of CT's online archives
Subscribe Now
Book Briefs: July 11, 1986
Book Briefs: July 11, 1986