Two U.S. Supreme Court decisions last month dealt setbacks to the right-to-life movement, but many prolife leaders were encouraged by signs of growing sentiment on the Court to reconsider abortion on demand.
In the two decisions, the Court ruled against federal regulations designed to assure medical care for handicapped newborns, and it struck down state laws in Pennsylvania that regulated abortion. The Court said it is unconstitutional for Pennsylvania to require doctors to inform a woman about the possible detrimental effects of abortion; to describe stages of the unborn child's development; and to explain alternatives to abortion. Earlier this year, the Supreme Court let stand a lower court ruling negating similar abortion restrictions in Illinois.
In an unusual move, the Reagan administration had urged the Court to use the Illinois and Pennsylvania cases to overturn Roe v. Wade, its 1973 ruling that legalized abortion on demand. Solicitor General Charles Fried argued that high court opposition to state regulations leaves intact "a woman's unfettered right to an abortion" and neglects "a balance of values which include the state's interest in maternal health and in unborn and future life."
Prolife leaders were encouraged by two factors in the Court's Pennsylvania ruling: the close 5-to-4 vote and the unusually strong opinions of the four dissenting justices. The Supreme Court legalized abortion in Roe v. Wade by a 7-to-2 vote.
Writing for the majority in last month's Pennsylvania ruling, Justice Harry Blackmun called a woman's right to choose abortion "fundamental." He wrote: "States are not free, under the guise of protecting maternal health or potential life, to intimidate women into continuing pregnancies." Joining Blackmun were Justices William Brennan, Thurgood Marshall, Lewis Powell, and John Paul Stevens. Chief Justice Warren Burger and Justices Byron White, William Rehnquist, and Sandra Day O'Connor disagreed.
In their dissenting opinion, White and Rehnquist, the two dissenters in Roe v. Wade, called the Pennsylvania ruling a sign of the Court's "insecurity" over Roe and subsequent abortion cases. The two justices called for the Court to reconsider and overrule Roe.
In a separate dissent, O'Connor said the "straightjacket" label the Court placed on the Pennsylvania regulations really applies to "the one the court has tailored for the 50 states," preventing them from restricting abortion.
White, Rehnquist, and O'Connor have all been critical of Roe v. Wade in the past. But last month's ruling marked the first time Burger, who supported Roe 13 years ago, has publicly questioned the decision. "I agree we should re-examine Roe," he said.
Less than one week after the Pennsylvania ruling, Burger retired from the Court after 17 years as chief justice. President Reagan nominated Rehnquist to replace Burger as chief justice, in a move to solidify conservative influence on the Court.
Kathryn Kolbert, a Philadelphia attorney who argued against the Pennsylvania regulations before the Supreme Court, said the justices had "protected individual rights of women against an increasingly vocal and hostile antiabortion minority." While prochoice groups applauded the ruling, many conceded it was not as decisive as they would have liked.
At the same time, while disappointed the regulations were struck down, many prolife leaders considered the decision a sign that their movement is gaining momentum. "We are only one vote away from a Court that may be prepared to abandon Roe v. Wade," said John Wilke, president of the National Right to Life Committee (NRLC). "We expected a six-three [vote]. We got a five-four. Five-four is hardly a mandate for abortion."
Reagan's nomination of Antonin Scalia to fill the vacancy left by Burger's retirement encouraged prolifers. Douglas Johnson, of the National Right to Life Committee, said the 50-year-old Roman Catholic Scalia is "known as a judge who believes that justices should not abuse their power by imposing social policy preferences under the guise of constitutional law. We believe that's what the Supreme Court has done in its abortion rulings."
Handicapped Infants
In another ruling last month, the Supreme Court struck down federal regulations that required states to adopt procedures to report and prosecute instances in which handicapped newborns are neglected. The Court ruled that the federal government should not directly intervene in decisions made by parents and doctors about treating handicapped newborns. However, the 5-to-3 ruling left intact a 1984 federal law that defines withholding treatment from handicapped newborns as child abuse, and thus makes it illegal.
The government regulations emerged from the Reagan administration's concern over "Baby Doe," who was born in Indiana in 1982 with Down's syndrome and a blocked esophagus. He was denied surgery that would have enabled him to eat, and he starved to death.
Justice Stevens wrote the majority opinion in this case, saying federal anti-discrimination law "does not authorize the secretary [of Health and Human Services] to give unsolicited advice either to parents, to hospitals or to state agencies who are faced with difficult treatment decisions concerning handicapped children."
Stevens's majority opinion was joined by Justices Marshall, Blackmun, and Powell. Chief Justice Burger voted to strike down the regulations, but he did not sign the majority opinion. Justices White, Brennan, and O'Connor dissented, and Rehnquist did not participate in the case.
By Kim A. Lawton.
Have something to add about this? See something we missed? Share your feedback here.
Our digital archives are a work in progress. Let us know if corrections need to be made.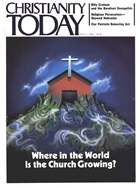 This article is from the July 11 1986 issue.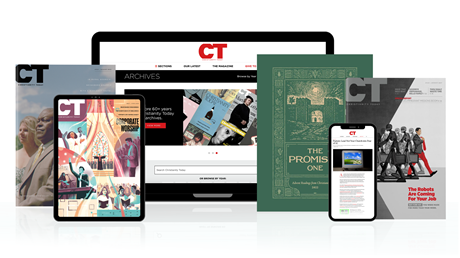 Subscribe to Christianity Today and get access to this article plus 65+ years of archives.
Home delivery of CT magazine
Complete access to articles on ChristianityToday.com
Over 120 years of magazine archives plus full access to all of CT's online archives
Subscribe Now
High Court Strikes down Abortion Restrictions, Rules on Handicapped Infants
High Court Strikes down Abortion Restrictions, ...