Classic and contemporary excerpts
A Man'S Books
Reading on wise and virtuous subjects is, next to prayer, the best improvement of our hearts. It enlightens us, calms us, collects our thoughts, and prompts us to better efforts. We say that a man is known by the friends he keeps; but a man is known even better by his books.
—William Law, Christian Perfection (a contemporary version by Marvin D. Hinten)
The Celebrity Syndrome
Bible-signing can be very humbling. On occasion, when I have spoken at the same church several times, I have had to tell a child that my name is already in his Bible. This is a painful reminder to us both that he does not really know me.
I am not even sure what these signatures mean. I don't think they are endorsements.… I always sign Bibles when asked because I don't want to look like some reluctant, pompous athlete, but I feel stupid, and I always want to preach a sermon to those who ask. I really can't see Paul autographing a parchment of Isaiah!
—Truman Dollar in Fundamentalist Journal (April 1986)
A Noisy Horn
A Pharisee's trumpet shall be heard to the end of the town but simplicity walks through the town unseen.
—Thomas Shepard in The Parable of the Ten Virgins
Touching Hearts, Not Turning Heads
An increase in speculative knowledge in divinity is not what is so much needed by our people as something else. Men may abound in this sort of light and have no heat.… Our people do not so much need to have their heads turned as to have their hearts touched, and they stand in the greatest need of that sort of preaching which has the greatest tendency to do this.
—Jonathan Edwards in Religious Affections
What'S Our Fog Index?
Two Indians who had been watching a lighthouse go up came over to see the thing open on the big day. It was all set up with the lights and the bell and the horn; but the day it was due to open, the worst fog of all fogs came in.
One Indian said to the other, "Light shine, bell ring, horn blow, but fog come in just the same." We've never had more lights shining, and bells ringing, and horns blowing in the church than we have today. We've never had more fog.
—Vance Havner in On This Rock I Stand
Prayer'S Relationships
Real prayer is a serious concern, for we are speaking to the Sovereign Lord of all the universe, who is willing to move heaven and earth in anwer to sincere and reasonable prayer. Prayer is not a mechanical duty, but a wonderful opportunity to develop a loving and caring relationship with the most important Person in our lives.
—John Bunyan in Pilgrim's Prayer Book, edited by Louis Gifford Parkhurst, Jr.
Where Does Intolerance Begin?
Our society wrestles with many passionate social movements, including pleas for tolerance. But the capacity to know the difference between tolerance and intolerance seems in short supply. Most of us cannot think far past our provincial interests and pet theorems. We need intolerance for our troublesome biases and tolerance for whatever is straight, though it may come from our most needling adversaries. We are often dragged, kicking and screaming, into enlightenment by the Spirit who best mends our slothful thinking.
It is not intolerant to reject falsehood, neither are we tolerant when we warmly appraise and accept screwy ideas. But in our wise intolerance we must not lose our love; and in our tolerance we must not give away our souls.
—Lloyd H. Ahlem in The Covenant Companion (April 1986)
Getting what we have
Some luck lies in not getting what you thought you wanted but getting what you have, which once you have it you may be smart enough to see is what you would have wanted had you known.
—Garrison Keillor in Lake Wobegon Days
Life Without Christ
Herein lies the Christian motive; it is simple. We cannot live without Christ and we cannot bear to think of men living without him.… We believe in a Christlike world. We know nothing better; we can be content with nothing less.
—from the International
Missionary Council,
Jerusalem, 1928
Real Christianity
The main distinction between real Christianity and the system of the bulk of nominal Christians chiefly consists in the differing place given to the gospel. To the latter, the truths of the gospel are like distant stars that twinkle with a vain and idle luster. But to the real Christian these distinctive doctrines constitute the center in which he gravitates like the sun of his system and the source of his light, warmth, and life.
—William Wilberforce in
Real Christianity
Have something to add about this? See something we missed? Share your feedback here.
Our digital archives are a work in progress. Let us know if corrections need to be made.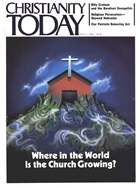 This article is from the July 11 1986 issue.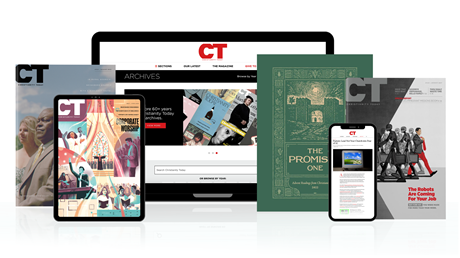 Subscribe to Christianity Today and get access to this article plus 65+ years of archives.
Home delivery of CT magazine
Complete access to articles on ChristianityToday.com
Over 120 years of magazine archives plus full access to all of CT's online archives
Subscribe Now
Classic & Contemporary Excerpts from July 11, 1986
Classic & Contemporary Excerpts from July 11, 1986