Ever since giving to the needy became chic in Hollywood, we've been treated to a billion-dollar bonanza of celebrities, benefit records, and sad-eyed Ethiopian children.
It was Band-Aid, the British concert to help starving children, that started the aid bandwagon rolling. Later came Live Aid, a marathon rock concert simulcast from London and Philadelphia.
Thereafter, since aid had become so fashionable, came Fashion Aid, a charity evening of haute couture in London, followed by a Hollywood benefit for Mexican earthquake victims. There was Farm Aid to focus on the plight of American farmers; and an AIDS benefit after Rock Hudson's death could only be thought of as AIDS aid.
Three more compassion extravaganzas occurred in May. Hands Across America linked a human chain from Los Angeles to New York to raise $100 million for domestic homelessness and hunger.
The Freedom Festival raised money for Vietnam veterans; and then there's my favorite, Sport Aid, which began with a runner leaving Ethiopia with a torch lighted from a refugee's campfire. He jogged to several European cities; then this tireless athlete flew to New York, torch in hand (I can't help wondering about those "no smoking" signs in airplane cabins); there he lighted a flame in Manhattan's United Nations Plaza, which signaled the start of simultaneous 10-kilometer runs around the world. The plan, said organizer Bob Geldof, mastermind of Live Aid, was to raise money to fight disease and hunger in Africa.
While we all agree that helping starving people is a good thing, this sudden aid frenzy does raise some practical questions.
First, in an industry where publicity is the ticket to success, one may be excused for wondering if celebrity participation in such well-heralded events is altogether altruistic. The "We Are the World" video, which has sold millions of copies, reminds us less of starving children than of the great humanitarianism of its showcase of rock idols. The goals may be worthy, but such slickly publicized charity can only bring to mind biblical warnings against hiring trumpeters—or camera crews—to record one's good deeds.
We might put aside petty suspicions about motives if only we knew that those in need were being helped. But this raises a second question.
The New Republic reports that while USA for Africa, the organization behind Live Aid, appeals for contributions to help the starving, 55 percent of its money is instead waiting to be spent on "recovery and long-term development projects," something celebrity efforts may be ill-equipped to pull off.
Of the $92 million raised by Live Aid and Band Aid, Newsweek says only $7 million has gone to emergency relief. Another $6.5 million has been spent on trucks and ships to haul supplies; $20 million has been earmarked for projects like bridges in Chad. The rest sits in bank accounts somewhere.
Unfortunately, there is an apolitical illusion at work in much of the celebrity aid: the belief that government or establishment relief agencies are unnecessary, and all we need is Bruce Springsteen.
But even noncontroversial goals such as feeding the hungry can get bogged down in squabbles over how money and food should be distributed, or stymied at the Marxist-controlled ports of Ethiopia. Let's not kid ourselves: just because the fans in London or Philadelphia go home satisfied doesn't mean
My third question concerns the amoral illusion in all this. Consider the highlight of the Live Aid concert, the steamy duet of rock stars Mick Jagger and Tina Turner.
Jagger's 20-year career includes such dubious hits as "Sympathy for the Devil" and "Between the Sheets." Tina Turner, clad in black leather for the show, claims a number of prior lives, including a stint as the ancient Egyptian queen Hatshepsut. Their erotic tangle was surely as much an appeal to the lust of the crowd as to help for the hungry.
There seems to be no sense of the incompatibility of noble ends and ignoble means. "A good tree cannot produce bad fruit, nor can a rotten tree produce good fruit," Jesus said flatly. There is a connection between charity, in the biblical sense, and virtue. If promoting lust is wrong, then we must ask: Can the good of feeding the hungry be accomplished by evil?
Rock promoter Bill Graham says of celebrity aid, "It's an incredible power, knowing on any given day you can raise a million dollars." Newsweek observes, "Perhaps that is why Live Aid and Farm Aid were such oddly upbeat exercises in self-congratulation. An industry was celebrating its power. Far from challenging the complacency of an audience, such mega-events reinforce it.… Now, by watching a pop-music telethon and making a donation … fans can enjoy vicariously a sense of moral commitment."
All this leads to the most dangerous illusion of all: the impression that our celebrity idols discovered the hunger crisis, and now, with their prime-time specials, have solved it.
Jagger, Turner, and company notwithstanding, feeding the hungry did not begin with Live Aid. Organizations like Catholic Relief Services, World Vision, the Salvation Army, and millions of local churches have long been feeding the hungry—without the razzle-dazzle so recently discovered by the rich and famous. Incentives have not been albums and the chance to see celebrities grind up against one another, but obedience to Christ's commands.
Bob Geldof recently announced that the Band-Aid campaign, its mission accomplished, will close down by December. "It's like a shooting star," he enthused." … [F]or once … absolutely good and absolutely incorruptible came and went and worked."
I wonder. Shooting stars don't feed hungry multitudes. The real tragedy of celebrity aid would be if the public believes that the need is over when the curtain comes down in Hollywood.
For the problem of hunger will still be with us—and so will Christ's command to feed the hungry.
Have something to add about this? See something we missed? Share your feedback here.
Our digital archives are a work in progress. Let us know if corrections need to be made.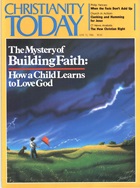 This article is from the June 13 1986 issue.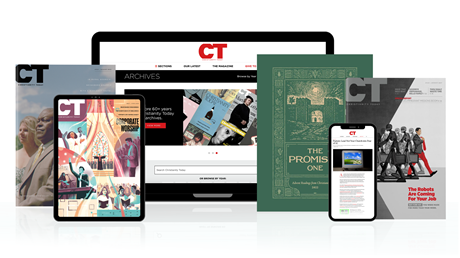 Subscribe to Christianity Today and get access to this article plus 65+ years of archives.
Home delivery of CT magazine
Complete access to articles on ChristianityToday.com
Over 120 years of magazine archives plus full access to all of CT's online archives
Subscribe Now
We Aren't the World
We Aren't the World