Forty people stood in a circle holding hands, in demeanor and dress wearing the signs of poverty. All eyes focused on a man in blue jeans and a wool plaid shirt, who appeared to be in his late thirties.
"What are we thankful for tonight?" he asked.
• "That I'm still alive."
• "That when you're down, people are there to help out."
• "That I've been sober five years."
• "Amen! I'm just thankful I'm not drunk right now."
The last speaker, a black woman missing a few teeth, sounded convincing, but her body swayed suspiciously as she spoke. In the course of the evening she demonstrated her true state to everyone in the room. She bit people, stomped on a visitor's foot, threatened to "rape" a young white man, and made a general nuisance of herself. Clara was drunk again. What else was new?
Most of the group ate dinner in a side room off a hotel lobby. Plaster was dangling from the ceiling, cigarette butts covered the floor like a carpet, and the acrid smell of urine hung in the air. The food, however, was delicious: ham, sweet potatoes, green beans, rolls, even a roasted turkey.
Bud Ogle, who had led the group in thanksgiving and prayer, loaded a plate and settled in next to a newcomer. "You should have seen this place before we rehabbed it," he said proudly, looking around. "We haven't finished this room yet, but, believe me, it was one of the nicer ones."
The ministry at the Jonquil Hotel had its origin at, of all places, Northwestern University, a prestigious school on Chicago's North Shore. Northwestern and the gritty neighborhood around the Jonquil could not be more different. Nevertheless, a small band of students and faculty met to pray about what they could learn from the poor. The neighborhood around the Jonquil, an island of poverty and crime next to affluent Evanston, seemed a logical place to start.
By first organizing games for the kids who roamed the streets, the students gradually gained acceptance in the community. But need for a building became obvious, because many neighborhood folks were street people without shelter.
Ogle's Good News Ministries paid $125,000 for the Jonquil Hotel—an enormous leap of faith. The necessary plumbing repairs alone cost $250,000. Still, the Jonquil's physical problems paled before the spiritual challenges. As one example, customers of the hotel still expected the services of a prostitute to be included in the $15 room rate.
Early in his ministry at the Jonquil, Bud met a woman named Sissy Olden. She had run away from home at 12 to the big city, Chicago. She could not get a job at that age, of course, so she became a prostitute. She bore her first child at 14, and three more not long after that. She became addicted to cocaine and heroin.
When Bud met Sissy, she was horribly strung out on drugs. She could think of only one thing: how to get a fix today. The Christian community worked with her, calmed her down, and got her a job operating the switchboard.
Bud had one memorable conversation with Sissy in which the young woman spilled out her entire, sordid life story. "I listened in silence and in tears as she told me about her incredible past. When she finished, I asked her this: 'In all those terrible times, did you ever think of going to a church?' I will never forget the way her eyes widened in instant and unbelieving shock.
"The church would tell her not to be a prostitute. 'Do you think I enjoy being a prostitute?' she said. The church would tell her to take better care of her children. But no one had to tell her that—she knew what a miserable mother she had been.
"To Sissy Olden, the church represented only Bad News, and it represents Bad News to most of the people I meet in this neighborhood each day. If I have one mission, it is to change that—to let the poor people around the Jonquil see the gospel for what it really is: as Good News. God wants to heal the blind, and set free the captive, and feed the hungry, and bring Good News to the poor, and God will indeed do that if we are faithful to his commands."
In the last six years Ogle has gotten a crash course on a side of life he had not known before. He had worked as Presbyterian campus minister at Northwestern. His training was theological and academic: a B.D. from Yale Divinity School and a Ph.D. in history from the University of Virginia. He is a mountain climber, an outdoorsman who has studied Native American spirituality. Yet he now spends almost all his time in an utterly urban environment, the underbelly of Chicago's lower class.
Bud smiles easily and laughs often when he talks about his work. He has a pleasant face, outlined by a bushy, salt-and-pepper beard. When he laughs, his eyebrows arch upward sharply, forming facial exclamation points. Despite the unsolvable human problems around him, he genuinely seems to love what he is doing, and the people he is working with.
To Bud Ogle, a ministry to the poor works two ways. Not only the poor, but also those who help them, come away changed. "Actually, if I had to choose one area in which I feel most successful," he says, "it would not be in this community at all. I feel best about what I've accomplished in the affluent suburbs of Winnetka, Evanston, and Northbrook, and among the students at Northwestern.
"People there now know a side of the city they had not known before. They have begun to understand that the gospel should mean Good News for the poor also. They have begun to see another dimension of the world, through God's eyes," says Ogle.
A walk around the neighborhood north of Howard Street showed what form faithfulness to God's commands might take. Bud's spirits seemed to rise as he conducted a tour through the darkened streets. As he dodged puddles of slush and dog droppings, he pointed out various landmarks of buildings reclaimed in Christ's name: an alternative Christian school, an English/Spanish church, an emergency shelter for the homeless.
But he ended the tour in a back alley, standing before a burned-out shell of a building. "And that," he said with pride, 'is Phoenix House. We're going to rebuild it, brick by brick, and try a new approach. We'll build in co-op ownership from the first day. And we'll hand pick the first dozen couples who move in: stable Christian families who can offer the support and encouragement the others need."
As he talked, he was standing in an alley littered with bottles and cans and shredded mattress stuffing. He was pointing to a dismaying sight: a crumbling, blackened pile of bricks where a building had once stood. Some walls were standing, but most major floor joists had burned through, and sky was visible from the ground, through five stories of wreckage.
His companion must not have responded with quite the excitement that Bud expected, for he looked concerned and asked what was wrong. "Nothing," came the reply. "It's a great plan. I hope it works. I guess it's just hard to picture what you've described when I look at that pile of bricks."
Bud stared at the pile for a minute. It was obvious he was struggling to see another point of view. He was envisioning a thriving inter-racial community of mixed income families, a haven for the "graduates" of the Jonquil. He had to force himself to run the reel backwards in his mind until it came to the scene where he now stood: a pile of rubble in a muddy alley.
Then he grinned, sympathetically. "I can see what you mean. Well, it's like a friend once said about me: If it looks possible, he probably won't be interested."
By Philip Yancey
Have something to add about this? See something we missed? Share your feedback here.
Our digital archives are a work in progress. Let us know if corrections need to be made.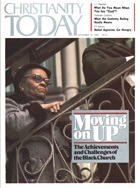 This article is from the September 19 1986 issue.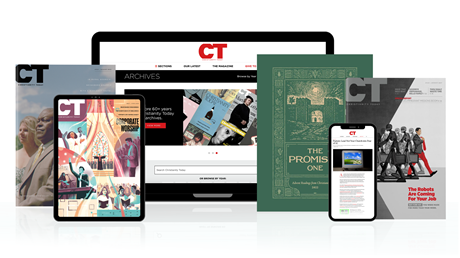 Subscribe to Christianity Today and get access to this article plus 65+ years of archives.
Home delivery of CT magazine
Complete access to articles on ChristianityToday.com
Over 120 years of magazine archives plus full access to all of CT's online archives
Subscribe Now
The Good News, Brick by Brick
The Good News, Brick by Brick