Pat Robertson is expected to announce next month that he will run for President. His decision, which is contingent on collecting the signatures of 3 million supporters, is redirecting the course of grassroots politics in several states and spurring hard decisions at the Christian Broadcasting Network (CBN), which he founded.
Announcing a $25 million budget cut and layoffs of 470 CBN employees in June, Robertson placed the primary blame on damage done to evangelical credibility by Oral Roberts's fund-raising tactics and the ongoing PTL scandal. However, some CBN officials acknowledge the financial setbacks are due, in part, to Robertson's political ambitions and his absence as host of the network's flagship program, "The 700 Club."
While CBN suffers from a drop in financial support, preparations for Robertson's anticipated political campaign have netted a healthy $7 million in contributions, more than any other candidate except Vice President George Bush. In several states, his committee to test the political waters, Americans for Robertson, is attracting scores of newcomers to Republican party politics. Despite the healthy cash flow and new political enthusiasm, Robertson campaign organizers are scrambling to collect the 3 million signatures he has said would be his signal to run. Last September, Robertson announced: "If by September 17, 1987, one year from today, 3 million registered voters have signed petitions telling me that they will pray, that they will work, that they will give toward my election, then I will run as a candidate for the nomination of the Republican Party for the office of President of the United States of America."
Robertson left no doubt about his own sense of direction. In a letter following last year's announcement, he wrote, "I have made this decision in response to the clear and distinct prompting of the Lord's Spirit.… I know this is His will for my life."
A Slow Petition Drive
Nine months after his announcement, Robertson was only about one-third of the way toward his petition goal. "We did not anticipate it being such a detailed and huge administrative task," said Connie Snapp, media relations director for Americans for Robertson. In June, Americans for Robertson recruited volunteers in several states to solicit supporters by telephone. And Robertson appeared to revise his criteria for making a decision to run. He told reporters in Arizona he would announce for the presidency "if I have 3 million petitions or [other commitments from] people who will support a candidacy by me.…"
In North Carolina, Robertson organizer Carl Horn explained, phone bank volunteers are calling people listed in church directories. They ask, "May I add your name to the list of people telling Pat to go for it by agreeing to support his candidacy?" If the answer is yes, the supporter is asked to name a party affiliation and indicate whether he or she will work for the campaign or donate money to it. Horn said 50 to 80 percent of the people contacted by phone say yes. By mid-June, the North Carolina effort had collected a total of 12,000 names—with some signing petitions and others promising their support over the telephone. The goal, Horn said, was 50,000 by the end of July, requiring nearly 1,000 positive responses per day if telephoning is done six days each week.
Snapp said each supporter identified by telephone is sent a petition card and asked to return it with a signature. In this way, she said, the phone commitments will adhere to the criteria Robertson set out in 1986. At the end of June, Snapp said the national office of Americans for Robertson had approximately 1 million signed petitions in hand and an additional 1 million "pledged" from volunteers. One of the volunteers, Robert Weiner, founder and president of Maranatha Campus Ministries, promised to gather 1 million signatures. Weiner is pursuing the petition drive on his own time, contacting Christian leaders and using word of mouth.
A direct-mail fund raiser who consulted with an independent expenditure campaign for Robertson has questioned the change in tactics by Americans for Robertson. Noting how difficult it will be to gather the needed signatures before a September announcement, W. Shepherd Smith, Jr., of Herndon, Virginia, said he feared Robertson organizers could tally telephone assents before they are backed up on paper.
"In the political/religious environment which exists today, it is imperative that Pat be able to pass the litmus test of close scrutiny on the issue of integrity," said Smith. "If he said last September that having 3 million registered voters sign petitions was a condition for announcing his candidacy, then he must have those signatures in order to run. Certainly that was the primary basis upon which we raised money."
Smith said his own direct-mail effort for Robertson attracted far more negative responses than he expected. He said an overall 13 percent response from 400,000 names was split, with 8 percent positive and 5 percent negative. Smith observed that the percentage of negative mail is high, indicating "a significant number of people out there don't want him to run."
This appears to be true particularly in evangelical circles. Snapp acknowledged, "It's our own base of people who think he can't win."
Who Supports Pat?
Most of Robertson's support is drawn from a narrow segment of the Christian community with little previous experience in politics. In a variety of polls measuring the relative strength of Republican presidential contenders, Republican voters have indicated Robertson is the candidate they would be least likely to support.
But his political persuasiveness and the depth of his followers' commitment may counterbalance the negatives. A survey of people who contribute money to Republican candidates, conducted by Furman University political scientists James L. Guth and John C. Green, offers a profile of the Robertson backer. People who donate to Robertson, they found, "differ from other Republicans primarily in the scope and militance of their conservatism."
A majority of Robertson donors give top priority to social issues, while other Republican supporters tend to be most concerned about economic issues. Concern about pornography, school prayer, abortion, and drug law enforcement characterizes the Robertson contributors, Guth and Green say. At the same time, they are deeply concerned about economic issues.
Guth and Green point out that Robertson donors are religiously distinct as well. They report, "A plurality belong to charismatic churches, especially the rapidly growing Assemblies of God. Others come from more moderate evangelical groups such as Baptists. Very few are members of fundamentalist [churches] or conservative mainline denominations."
In the long run, the researchers say, "The Robertson campaign may be the first step in blending conservative Christians into the right wing of the Republican party."
Ministry Repercussions
The impact of Robertson's political activities on his television ministry are expected to be far-reaching. Because of a potential conflict of interest, CBN News may not be allowed to cover some aspects of the 1988 campaign. And once Robertson officially declares, he cannot appear on the air unless equal time is provided to other candidates. Added to that are the financial repercussions.
CBN officials are facing the fact that no matter what happens on the political front, life at the network and CBN University will never again be the same. "Regardless of what Dad does with his political campaign—regardless of whether he runs or doesn't run—he's never, ever, ever going to go back to being Pat Robertson, host of a 5-day-a-week Christian television program," said Robertson's 33-year-old son, Tim, who is president of CBN. "This is one thing people have not gotten through their minds. He's going on to do some different things. For those of us who make decisions around here about where we're going in the future, this has been a very important point of demarcation."
"The 700 Club," in particular, is scheduled for major changes beginning early this fall. Tim Robertson explained that direct ministry will be emphasized instead of issues. "That's what the viewers seem to want," he said.
In addition, CBN has started an ambitious radio network project, CBN Vice President for Marketing David Clarke sees it as "a significant and important way to reach people we are not reaching with 'The 700 Club.' It's a way to use resources that are already in place."
New television programming at CBN will depend on the generosity of the network's viewers. A serious drop in donations has already precipitated layoffs and budget cuts, and there is concern that Robertson's presidential ambitions may cut further into sources of support for the ministry.
S. Tucker Yates, a CBN board member for 15 years and a former executive vice-president of the network, said, "There is no question but that his potential candidacy has had some minor effect on finances at CBN." Yates identified three groups of people who may be less inclined to give: first, "some feel if they send money, he [Robertson] will use it for politics." Second, Yates said, "some believe God called Pat to the ministry, so he should not be running for president." Finally, some donors are discouraged because Robertson no longer appears regularly on "The 700 Club." "No one can carry the program like the founder/president," Yates acknowledged.
Tim Robertson said he attributes approximately half of CBN'S 20 percent budget shortfall to the combined effect of his father's presidential bid and his absence from the television screen. Those factors were "expected to impact us at a rate of about 10 percent," Tim Robertson said. "The additional 10 to 15 percent attrition rate since the end of the year is due to other factors," including the PTL scandal and the negative public perception of Oral Roberts.
CBN network and university employees are ambivalent about Robertson's run for the White House, and there appears to be a lot of frustration about how the campaign may affect job descriptions and job security. Vice President Clarke pointed out that "people operate on two levels [at CBN]. One is their excitement in seeing what's happening. Most of us are here because in general we agree with Pat. The other side is a sense that this new direction may be a threat to their jobs."
Employee sentiment against the campaign might reflect loyalty to their calling at the network or the university more than disagreement with Robertson. And CBN'S employees perceive there may be a price to pay for Robertson's bid for high office. CBN'S social service initiatives, such as Operation Blessing and a literacy campaign, are "extremely valid," said a staffer laid off in June, who asked not to be identified. But it is a difficult time of transition for the network. Said the former staffer: "[Many employees] just wish Pat would go away and do his own thing."
Observed Clarke, "Pat has always been willing to make tough decisions that initially looked problematic, yet as he's stuck to his course, God has vindicated him. I think we're facing that situation again. Pat is saying, 'I think I've heard from God on this, and you all bear with me while I pursue this course with all the energy I have.' "
By Beth Spring.
Robertson's Political Strategy
According to surveys conducted by political scientists at Furman University, people who support a Pat Robertson presidential run are deeply committed to their candidate. As a result, they are expected to be more likely to go to the polls when Iowa, Michigan, and New Hampshire hold the nation's first round of caucuses and primaries next year.
By the end of Super Tuesday on March 8, Robertson's strategists believe they can have the nomination locked up. (Super Tuesday will see 14 southern and border states hold primaries for candidates in both parties.) Robertson needs a total turnout of 7 million voters in 25 states to lay claim to the Republican nomination, according to Connie Snapp, media relations director for Americans for Robertson. And campaign workers are confident they can do it.
In each state holding an early primary or caucus, Americans for Robertson field directors have identified the number of voters needed to garner enough delegates to ensure that Robertson wins the Republican nomination. Michigan began earlier than any other state to select delegates to attend the Republican National Convention next summer. Robertson made headlines in August 1986 after he claimed the support of a major portion of Michigan's newly elected precinct delegates (CT, Sept. 5, 1986, p. 52).
After Michigan held its state Republican convention last February, Robertson's backers claimed to win about half of all the delegates chosen. This positions Robertson to attract a healthy portion of the state's 77 delegates to the Republican National Convention, where the party's 1988 presidential nominee will be chosen.
In South Carolina, Robertson supporters also overwhelmed the precinct delegate selection process, gaining 40 to 50 percent of the delegates to the state convention. In one county, Robertson forces sparked a heated debate with supporters of Vice President George Bush, who invoked obscure party rules to disqualify precinct delegates who were not registered to vote 30 days before the precinct elections. South Carolina is a pivotal state because its Republican presidential primary will be held three days before Super Tuesday.
In Iowa, a straw poll taken at a Polk County Republican picnic showed strong support for Robertson, who came in second to U.S. Rep. Jack Kemp (R-N.Y.). Meanwhile, Robertson is spending up to five days per week in New Hampshire, a state whose early primary is often said to designate the frontrunner in each party.
Our digital archives are a work in progress. Let us know if corrections need to be made.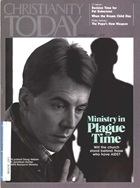 This article is from the August 7 1987 issue.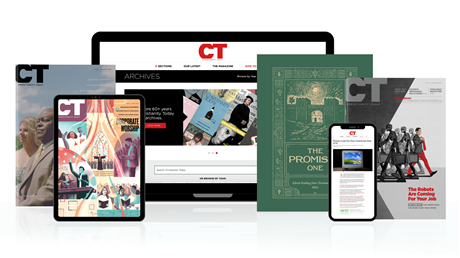 Find hope and historical insight. For a limited time, explore 60+ years of CT archives for free!
Daily devotions from Timothy Dalrymple during this pandemic.
Hundreds of theology and spiritual formation classics from Philip Yancey, Elisabeth Elliot, John Stott, and more.
Thought journalism that inspires you to think more deeply about your faith.
Will Pat Run?
Will Pat Run?