The van lurches through the dark, narrow streets of Philadelphia, past familiar landmarks now shrouded with thick mist from steam vents and sidewalk grates. Ten people huddle inside, warmed by foil tubs of chicken casserole, pork and beans, and an industrial-size coffee pot.
These Christians from the suburbs are venturing downtown to feed those in need: homeless friends of Trevor Ferrell, the Philadelphia teenager whose campaign to help the indigent has received national attention.
The campaign began on a Friday night in December 1983, when 11-year-old Trevor saw a TV news report on the inner city. He could not believe people lived on the streets so close to his suburban home. Frank and Janet Ferrell reluctantly agreed to broaden their son's sheltered horizons—and their own. The three headed downtown in the family station wagon, Trevor clutching a favorite yellow blanket.
A block past city hall, a thin man lay crumpled on a sidewalk grate. While his parents watched uncertainly, Trevor approached him. "Sir," he said with dignity, "here's a blanket for you." The man woke and stared at Trevor. "Thank you," he said softly. "God bless you." Frank didn't realize it, but that brief confrontation was to make his son a celebrity and alter the Ferrell family's lives forever. They returned downtown night after night, emptying their home of extra blankets, old clothing, and dozens of peanut butter sandwiches. Someone donated a van; volunteers charted nightly distribution routes. To the Ferrells' surprise, "Trevor's Campaign" somehow began.
Trevor found himself explaining first to local media what the Ferrells were doing, then to others: Pat Robertson, Merv Griffin, Mother Teresa, Ronald Reagan. He also told them why: "It's Jesus inside of me that makes me want to do this."
But on this cold February night, Trevor is at home catching up on homework; Frank Ferrell sits without him in the back of the van. Usually he drives, but tonight a Philadelphia church group has volunteered to take over, so Frank is content to take a back seat.
He is an agreeable-looking man with fine blond hair and thin gold-rimmed glasses. "You know, our social life has changed a lot since the campaign began," he says. "Our church is behind us 100 percent, but some of our old friends don't understand why we're messing with the homeless. They just tolerate our 'eccentricities' "
Perhaps they don't understand why Frank would give up his electronics business, painstakingly built for nearly 20 years, to devote himself to street people. To Frank himself, selling his business was at first unthinkable: it was the security that had allowed him an expensive home and private schools for his kids. But gradually it became the hindrance keeping him from devoting himself full-time to the campaign. With characteristic hesitancy, he says he now has a new strength—and a new freedom—that comes from doing what he feels God wants him to do.
The van stops at Trevor's Place, the campaign's home for street people. The living room air is thick with stale smoke; random holes punctuate the walls. "You should have seen it before we fixed it up," Frank grins. A National Geographic featuring the "treasure houses of Britain" sits on a stained coffee table.
Miss Lois, a kind-eyed black woman, watches an inquisitive white toddler with tiny crescents of dirt under her fingernails; the youngster's mother stares out a window and chain-smokes.
Ralph, a large, red-haired man, used to live on the streets, usually wearing women's clothing, until Frank and Trevor became his friends.
Big Joe, one of the Ferrells' "success stories," has a steady job and is proudly working on his high school equivalency certificate.
And the house supervisor for the evening is a "graduate" of the campaign—a young woman who formerly slept in the subway. She lived at Trevor's Place; then, with the Ferrells' help, found a job and a home of her own. She's now in college; her Phi Beta Kappa pin is prominently pinned to her neat blue jumper.
As Frank circulates, the residents tease him good naturedly. "Hey, Frank, you know that kid of yours? He hit me with a snowball last night—you gotta do something about that kid." Frank laughs and shakes his head; it's clear that even in his absence, Trevor brings this disparate group together.
Some observers see the focus on Trevor as a platform for Frank's agenda. A British reporter once asked him, "Isn't this really Frank's Campaign?" The question bothered Frank immensely. "No," he said firmly. "And it's not really Trevor's Campaign. It's God's." But inside he wondered. Do people think I'm some kind of egomaniac, just into this thing for the publicity? He decided it didn't matter. Trevor's idea had become something he had to continue—because it was actually helping people.
All theorizing about the campaign's motivation is put aside for now, and the van leaves Trevor's Place for its nightly rounds. At the first stop, volunteers seek out a woman surrounded by bags on a wooden bench. "Thank you," she says. "But I don't need any food. There are some fellas around the corner who could sure use some, though."
Before the volunteers leave, a pavement-worn paw emerges from what had looked at first like an old coat wedged behind the woman; the "coat" is a large, gangly mutt. "Bless you," the woman says to the volunteers, "but if the dog smells it, she'll be all over it in a minute."
Around the corner, a young man with a reddish beard takes a paper plate of chicken casserole. "Thank you," he says. "I was starving." He points down to a man lying comfortably on a grate. "That's Bob," he says. "He's my friend. He's one of the most honest human beings you'll ever meet." The volunteers wave down at Bob, who takes a cup of coffee and waves cheerily back. As he does so, an almost palpable odor rolls up from the grate.
As the group drives on, the van has trouble turning corners. The men in the front agree it needs power steering fluid.
"Would some coffee work?" a volunteer calls out.
"This coffee might," Frank responds dryly from the back.
How has it all changed since the beginning, when he and Trevor would drive this route without volunteers, occasional TV crews, and journalists? "I miss the old days," Frank sighs. "Now we've become an organization. But as more people become involved, the more help we can give those who need it."
"We're trying to meet short-term needs and figure out ways to bring long-term changes to these people's lives. Sometimes these feedings seem like just a Band-Aid. But this is how we build relationships. And as these people become our friends, they trust us to help them in bigger ways."
He pauses for a moment, looking at the landscape of broken bottles and bodies on steam grates. "There are plenty of struggles. But I know one thing. Giving has made all the difference in my Christian life. I used to just read the Scriptures. Now I feel like I'm living them."
By Ellen Santilli Vaughn, editorial director for Prison Fellowship, living in Wayne, Pennsylvania.
Have something to add about this? See something we missed? Share your feedback here.
Our digital archives are a work in progress. Let us know if corrections need to be made.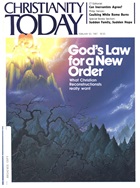 This article is from the February 20 1987 issue.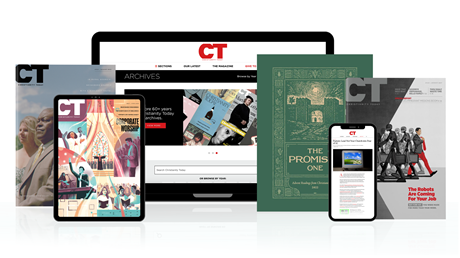 Subscribe to Christianity Today and get access to this article plus 65+ years of archives.
Home delivery of CT magazine
Complete access to articles on ChristianityToday.com
Over 120 years of magazine archives plus full access to all of CT's online archives
Subscribe Now
An Evening with Trevor's Dad
An Evening with Trevor's Dad