Mary's Place
I appreciated Kenneth Kantzer's "A Most Misunderstood Woman" [Dec. 12]. It was concise and accurate, without any belittlement of the Catholic people.
I have read with interest the attitude CT has shown toward the new Roman Catholic evangelicals. Certainly those who have taken that route deserve our full support and recognition, but I wondered if it would be done without speaking to the sensitive issues of doctrine and authority of the Scripture. Thank you for doing just that.
REV. STEVE HEESE
The Church in South Denver
Denver, Colo.
It is obvious Kantzer used your vehicle to vent his anger, hate, and bitterness against the Catholic church, while Luci Shaw ["Yes to Shame and Glory," Dec. 12], without animosity or criticism, wrote an inspiring article emanating love and tender feelings. Kantzer surmises we are "possessed" with dogmas I have never heard of. I wonder which article on his mother Jesus was more pleased with.
D. M. HASTINGS
Minneapolis, Minn.
The real question of Mary's place in the believer's heart is not where man puts her, but where Christ puts her. The late Bishop Fulton J. Sheen wrote: "Why are pulpits which resound with the Name of Christ so silent about his Mother, who was chosen for such a dignity in the agelessness of eternity?… The Church has never adored Mary, because only God may be adored. But she, of all creatures, was closest to God."
JOSEPH A. COSTANZA
Chandler, Ariz.
Kantzer's article is based on quotations lifted out of context, twisted linguistics, and contorted historical data. The only thing that can be termed "mythical" is the fundamentalist position he attempts to "prove."
JAMES A. LENAGHAN
Novi, Mich.
As a believing Catholic, I want to express my appreciation of Kantzer's willingness to express candidly his reaction to the place of the mother of Jesus in the Catholic faith, as well as his beautiful assessment of the significance of Mary from an evangelical perspective. In the interest of an increase in understanding among Christ's tragically divided disciples, I would recommend a relatively recent official Catholic discussion of Mary: Chapter VIII of The Dogmatic Constitution on the Church of Vatican II.
JOSEPH C. WITT
Orange, Calif.
Kantzer's article was a disappointing litany of ancient prejudices against the Roman church.
REV. G. PATTERSON CONNELL
Grace Episcopal Church
Cuero, Tex.
If Catholics have the Immaculate Conception and Assumption as mythological appendages, what am I to make of this statement of Protestant doctrine: "Yet to its Old Testament [Roman Catholics] add the apocryphal books—books not a part of the Jewish canon accepted by our Lord and his apostles." I realize that as a Roman Catholic my literacy in Holy Writ is suspect, but I have never read anywhere in Scripture a listing of which books Jesus read or preached from. I must conclude that this is a Protestant mythological appendage to the doctrine of the Bible since this information is not in the Bible. Let us stop kidding ourselves—we both operate on Holy Traditions!
JOSEPH T. HILINSKI
Cleveland, Ohio
Smoke, smokers, and politics
As an employee of the American Cancer Society, I was delighted to read your editorial "A Colossal Cover-up" [Dec. 12]. I believe this piece can have a tremendous effect on America's smokers.
ANNE WEAVER
Roanoke, Va.
Your editorial fails to point out that as taxpayers and voters we say one thing but do another by providing crop subsidies to tobacco farmers. I think we should see to it our youth fully understand that to stop the cigarette industry is not to vote for politicians who support it.
NORMAN A. BENSON
Seattle, Wash.
Hardened teen criminals
I could not stomach Gordon McLean's views in "Adult Prison Is No Place for a Kid" [Speaking Out, Dec. 12]. If he had been discussing 13-year-old shoplifters, I could see his point; but his example was about two teenage murderers tried as adults and given long prison sentences. McLean claims adult prison can "turn a young offender into a hardened criminal." It seems clear that a teenager who guns down another in cold blood is already a hardened criminal. Those convicted of first-degree murder, regardless of age, should spend the rest of their lives in prison—no exceptions.
DANA FERRIS
Pasadena, Calif.
My husband and I are employed at a juvenile detention facility as supervisors. McLean aroused my interest, for while he brings up some good points regarding delinquent offenders who have committed relatively minor crimes, I strongly disagree with his suggestion of leniency with youths in mid-to-late teens who commit violent, thought-out crimes. Neighborhood service for someone who (at age 16 and with full knowledge) murders in cold blood? I hope I misunderstood him! Is the crime less serious, the victim less dead, the lives less messed up at age 15 than at age 19 or 20?
JOANIE R. GRUBER
Ashland, Ohio
Election winners and losers
CT'S otherwise good election coverage [News, Dec. 12] curiously omitted reference to significant referenda. In largely Catholic Massachusetts, voters defeated proposed state constitutional amendments to allow tax aid for parochial schools and to restrict abortion rights. In two-thirds Catholic Rhode Island, an antiabortion amendment was rejected. In conservative Protestant Arkansas, an antiabortion amendment was unexpectedly defeated, while in Oregon an amendment to bar medic-aid funding of abortion lost.
EDD DOERR
Americans for Religious Liberty
Silver Spring, Md.
In the inset article "Where Congressmen Go to Church," you left out the name of U.S. Rep. Walter E. Faun troy of the District of Columbia [as one of four, not three, ordained congressmen]. Not only is he ordained, but he is pastor of Washington's (1, 500-member) New Bethel Baptist Church.
DR. STACEY WILLIAMS
Peace Baptist Church
Detroit, Mich.
A better map needed
Anita and Peter Deyneka's article "The Church Under Gorbachev" [Dec. 12] did a first-rate job of informing readers of the situation of the church in the Soviet Union. But your map on page 29 shows two Soviet republics, Latvia and Estonia, as one (with no boundary between), and the relatively small republic of Moldavia as larger than the Ukraine. Such a map undermines your attempt to better acquaint Americans with the geography of the USSR.
DAINA ELBERTS
Wheaton, Ill.
Oops! We thought we'd fixed those maps—including invasion into Finland and misspelling of Azerbaijan—but revisions never caught up with the printer.—Eds.
How Yancey inspires!
Philip Yancey's "Imagine There's No Heaven" [Dec. 12] is inspired. His insights are prophetic to an evangelical church that rapidly is conforming to the world rather than transforming it.
REV. DALE W. PATTERSON
First Presbyterian Church
Fowler, Ind.
Toward proper assessment
I appreciated your editorial "Heresy Hunting [Nov. 21]." I have been waiting for an intelligent response to Hunt and McMahon's book. While I give them much credit for raising valid points about New Age mysticism and its influence, it was refreshing to read someone who realizes the need for balance and ethics in their concern. Perhaps this will help us tackle the hard questions involved in assessing the New Age movement.
HENRY BROADBENT
Honolulu, Hawaii
Speaking of quoting out of context: Is Muck himself not criticizing Schaeffer, Hunt, and McMahon by picking out bits and pieces?
J. C. BOWMAN
Cleveland, Tenn.
The evangelical community needed a publication with the stature of CT to lovingly confront those among us who are heresy hunters. Your editorial rightly conveyed caution, caring, and class.
REV. DON BUBNA
Salem Alliance Church
Salem, Oreg.
Terry Muck's editorial takes exception to the three-fold format of recent heresy-hunting books. The format is not new. A decade ago, Battle for the Bible got our attention the same way. I would venture to guess that the editorial pages of CT were not so quick to cry "foul" then. The discerning reader wishes Lindsell as well as Hunt and McMahon had used a scalpel rather than a broadsword. But to dismiss the whole message of either book because it contains some clumsy personal attacks is truly to throw the baby out with the bathwater.
DAVID RIDDER
Newtown, Pa.
I welcomed your timely editorial, focusing on those self-proclaimed and self-propelled "witch hunters" who, in seeking to identify and stamp out the "enemies" where they are not, actually end up doing the work of the very Enemy they detest. What a pity not to be able to recognize those who are on the same side—the Lord's side!
REV. GEORGE P. URBAN
Philadelphia, Pa.
A breathtaking December cover!
Your December 12 cover illustration of Mary and Jesus took my breath away. The artist has captured the emotions that Mary must surely have felt at being given such awesome privilege and responsibility. He allows me to feel the same things: the terrifying, vulnerable love of a mother for her child; the inadequacy and wonder of having received God's grace.
DONNA BURNS
Alta Loma, Calif.
Letters are welcome. Brevity is preferred, since only a selection can be published. All are subject to condensation. Write to Eutychus, CHRISTIANITY TODAY, 465 Gundersen Drive, Carol Stream, Illinois 60188
Hotter Headlines
When the church newsletter comes in the mail, our family gives it about as much attention as the brochures about aluminum siding. But I'll tell you what does grab attention. When I stand in the checkout line at the Buckeye Bread Basket, I do notice the pulpy tabloid with the fuzzy photos and inch-high headlines that provocatively ask, "COSBY AND GORBACHEV COUSINS?"
SO I suggested some changes to the editor of our newsletter. Diets, space aliens, Michael J. Fox, and anyone ever married to Jerry Lee Lewis are regular headline fare. Why shouldn't our newsletter appeal to the same interests?
For example, church functions could be promoted by appealing to prurient interests: Proclaim the annual rummage sale with "CHURCH MEMBERS COME OUT OF THE CLOSET! Evidence of past lives soon to be on view." And the fall clean-up of church grounds could promise: "BURN CALORIES LIKE AUTUMN LEAVES!"
It is difficult to get people to anticipate sermons. Here again the newsletter could help. It might announce Christmas with "WAS JESUS AN EXTRATERRESTRIAL? Alien messengers communicate with frightened shepherds." The tabloid method will even make routine expository messages irresistible. Paul's experience in Ephesus could be billed: "DI'S ADMIRERS ATTACK MISSIONARIES! Souvenir sellers riot"
EUTYCHUS
Have something to add about this? See something we missed? Share your feedback here.
Our digital archives are a work in progress. Let us know if corrections need to be made.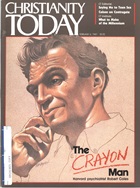 This article is from the February 6 1987 issue.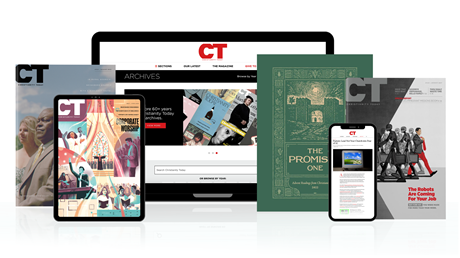 Subscribe to Christianity Today and get access to this article plus 65+ years of archives.
Home delivery of CT magazine
Complete access to articles on ChristianityToday.com
Over 120 years of magazine archives plus full access to all of CT's online archives
Subscribe Now
Eutychus and His Kin: February 6, 1987
Eutychus and His Kin: February 6, 1987