OBITUARY
"Mr. Pentecost" Dies At 81
David J. du Plessis, widely known as "Mr. Pentecost," died of cancer at his home in Pasadena, California, on February 2, just five days short of his eighty-second birthday. A South African native who was naturalized as a U.S. citizen in 1949, du Plessis was considered by many the foremost spokesman for the Pentecostal movement.
He was also regarded as an ecumenist years ahead of his time. He had attended all ecumenical conferences sponsored by the World Council of Churches since 1954. He was the only Pentecostal invited to attend the third session of the Second Vatican Council in Rome in 1964. And he served as cochair of the International Roman Catholic/Pentecostal Dialogue from 1972–82.
An Assemblies of God minister, du Plessis was the organizing secretary of the World Pentecostal Fellowship (now the World Pentecostal Conference). He also played a major role in establishing the Pentecostal Fellowship of North America, the Full Gospel Business Men's Fellowship International, and the Society for Pentecostal Studies.
du Plessis spent his later years at Fuller Theological Seminary in Pasadena, California. Fuller President David Allan Hubbard called du Plessis "one of the distinguished world Christians of our era." In 1985, the David du Plessis Center for Christian Spirituality was established at Fuller. Last year, the center hosted the International Roman Catholic/Pentecostal Dialogue. The meeting is traditionally held in Europe, but met in Pasadena to honor du Plessis.
PORNOGRAPHY
Meese On Playboy
United States Attorney General Edwin Meese said recently that he has read Playboy and Penthouse magazines and he does not consider them obscene.
According to an Associated Press report, Meese made the acknowledgement following a recent speech to law clerks of federal court judges. A Justice Department spokesman, according to the report, confirmed the substance of the Meese remarks.
A U.S district judge ruled last year that a letter sent by the Meese commission on pornography was intended to discourage drugstores and convenience store chains from distributing such magazines as Playboy and Penthouse.
UPDATE
A Study In Healing
Fuller Theological Seminary has finalized the details of its course "The Ministry of Healing in World Evangelization," which will be offered this spring. Amid controversy, the seminary last year canceled a course on the miraculous until a faculty task force could study the issue (CT, Feb. 6).
A major question addressed by the study was whether the classroom is appropriate for practicing healings. The new course calls for students to attend two Sunday night services at local churches that incorporate a healing ministry. Prior to attending the services, students will attend an orientation at which the churches' pastors will explain their approach to healing.
One of the churches students will visit is John Wimber's Vineyard Christian Fellowship in Anaheim. Wimber, a leading figure in the worldwide charismatic renewal movement, was one of three teachers of Fuller's original course on the miraculous.
AIDS
A Difficult Speech
These days, one of Surgeon General C. Everett Koop's toughest assignments has been taking his controversial message on AIDS (acquired immune deficiency syndrome) to constituents in the Christian community. His advocacy of sex education (as early as age nine) has not fared well with some conservatives.
However, among those friendly to Koop is fundamentalist leader Jerry Falwell. Koop, in a recent appearance on Falwell's "Old Time Gospel Hour" television program, said he realized he was saying things conservatives do not like to hear. Still, he urged listeners to give priority to solving the AIDS epidemic.
Koop also spoke to more than 5,500 students and faculty at Falwell's Liberty University, saying, "All of you people in this room are going to be faced with tremendous dilemmas" because of the AIDS crisis. Stating that AIDS could claim as many as 100 million lives worldwide by the year 2000, Koop urged listeners to practice monogamy. He also recommended the use of condoms for the sexually active.
PEOPLE AND EVENTS
Briefly Noted
Awarded: To Ben Kinchlow, host of the Christian Broadcasting Network's "700 Club," the 1987 Two Hungers Award, presented annually by the organization Food for the Hungry. The international award recognizes outstanding involvement in meeting the world's two greatest hungers, spiritual and physical.
Established: By the Nazarene Theological Seminary in Kansas City, Missouri, a School of World Mission and Evangelism. The school offers 51 courses in these two related areas.
Appointed: Douglas G. Burleigh as the executive director of the worldwide youth organization Young Life. A 20-year veteran of the organization, Burleigh succeeds Robert Mitchell, who resigned the post last April to become president of the Young Life Foundation.
As the seventh president of Moody Bible Institute: Joseph Stowell, 43, currently pastor of the Highland Park Baptist Church in Southfield, Michigan. Stowell will assume his new duties in August. He replaces George Sweeting, 62, who has been at Moody since 1971 and will remain at the institute as chancellor.
Our digital archives are a work in progress. Let us know if corrections need to be made.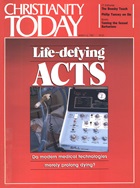 This article is from the March 6 1987 issue.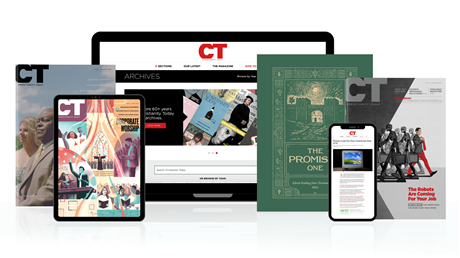 Find hope and historical insight. For a limited time, explore 60+ years of CT archives for free!
Daily devotions from Timothy Dalrymple during this pandemic.
Hundreds of theology and spiritual formation classics from Philip Yancey, Elisabeth Elliot, John Stott, and more.
Thought journalism that inspires you to think more deeply about your faith.
North American Scene from March 6, 1987
North American Scene from March 6, 1987