For World Relief Executive Director Jerry Ballard to be received by foreign dignitaries is nothing new. But Ballard counts his recent meeting with Cuban leader Fidel Castro among his most important exchanges with foreign heads of state.
In September, Ballard led an eight-member delegation that spent more than six hours with Castro. Ballard's original purpose in going to Cuba was to assist the Fellowship of Evangelical Seminary Presidents in exploring the possibility of holding a seminar in a Marxist nation. In making arrangements for the trip, however, Ballard discovered that a World Relief staff member knew of a number of political prisoners in Cuba. Many of those prisoners are lay pastors, some of whom have been in jail for 20 years.
Raising the issue of these prisoners eventually became Ballard's top agenda item. In response, Cuban officials requested World Relief's help in resettling Cuban prisoners in the United States. Ballard says World Relief is interested, and is in the process of negotiating with the governments of the United States and Cuba to determine its role.
While in Cuba, Ballard also met with two representative groups of Protestant pastors, and explored with government officials World Relief's possible role in providing disaster aid to Cuba.
The meeting with Castro, whose revolutionary forces toppled the military regime of Fulgencio Batista y Zaldívar in the late 1950s, began with a tour of a new hospital. Ballard said Castro's strongest domestic commitment is to transform Cuba into a health-care leader among Latin American countries.
After the tour, the Americans listened as Castro addressed a "town square" assembly of about 4,000 Cubans. "He spoke for well over an hour with no notes," observed Ballard. "And these were not the rantings of a wild man. He is a one-man communications system."
Finally, the delegation, which included U.S. Rep. Peter Kostmayer (D-Penn.), interviewed Castro for more than two hours. Ballard spoke with CHRISTIANITY TODAY about his meeting with Castro and about the state of the church in Cuba.
• On Castro: Ballard described Castro as a "friendly and likable guy with a spontaneous sense of humor. But I recognize he is a performer." Ballard said he has "no reason to think Castro's concern for justice and for the poor is not genuine. He seems to be a man who's trying to live for his people. But I don't believe for a second that he doesn't enjoy power."
Ballard added that it was "hard for me to come to grips with the fact that I was sitting with a man who—by his own words—has caused a lot of people to die." Ballard said he has reason to believe that, spiritually, the aging Castro is searching. Castro requested information on Mormonism from a member of Ballard's delegation who lives in Utah. "I'm going to send him a book on what the Bible has to say about it," said Ballard, "to give him a balanced view."
• On religious freedom: "There is increasing freedom for the church in Cuba," said Ballard. "I use the word cautiously. It's nothing like what we have in this country, which is freedom to do whatever we want.
"But things are improving. Restrictions on the size of public meetings, for example, are being eased. The government no longer views the goals of the church as being incompatible with the goals of the revolution.
"To some extent, the church is being used by the government. Still, the new freedoms are legitimate.… But I'm sure that if the church would ever become a threat, the liberties would disappear." He said Christians ought to add Cuba to their prayer lists.
• On the Cuban church: Ballard met with a group of about 30 church leaders and pastors in the region east of Havana. "I was expecting to see old, worn-down men.… Instead, I was impressed that more than half of them were under 35 years of age. More and more seminaries are opening, and seminary training is of high quality.
"The church has been through a period of oppression," Ballard said. But he described the young leaders as "here-and-now people. They're not thinking of the past. They are looking at current opportunities."
Ballard said he found it "exciting to see churches filled" and that "evangelism seems to be very much alive." He said a Baptist leader told him more people are coming to know Christ as Savior in Cuba now than in the pre-Castro days when open-air crusades were permitted.
• On the government: "One thing you've got to face," said Ballard, "is that Castro holds an entire populace under his thumb. This is a Marxist society that believes man controls his own destiny. Officially there is no room for God.
"The dictatorship is no doubt producing some good for the people. For example, prostitution is not the problem it once was. But Cuba is a society where there are no personal freedoms."
• On U.S. Cuba relations: "Castro's number-one enemy in the region is not America, but American business. He views the U.S. as a country that seeks to protect its economic interests at all costs. It is not hard to understand his concerns. According to the last figures I saw, American investment in underdeveloped countries netted a 230 percent profit. To me, that is exploitative.
"It's beyond debate that Cuba is the pipeline for Soviet arms to Central America. But … I believe [Castro] has a deep-seated love affair with America. He wants his people to learn English, not Russian. There are some strong historical ties between the people of Cuba and the people of the United States.
"It's yet to be known what would happen to Cuba-Soviet relations if the United States would reach a rapprochement with Cuba, if we would accept their revolution and begin to build economic relationships. Right now the Cuban economy is in trouble because the Soviets have cut back on their subsidy. Cuba can conveniently blame it on the U.S. blockade instead of on a [Marxist] economic system that has never worked anywhere.
"I favor dialogue. They're not going to make us into Communists, and we might not make them into flag-waving Americans. But we ought to be talking, because innocent people in the middle are the ones who get hurt, who suffer the consequences of the silence."
By Randy Frame.
Have something to add about this? See something we missed? Share your feedback here.
Our digital archives are a work in progress. Let us know if corrections need to be made.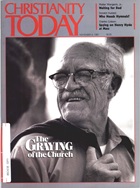 This article is from the November 6 1987 issue.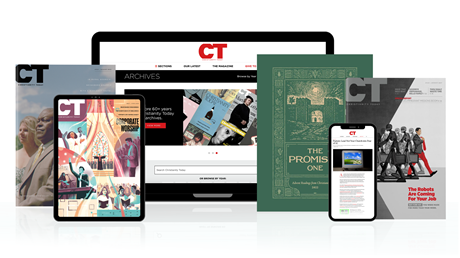 Subscribe to Christianity Today and get access to this article plus 65+ years of archives.
Home delivery of CT magazine
Complete access to articles on ChristianityToday.com
Over 120 years of magazine archives plus full access to all of CT's online archives
Subscribe Now
An American Christian's View of Castro's Cuba
An American Christian's View of Castro's Cuba