Recently I paid a visit to one of my esteemed elder colleagues who is now in a fine church nursing home. When I entered his room he was sitting ramrod straight in a chair, gently, monotonously tapping his fingers on the tray in front of him, a vacuous grin on his face. I greeted him with little hope that he knew me or could greet me. His once-brilliant thought processes were hopelessly scrambled by the ravages of Alzheimer's disease. I grieve now, for the man he once was and the shell he is now. Why is a man who faithfully and inspiringly taught countless future pastors the intricacies of the Greek New Testament reduced to this?
Not all elders carry such burdens, thank God. Some live in weakness, yes, but remain mentally and spiritually very alert. A friend of ours just celebrated her 101st birthday and still enjoys spirited conversation. But just why is life so arranged that one life should now close with a whimper, while another can still savor the gifts of nature and loving relationships after a century of life? Is there an answer to the riddle?
To claim we know is to claim the impossible, for who can know the mind of God? And that may already be saying too much, for it suggests that in all cases God has ordained old age to be so. And yet, I trust that no matter what the circumstances of our days, we are always in the hands of the Lord (Rom. 14:8).
Still, we struggle for meaning, some sense to it all. If we cannot know the mind of God, we can at least get a picture of how God may be working in all of this.
Most important, we can be sure that he is bearing it with us. In Christ, God on the cross takes our burden, our living in all its rebellion, self-centered gratification, myopic narcissism, and all the consequences that flow from such sinning, and draws us to himself. He does so not by lifting us up, making us like himself, but by making himself to be the Chief of Sinners alongside us. God in Christ is not overwhelmed or destroyed by our burden.
In bearing our sorrows with us, God is still the Redeeming and Transfiguring One. With us, he takes what life gives and grapples with it further to redeem and transfigure it, to bring blessing out of suffering. It may well be that the frail elders, for whom we pray in their suffering, are closer to God than we who pray for them.
In the frail years, life appears to be stripped to its essentials. Gone now are the rich grasses and flowers of the younger days (Isa. 40:6–8). Remaining are the hardy stalks and bare stems of the essential plant. We are once again brought face to face with the fundamental realities of human existence, which, in our affluent, plastic world, we have spent a lifetime glossing over.
These elemental, human essentials are, Douglas John Hall suggests in his recent book, God and Human Suffering (Augsburg, 1985), (1) our essential loneliness as humans, signaling the basic human need for companionship and love; (2) our freedom to be choosing persons instead of instinctual animals, and so both rebellious and loyal in forever ambivalent mixture; (3) our fundamental limits as creatures, not the Creator, depending always upon him and others to sustain us; and finally, (4) the anxiety of awareness, in which we recognize what we are, in fear and hope.
If this is an accurate portrayal, then the frail years confront each of us and society as a whole with our basic humanity, so easily obliterated in a technological, mechanistic world. And these bare stalks and stems of our humanness confront both our elders and the rest of us with our need for God and for one another.
So it is not strange that the most profound fear of elders in these frail years is being abandoned to their suffering by the rest of us and even, finally, by God himself. "Do not cast me off in the time of old age; forsake me not when my strength is spent" is the prayer of the frail elders (Ps. 71:9). To this the answer is clear. The God who created us will not abandon. Even until death he will not leave us; he entered into death with us on the cross of Calvary.
I must confess some impatience and disquiet with those for whom the saga ends on this note of the "suffering God." A theology of the Cross devoid of a theology of the Resurrection becomes only an ascetic theology, a faith whose only hope lies in our human powers to "make lemonade when life hands you lemons." The Gospels and the enduring faith of the people of God, on the other hand, make clear that God is not only compassionate, he also has the will and the resources to overcome.
The diminishment of the closing years of life will not ultimately corrode our spirits if there is a durable hope that can transfigure our suffering. We can have this hope in the gospel of the Resurrection. With God's companionship and this hope, elders can be "as it were, midwife to the abundance that is creation's promise," to use Hall's picturesque phrase. There can be "growth through diminishment" as Eugene Bianchi suggests.
Elders have the possibility of imparting a legacy of meaningful suffering. In the closing months of her life my mother-in-law, who loved beauty in any of its forms, sat through endless days, almost blind, in a nursing home. She who loved to read could read no longer. She who loved to converse could hardly remember herself through a sentence. The last time we visited her she asked again, "What is the use of my life now? I'm no good to anyone; why do I still live?" To this my wife responded, "Perhaps, Mother, there is still something you do for us. You teach us how to die."
This is the stewardship of suffering transformed by trust and hope, a possibility for all of us who are dying to learn at the hands of our elders: to greet death, to long to greet the Lord, to be ready to receive life at his hands, however he may give it.
By Arthur Becker, author of Ministry with Older Persons (Augsburg, 1986).
Have something to add about this? See something we missed? Share your feedback here.
Our digital archives are a work in progress. Let us know if corrections need to be made.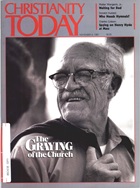 This article is from the November 6 1987 issue.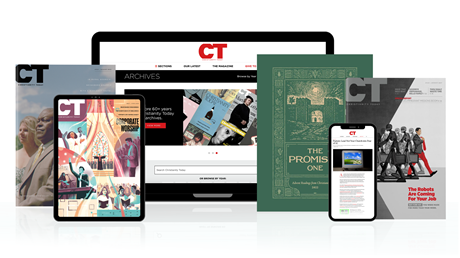 Subscribe to Christianity Today and get access to this article plus 65+ years of archives.
Home delivery of CT magazine
Complete access to articles on ChristianityToday.com
Over 120 years of magazine archives plus full access to all of CT's online archives
Subscribe Now
The Riddle of Aging
The Riddle of Aging