Growing up Pentecostal in the 1960s offered unique opportunities for self-evaluation and maturation. I was raised in a Pentecostal Holiness church in an eastern North Carolina city of 28,000. Church members were generally from working-class stock. A few enjoyed the prosperity of the 1950s postwar boom and attained middle-class living patterns; all aspired to middle-class education and earning power for their children.
Still, the message that resounded from the pulpit reflected a continuing mistrust of society and a fear of the trappings of success. It was an environment conditioned by a religious movement slowly making the painful transition from radical sect to respectable denomination. For youngsters, this tension provided a unique set of obstacles, but the atmosphere also offered lessons and incentives that could prove invaluable for future growth and development.
Though the "holy roller" stigma was much greater for the first two generations, Pentecostal baby boomers like me learned at an early age that theirs was different from mainline churches. Revivals came frequently—at least once each quarter. Generally scheduled for a week or ten days, these events could easily stretch into an additional week if the evangelist sparked the proper emotional surge. Since there was special virtue in attending every service, revivals forced children to get their homework done early, miss regular television programs, and keep late hours. If a service was particularly successful with a lot of "lingering around the altar," young children would fall asleep in the pews before the service ended. The next morning, memories of being gently carried from the church, taken home in the car, and undressed for bed merged with the night's dreams.
Revivals, camp meeting and youth camp every summer, occasional Friday night sings, and the regularly scheduled Sunday morning, Sunday evening, and Wednesday evening services meant a great deal of time in church. Some of my earliest memories are of Mr. Johnny running the aisle, Brother Westbrook shouting, "Glory," and my mother speaking in tongues. These displays signaled the arrival of Holy Spirit power, and, even as a child, I understood that those moments symbolized that all was well with the church. They occurred frequently enough to shock no one, but infrequently enough to draw the special attention of us kids. We might even giggle at the demonstrations, though we were compelled to avoid the notice of parents. In time, the displays would take on new significance as youth revivals and adolescence brought us into the worship style.
The emotional content of worship services provided a potential source of ridicule from non-Pentecostal friends. I remember being very anxious when friends visited church with me—secretly hoping that a "dry" service would be the order of the day.
Restrictive patterns of behavior marked Pentecostal youth even more vividly. Strictures against movies, make-up, dances, gym shorts, and playing ball on Sunday alienated faithful Pentecostal youth from their peers and caused tensions with parents determined to enforce such measures to the letter. Some of the conflicts were no different from those experienced by all parents and their children; Pentecostal youth simply faced more of them more often. In addition, their choices were portrayed in concrete religious terms; one could choose God and family or friends and popularity.
Identifying yourself as Pentecostal was traumatic if you were particularly self-conscious of the value judgments of others. Sometimes you could mask the trauma by displaying excessive zeal. Pentecostalism became a cross to bear; the taunting and ribbing, a badge of your rightness with God. At other times, the response was not nearly so heroic.
Entering the religion program at Wake Forest University as a junior-college transfer, I faced an experience that demonstrated the latent embarrassment embedded in youth reared in churches less than socially acceptable. Having fought a stuttering problem since childhood, I prided myself on having overcome any notice of the handicap by practicing restraint in my speech patterns to avoid embarrassing mental blocks. In an interview with the dean of the religion department, however, the malady struck with full force in an encounter I will never forget.
The dean casually asked what denomination I belonged to; and there in the midst of a bastion of Southern Baptist respectability, I suddenly forgot how to talk. Or rather, I could not say the two crucial words Pentecostal Holiness. "I'm … ah. I belong to the … ah. It's the … ah.…" Seconds seemed like hours as I gave a perfect rendition of a college religion major who somehow forgot the name of his own church.
For a brief moment I considered passing myself off as Baptist or Methodist. Those names seemed easy to say. Even Presbyterian might have emerged unscathed. Finally, the dean interrupted, "Well, that's okay. It's not important." But I persisted, "No, I can say it. Just a moment." His interruption had broken the spell, and a second later I managed to sputter, "I'm Pentecostal Holiness."
Our conversation continued and, though I was never sure exactly what the dean thought of the strange episode, the timing convinced me that I suffered from a religious inferiority complex. Sure I had stuttered, stammered, and faced mental blocks before, but never at such a critical moment when faith itself seemed on the line. I was embarrassed at myself, and yet, a little proud that I had persisted. The episode revealed an inner fear of what others thought of me because of the Pentecostal tag. It mirrored a desire for respectability—not respectability gained by jumping ship but rather by somehow making Pentecostal a term respectable in itself.
It was never quite so hard to say "Pentecostal Holiness" after that junior year in college; I had come to accept my feelings of inadequacy and recognized my need to overcome them. I also accepted my own desire and need for respectability. In my case, the long pursuit for academic accomplishment might never have been successful without that driving force. Upward mobility became something working for, rather than against, me; the fact that I recognized it did not diminish its effect.
In recent years, Pentecostalism has lost much of its stigma. Enormous growth and the rise of the charismatic movement have broadened the scope of knowledge about Pentecostals and given added prestige to churches once located only on the "other side of the tracks." The road promises to be much different for future generations of Pentecostals, and the tensions that I felt so keenly have decreased—and should continue to do so.
New tensions will surely take their place as Pentecostals face a question formerly addressed to other religious organizations striving for the mainstream: Can Pentecostals remain Pentecostal in an environment of respectability, or will the unique quality that fostered strength be lost? The struggle of future generations will be different, but nonetheless crucial.
By James R. Goff, Jr., author of Fields White unto Harvest, a forthcoming book about Charles Parham. Dr. Goff wrote this article while a lecturer in history at Appalachian State University, Boone, North Carolina. He now teaches social studies at Watauga (N.C.) High School.
Have something to add about this? See something we missed? Share your feedback here.
Our digital archives are a work in progress. Let us know if corrections need to be made.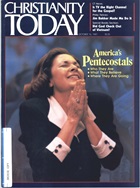 This article is from the October 16 1987 issue.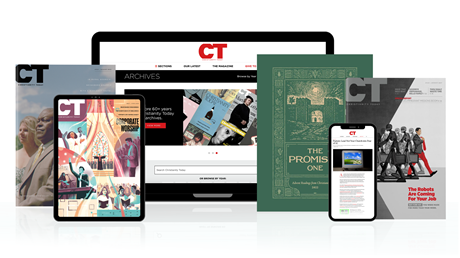 Subscribe to Christianity Today and get access to this article plus 65+ years of archives.
Home delivery of CT magazine
Complete access to articles on ChristianityToday.com
Over 120 years of magazine archives plus full access to all of CT's online archives
Subscribe Now
Brother Westbrook Shouted, "Glory," and Mother Spoke in Tongues
Brother Westbrook Shouted, "Glory," and Mother Spoke in Tongues