Hero—or Anti-hero?
I read with great anguish Charles Colson's column on Oliver North, "The Making of a Folk Hero" [Sept. 4]. As long as we admire such people as North, we will no longer have heroes, but only anti-heroes to fill the vacuum. North made himself accountable to no one, not even to his commander-in-chief. His only accountability was to his own conscience. His traits are not those of the hero, but are more like those of a traitor.
The tragic consequence of the Iran-contra affair is that no one is going to be held accountable for the fact that we, as a country, gave weapons to world terrorists. What must the world think when a country glorifies a man who does such acts "with a good Christian conscience"? Cannot even a Muslim do terrorist's acts "with a good Muslim conscience"?
The mark of a Christian is his accountability to God and his fellow man. Only moral anarchy can follow in the wake of our admiration of a man who is accountable to no one but himself.
JEFFREY A. MUNSON
Evanston, Ill.
Ollie North disturbs me, and after reading Colson's column, I am even more disturbed. Sure, Ollie is a gap-toothed charmer, patriotic and articulate. He also told lies and deceived our elected representatives. That by doing these things he furthered what he thought was a good cause does not excuse lying or deceit. Doesn't Colossians 3:9, "Do not lie to one another …," apply to Christian Marine Corps officers?
DARRYL DAVIS
Brooklyn, N.Y.
Condom ads in a grey world
John Piper condemns condom ads because they "indirectly condone and promote … sexual promiscuity ["Just Say No to Condom Ads," Speaking Out, Sept. 4]. I find their good far outweighs this unavoidable, indirect condoning. Promiscuity is a reality of our secular society, which Christianity has yet to change. Condom ads encourage those who do practice nonmarital sex to do so more smartly and safely. Should the salt of the earth condemn efforts that combat disease, suffering, and the financial burden future AIDS patients will become? I wish this world were black and white like Piper's theology, but I am constantly challenged to deal with the various shades of grey.
RANDY L. CAREY
Minneapolis, Minn.
Two troublesome reports
I am always appreciative of CT'S coverage. But I am bothered by two reports in the September 4 issue. The first, "The Holy Spirit and World Evangelism," was a news report by Julia Duin. My problem is not what was said but what wasn't said in regard to the charismatic Catholic renewal. I think it would be helpful to American Christians if there was some disclosure concerning the basic theological assumptions of the Pope and the Roman Catholic Church as a whole. Many charismatics feel that their charismatic experience makes them more loyal to Mary, the Mother of God.
My second concern involves Wendell Hoffman's review of the book The AIDS Cover-Up? by Gene Antonio, which leaves the impression that there is no cover-up. I have read the book and feel Antonio probably did overstate cases. But to imply his book was not founded on some basic facts is misleading.
REV. EDWARD M. BATEMAN
Faith Bible Church
Hobins, Iowa
Don't disparage the military
The editorial by Terry Muck, "Return of the Big Stick" [Sept. 4], does a better job at maligning the military than helping Christians understand their social obligations. He first confuses the role of Israel in the Old Testament as a covenant nation that had a special relationship with God, and the role of the military in a secular nation-state. Second, for Muck to compare the role of the military with that of the church in accomplishing the Great Commission is to equate two totally different things. Not even apples and oranges. The spiritual warfare we fight is radically different from the role of the military in safeguarding our freedoms, yet both coexist in a world fraught with danger. Third, when the New Testament does speak of a person in the military it often does so with a respect that is often missing in our own culture.
Finally, his thesis that we are becoming a militarized society does not hold up on the basis of a large defense budget, a dangerous world, and, of all things, a false analogy with Prussian militarism of the nineteenth century. An examination of how the military profession is pictured in the media, for example, would reveal a very different story.
JAMES I. LOUIS
Carol Stream, Ill.
Health Care
For years the surgeon general has warned us of health hazards such as smoking. But with all due respect to his vast medical knowledge, he has overlooked a few real hazards to Christian health and well-being.
Based on my own clinical study (sitting in church and looking around), here are a few warnings the surgeon general has missed:
Warning: Reading a section of a responsive reading at the wrong time may cause reddening of the face.
Warning: Frequent attendance at church potlucks can lead to ingestion of more green-bean casserole than the human body can safely digest.
Warning: Driving or riding on a church bus may lead to severe jolts for the spine, requiring chiropractic care.
Warning: Board meetings may cause short-term irritability and insomnia.
Warning: Teaching junior high may lead to temporary insanity.
Warning: Sitting in front of a parishioner who "always wanted to be an operatic star" may lead to temporary ringing of the ears.
Warning: Stretching your arm across the back of the pew for an entire sermon may result in tingling and loss of feeling.
You get my drift. Churchgoing is more hazardous than you might think. And it gives a whole new meaning to the phrase "faith healing."
Eutychus
Christian school woes
I was disappointed in "The Fourth 'R' " [Sept. 4]. Paul Parsons almost totally fails to address the problems facing the multitude of struggling, low-enrollment, minimally funded "academies" that make up the bulk of the movement in the 1980s. And his attempt to deal with the so-called racial issue was awkward at best because it is a nonissue. Real problems include increasingly troublesome educator/pastor struggles for hegemony, inconsistent application of standards, problems resulting from fluctuating enrollments, and schools pricing themselves out of the market.
DENNIS J. M. BROWN, PH.D.
Eugene, Oreg.
God brings resurrection!
Thank you for Beth Spring's sensitively and accurately written article, "When the Dream Child Dies" [Aug 7]. In our quest to have a child, my husband and I recently stepped off a merry-go-round of surgeries, visits to specialists, financial strain, and dealings with adoption bureaucracies. Last year, we finally accepted our childlessness at ages 40 and 42 when God presented to us an exciting call to be missionaries. For the first time, after years of pain, we have embraced fulfillment and peace in birthing "spiritual children." We find our childlessness opens doors of freedom to go wherever and whenever the Lord directs.
Even "When the Dream Child Dies," God brings us resurrection.
ARLENE BRIDGES SAMUELS
San Pedro, Calif.
The body of Christ needs to become more sensitive to the intense pain and loneliness that infertility brings, and articles such as yours help in this process. Your article mentions RESOLVE, an excellent organization that helps those struggling with infertility. But it is a secular group that cannot meet the special needs of infertile Christians. An organization that does attempt to meet Christians' needs is Stepping Stones (P.O. Box 11141, Wichita, Kan. 67202).
DONALD A. VAN BEEK, JR.
Elmhurst, Ill.
Hazarding quotation by CT
I am glad Howard Dial couldn't believe what he read [Letters, Aug. 7]. Being reported by CT brings hazards. At Ridgecrest [Southern Baptist inerrancy conference] I said that some think Jesus referred to Adam and Eve and Jonah as familiar characters in a book, without implying their historicity, and hence claim that their own denial of historical reality to these figures does not impugn Christ's teaching authority. But I should not have been made to say that sincere exponents of this impossible exegesis "genuinely" uphold the lordship of Christ; they don't.
J. I. PACKER
Vancouver, B.C., Canada
Evangelizing baby boomers
Regarding "Reaching Baby Boomers in Southern California" [News, Sept. 4]: Jack Sims is to be given accolades for his creative and sensitive ministry to those baby boomers who "dropped out" of traditional mainline Christianity. As an Anglican, the thought that a minister would be denied ordination because of his neutral stand on alcohol is to me repugnant, and self-righteous on the part of his denomination. As a baby boomer myself I can understand what Sims is attempting to do; there will always be a contingent of men and women for whom traditional Christianity will be a "turn-off."
There is another side to this issue of baby boomers neglected in the Sims article: There are also large numbers of baby boomers who left the church in the sixties but eventually came back when it was time for marriage, and then wanted their children initiated into a Christian identity.
FR. STEVEN M. GIOVANGELO
St. Luke's of the Mountains
Episcopal Church
La Crescenta, Calif.
Your article on a new "church" called Matthew's Party probably should have been included on the editorial page where you deal with decadence and worldly values within the church. It doesn't surprise me that a marketing consultant would create a church based upon what people want—rather than on what people need.
FRANK YORK
Monrovia, Calif.
The AIDS issue
I have read with interest the CHRISTIANITY TODAY articles dealing with AIDS [Essays, Aug 7; Books, Sept. 4]. I think your coverage is excellent, and I appreciate the compassionate, all-encompassing approach. Keep up the good work on such difficult issues.
THOMAS E. ELKINS, M.D.
University of Michigan Medical Center
Ann Arbor, Mich.
The issues that addressed the AIDS epidemic were, in general, a disappointment to me. Everyone takes a moderate tone and fears to speak the word judgment. If it is a judgment, how do we account for the disease attacking hemophiliacs and other innocents? But the AIDS epidemic is a judgment and a severe mercy. We learn in Scripture that judgments are not just individual, but corporate, and may fall on individuals beyond their desert.
DANIEL C. JUSTER
The Union of Messianic
Jewish Congregations
Gaithersburg, Md.
Have something to add about this? See something we missed? Share your feedback here.
Our digital archives are a work in progress. Let us know if corrections need to be made.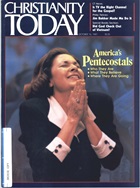 This article is from the October 16 1987 issue.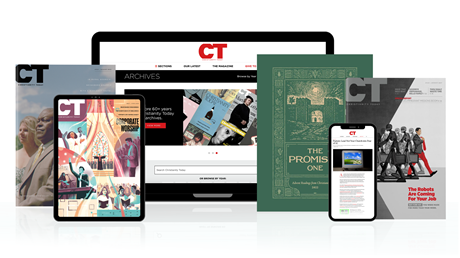 Subscribe to Christianity Today and get access to this article plus 65+ years of archives.
Home delivery of CT magazine
Complete access to articles on ChristianityToday.com
Over 120 years of magazine archives plus full access to all of CT's online archives
Subscribe Now
Letters
Letters