Late last month, six foot-weary missionaries and a 20-month-old baby completed a 350-mile forced march. They clambered into a canoe that took them across the Malawi border to freedom, ending three months of captivity in Mozambique.
As news of their release spread, rejoicing was tempered with concern for the safety of four other missionaries held captive in Sudan. But just days later, those missionaries were released by the Sudanese People's Liberation Army. Once considered undesirable prey, missionaries increasingly are being targeted by publicity-seeking terrorists.
"Terrorists are looking for easier prey," said Bob Klamser, cofounder of Contingency Preparation Consultants (CPC), an organization that provides training, crisis management, and recovery services to missionaries and mission agencies. "Missionaries don't have the money to provide expensive protective devices, and because of the nature of their work, they can't isolate themselves. That makes them a more attractive target."
When terrorists target missionaries, they appear to select them on the basis of nationality rather than their religious affiliation. "I don't think we have reached the stage yet where a terrorist decides, 'We want a missionary,' " Klamser said.
He believes that day could come, however, as public sympathy becomes inoculated by numerous reports of violence directed against public and corporate officials. "Terrorists will be forced to look at other groups to once again shock the conscience of the world," he said. "Unfortunately, missionaries may fit that category."
Crisis Management
As attacks against their personnel and property increase, mission agencies are beginning to prepare for the challenge of ministry in a new, more violent era. Many of the agencies associated with the Evangelical Foreign Missions Association already have broad contingency plans, according to executive director Wade T. Coggins. But in light of recent events, he said he has observed a new interest in training personnel and developing more comprehensive plans.
Klamser and his colleagues at CPC have been surprised by the number of mission agencies that have contacted their organization since it was founded in 1985. "Mission agencies are trying to understand why they are a target," Klamser said. "They are looking for ways to provide training for people on the field, and they are concerned about making policies on issues like paying ransom; yielding to other types of extortion by terrorists; when to pull out of a dangerous region; and what procedures to follow in various kinds of emergencies."
A hostage crisis that ended with the death of missionary Chester Bitterman in 1981 motivated Wycliffe Bible Translators, International, to begin what may be one of the most thorough missionary training and contingency programs. Nearly half of Wycliffe's 5,600 career and short-term missionaries have received training, says David Farah, coordinator of international relations. The training includes ways to minimize the chances of falling victim to terrorist acts; how a missionary should react if taken hostage; and an explanation of the procedures Wycliffe will follow if a missionary is kidnaped.
In addition, the organization has prepared extensive contingency plans. "It is important to plan—while there is no emergency—what procedures you would follow if an incident would arise," he said. "We need to think of every possibility—all the things that could happen that would put us in a vulnerable position."
Although Campus Crusade for Christ, International, has not faced a hostage situation, Don Beehler, director of communications, says the organization is taking seriously the possibility of attack. "We are educating our staff on how to protect themselves, how to avoid becoming victims, or if they are kidnaped, how to behave," he said. "There is a growing awareness that there is a problem and that we are not immune to it."
In the 142-year history of the Foreign Mission Board of the Southern Baptist Convention, only four people have been killed in political turmoil. Nevertheless, the organization has experienced heightened concern in the last few years, says Mary Jane Welch, assistant director of the News and Information Service. An educational document on field dangers prepared by the organization was distributed to the agency's 3,700 missionaries last year.
Sovereignty Of God
Most missionaries welcome the opportunity to learn how to protect themselves and their families in dangerous situations. Many, however, struggle with the issues of faith and the sovereignty of God in the midst of professional contingency preparation.
Farah says Wycliffe leaders have thought through these issues. "We give people all kinds of training for the work they will do on the field," he said. "In contingency preparation we are looking at how to relate to people under adverse circumstances. Preparation is not lack of faith."
Missionaries have always risked their lives to preach the gospel, said Max Crittenden, a general attorney with Youth With A Mission, whose missionary, Kindra Bryan, was a member of the group recently released from captivity in Mozambique. "The call to missions," he said, "is not going to be affected by local conditions."
Two of the missionaries taken captive in Sudan (and released last month) are members of Africa Inland Mission, International. Despite the publicity surrounding their capture, the mission agency continues to receive applications from "a flood of candidates," according to U.S. director Ted Barnett.
"There is a real interest in reaching these countries for Christ," Barnett said. "Although missionaries should not take unnecessary risks, it will often be necessary to take the gospel to dangerous places. Increasingly, we are sensing the need for missionaries to be cautious. But this should not divert missionaries from their calling. We must still obey the Great Commission."
By Sharon E. Mumper.
Our digital archives are a work in progress. Let us know if corrections need to be made.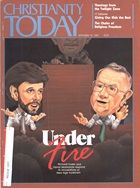 This article is from the September 18 1987 issue.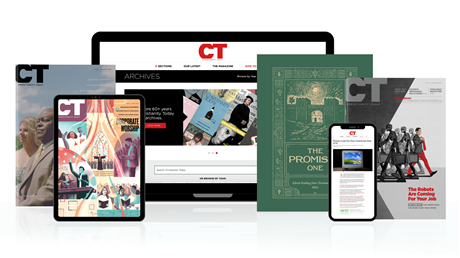 Find hope and historical insight. For a limited time, explore 60+ years of CT archives for free!
Daily devotions from Timothy Dalrymple during this pandemic.
Hundreds of theology and spiritual formation classics from Philip Yancey, Elisabeth Elliot, John Stott, and more.
Thought journalism that inspires you to think more deeply about your faith.
Missions Held Hostage
Missions Held Hostage