TRENDS
Rising Crime Rate
Violent crime rose 45 percent between 1977 and 1986, while property crime increased 18 percent, according to data released by the Federal Bureau of Investigation (FBI). Between 1985 and 1986, the national crime index increased 6 percent, the highest level since 1981. The index is based on data gathered from 16,000 police departments across the country.
The FBI reported increases for 1986 in the following categories: aggravated assault, up 15 percent; murder, 9 percent; robbery, 9 percent; burglary, 5.5 percent; larceny and theft, 4.8 percent; and forcible rape, 3.2 percent. The overall crime rate rose 7 percent in cities, 6 percent in suburban counties, and 4 percent in rural areas. Researchers have predicted that crime levels will increase in the next decade as children of the baby boom generation reach the most crime-prone age group, the late teens and early twenties.
CHURCH AND STATE
Pregnancy Prevention Grants
The U.S. Supreme Court has decided to review a lower court decision that prohibited certain federal grants from going to religious organizations. Federal funds available under the Adolescent Family Life Act are distributed to applicants working on projects—such as alternative sex-education curricula—to prevent teen pregnancy.
Approximately 20 percent of the $30 million distributed by the Reagan Administration since the program began in 1981 has gone to religious organizations such as Catholic Charities. In April, the American Civil Liberties Union won its court case against the program. U.S. District Court Judge Charles Richey halted funds going to religious groups, saying they used the money to teach religious concepts (CT, July 10, 1987, p. 41).
Chief Justice William H. Rehnquist reinstated the funding last month, saying the Supreme Court will hear an appeal from the Reagan administration defending the program's constitutionality.
LEGISLATION
Debating Animal Patents
A bill introduced last month in Congress would impose a two-year delay on the patenting of animals produced by artificial genetic manipulation.
In April, the U.S. Patent and Trademark Office announced it would consider applications for patents on higher forms of animal life altered by new biological technologies, including genetic engineering. The patent office said it considered genetically engineered animals to be "products of human ingenuity" and therefore patentable. No animal patents have been issued so far, but 15 have been applied for.
The bill in Congress, sponsored by U.S. Rep. Charlie Rose (D-N.C.) and cosponsored by six other lawmakers, would impose a two-year moratorium on such patents. A similar measure was expected to be introduced in the Senate this month by U.S. Sen. Mark Hatfield (R-Oreg.).
"Vertebrate and invertebrate animals have never been patented under the patent laws of the United States," said Rose. "Such monumental decisions about the fate of animal life should not be left solely to the Patent and Trademark Office."
SURVEY
More Moral Dissent
A survey of Notre Dame graduates conducted by the Catholic university's alumni association indicates the graduates have become more politically conservative and more theologically liberal.
Thirty-seven percent of the respondents labeled themselves Republicans, compared with 22 percent in a similar survey conducted ten years ago. Other findings indicate the alumni are more willing today than they were a decade ago to disagree with the Catholic church's moral teachings.
Seventy-nine percent said the church should allow divorced Catholics to remarry, compared with 57 percent ten years ago. The proportion of alumni favoring the ordination of women increased from 31 percent to 56 percent. And 83 percent said artificial contraception is morally permissible, compared with 76 percent in the earlier poll.
Attendance at weekly mass was down from 57 percent to 53 percent, but more respondents indicated they are receiving Communion at least once a week, up from 40 percent to 47 percent. In addition, the number of respondents who claimed a close relationship with the institutional church rose from 55 percent to 65 percent.
The survey was mailed to 5,311 randomly selected people, and more than 72 percent responded. The results were published in Notre Dame magazine.
PEOPLE AND EVENTS
Briefly Noted
Announced: By Decision magazine editor Roger Palms, a change in the status of the Decision Magazine School of Christian Writing. He said the Minneapolis-based magazine will no longer sponsor the week-long writers' school, founded 25 years ago by Decision editor emeritus Sherwood Wirt. Palms said the growth of Decision magazine and the resulting increased work load made it difficult to staff both the magazine and the school. He said he hopes future plans of the Billy Graham Training Center in Asheville, North Carolina, will include the School of Christian Writing as one of the ministries to be offered.
Dismissed: Charges of trespassing, against defrocked Lutheran ministers Daniel Solberg and D. Douglas Roth, who were arrested in May when they tried to enter the constituting convention of the Evangelical Lutheran Church in America. The charges were dropped by the Franklin County (Ohio) Municipal Court because police failed to report the correct location of the disturbance in their affadavit. Assault charges were dropped before the trial began because of insufficient evidence. Solberg and Roth are members of Denominational Ministry Strategy, a group that uses controversial tactics to call attention to the plight of unemployed steel workers.
Our digital archives are a work in progress. Let us know if corrections need to be made.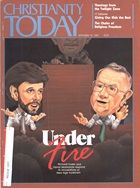 This article is from the September 18 1987 issue.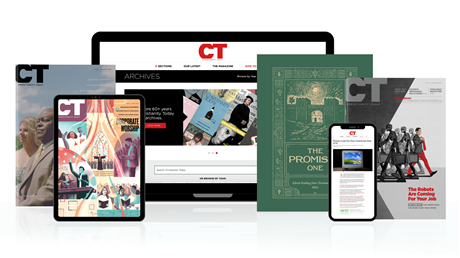 Find hope and historical insight. For a limited time, explore 60+ years of CT archives for free!
Daily devotions from Timothy Dalrymple during this pandemic.
Hundreds of theology and spiritual formation classics from Philip Yancey, Elisabeth Elliot, John Stott, and more.
Thought journalism that inspires you to think more deeply about your faith.
North American Scene from September 18, 1987
North American Scene from September 18, 1987