Last month's release of missionaries held hostage in Mozambique and Sudan, and journalist Charles Glass's escape from captivity in Beirut, have refocused attention on Americans who are still being held. For these and many others, prayer continues to be a key source of hope and strength.
Four missionaries were released in southern Sudan, several days after six missionaries and a baby were freed after being held in Mozambique for more than three months. One of those missionaries, Youth With A Mission (YWAM) nurse Kindra Bryan, had been in Africa only about a month when she was kidnaped. Her home church, Second Baptist of Houston, established a 24-hour-a-day prayer ministry for her and the other captives. Bryan's mother, Mary Jo Free, said she believes only the Lord could have given her daughter the strength to trek through the African bush to freedom. In an interview, she said the family is grateful for the prayers of hundreds of people, which she said gave them "a feeling of peace" throughout the ordeal.
In an article published in the Washington Post, Bryan described how she relied on God during her difficult journey through the jungles, mountains, and swamps of Mozambique. "I asked myself what God wanted me to learn from this experience, and I'm not yet completely certain.… I know that I gained tremendous insight into my relationship with him. I also think I'm able to understand the suffering of the Mozambican people. I've seen their hurt and their pain, how tired they are of war."
An American Journalist
Prayer was an important factor as well for American journalist Charles Glass, who was held hostage for two months in Lebanon. His time in captivity was "spiritually rewarding," Glass told a news conference. "I felt that it brought me much closer to God."
In an interview on British television, Glass described how he found "great solace [in prayer]. When one is as isolated as I was for 62 days, you begin to think of God—there's no one else to rely on."
Glass echoed the experience of other former hostages held in Lebanon. Cable News Network correspondent Jeremy Levin, released after more than 11 months in captivity, reports that he too encountered God through prayer and reading the Bible. Previously, he had been an atheist (CT, May 16, 1986, p. 50).
Former American University administrator David Jacobsen has described worship services held while he and fellow hostages Terry Anderson, Benjamin Weir, Lawrence Martin Jenco, and Thomas Sutherland were housed together. Despite their different religious backgrounds, the men prayed, read Scriptures, took Communion, and heard sermons by Weir, a Presbyterian pastor, and Jenco, a Catholic priest. They called their cell "the Church of the Locked Door." Weir was released in 1985, and Jenco and Jacobsen in 1986.
Jacobsen's son Eric says answered prayers became especially meaningful at specific times during his family's ordeal. He recalls that the day before Jenco's release, the Jacobsen family was despondent. It had been six months since they had received any news of his father, and he and his wife prayed for a sign that the elder Jacobsen was still alive. The next day brought news of Jenco's release and word that David Jacobsen was fine.
"It was a series of events like that which convinced me that God is at work in this," said Eric Jacobsen. "He's not going to forget these people, and he just asks us to join in prayer for them."
Prayer Campaign
The Jacobsens have become outspoken supporters of an international prayer campaign for the remaining hostages. It is sponsored by Friends in the West, a Seattle-based Christian human-rights organization. The group launched its "Pray Them Home" campaign in July 1986, and has distributed thousands of prayer bracelets bearing the names of hostages, the dates of kidnaping, and the words "Remember those in prison as if you were imprisoned with them" (Heb. 13:3).
Friends in the West president Ray Barnett also has called for global, 24-hour-a-day prayer efforts. "Only divine intervention can change the course of this desperate situation in the Middle East," he said. "It is our belief that the prayers of people worldwide will bring them [the hostages] home."
Prayer campaign coordinator Lela Gilbert says the group hopes Glass's return will serve as a vivid reminder of the remaining hostages. Before Glass's release, Gilbert said she and several others had prayed specifically for a release to remind people that the hostages are people needing prayer.
At press time, eight Americans remained in captivity in Lebanon: Anderson, Sutherland, Frank Herbert Reed, Joseph James Cicippio, Edward Austin Tracy, Alann Steen, Jesse Jonathan Turner, and Robert Polhill. In addition, Church of England envoy Terry Waite still had not been released.
By Kim A. Lawton.
Missionaries Gain Their Freedom
When Mike Oman arrived in Malawi to meet the six missionaries released from captivity in Mozambique, he expected to find them exhausted, emotionally drained, and much thinner than before. A limited diet, hard slogging through 350 miles of Mozambique's forests, mountains, and plains, and the emotional trauma of their ordeal left them in much the condition he expected.
"But spiritually, they were in great shape," said Oman, the Youth With A Mission (YWAM) director for Zimbabwe. "A couple of them said they saw it as a privilege to be selected to go through something like that with the Lord."
Six missionaries and a baby were seized May 13 at a farm-based medical clinic and mission center in central Mozambique. The farm is located on the vital corridor joining Zimbabwe with Mozambique's port of Beira. Although the zone is considered to be well protected by government soldiers, it was penetrated in a surprise raid by the Mozambique National Resistance (RENAMO), a rebel army seeking to overthrow the government.
Kindra Bryan, a nurse on a six-month assignment with YWAM, was the only American in the group taken captive. A U.S. based organization, Contingency Preparation Consultants (CPC), worked with YWAM to negotiate the release of the hostages.
CPC president Bob Klamser said the hostages were released for the same reason most win their freedom. "It got to the point where having the hostages was more trouble than it was worth for their captors," he said.
Oman said he does not expect the incident to change the work of YWAM and other mission organizations in Mozambique. "The people working on the farm will go back to it," he said. Oman said the farm is an important base for food and clothing distribution, relief work, pastoral training, and evangelism, and is used by missionaries en route to and from Zimbabwe.
Late last month in Sudan, north of Mozambique, four missionaries were released after being held for seven weeks by members of the Sudanese People's Liberation Army. A single-engine airplane flew to pick them up in a remote area in southern Sudan.
The missionaries were part of a team working with the Association of Christian Resource Organizations Serving Sudan (ACROSS). TWO members of the U.S. based Africa Inland Mission, International, Stephen Anderson and Kathryn Taylor, were on loan to ACROSS. The other captives released in Sudan are American teacher Mark Nikkel and British nurse Heather Sinclair.
Our digital archives are a work in progress. Let us know if corrections need to be made.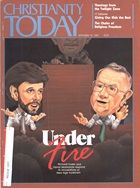 This article is from the September 18 1987 issue.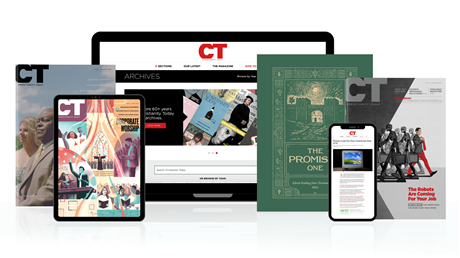 Find hope and historical insight. For a limited time, explore 60+ years of CT archives for free!
Daily devotions from Timothy Dalrymple during this pandemic.
Hundreds of theology and spiritual formation classics from Philip Yancey, Elisabeth Elliot, John Stott, and more.
Thought journalism that inspires you to think more deeply about your faith.
The Role of Prayer in Gaining the Release of Hostages
The Role of Prayer in Gaining the Release of Hostages