MALAWI
Saturation Evangelism
A team of 37 evangelists from eight countries led an intensive 15-day evangelistic effort in the Malawian capital of Lilongwe. More than 4,000 persons registered public decisions for Christ during the "Lilongwe for Jesus" mission, sponsored by African Enterprise.
"We have been to every residential area, every market, and almost every factory in this [East African] city," said mission leader Stephen Mung'oma of Kenya. "Almost everyone you meet in the streets has heard of 'Lilongwe for Jesus.' "
Public rallies were held nightly in six locations. In one area, people poured out of a tavern to find out what was happening. "Just give us one evening to tell you the gospel," Mung'oma told the curious onlookers, many of whom decided not to return to the bar.
At open-air markets, where hundreds of people buy and sell goods, evangelists used portable loud speakers to preach to large crowds. Many meetings held in homes turned into open-air meetings when the houses overflowed and crowds moved outside for more room.
At Saint John's School, evangelist David Peters told students that those who wanted to make a commitment to Christ should come to his room the following morning. At 6 A.M., some 150 young people arrived at his doorstep.
UGANDA
Gunfire Kills Two Christians
Two people were killed and two others, one a young girl, were injured when antigovernment guerrillas opened fire on a truck loaded with Christian workers in Uganda. It was not clear why the rebels attacked the group, which had been helping produce the Ateso-language translation of the evangelistic film Jesus.
John Aluru, one of the men killed in the attack, had served as the voice of Jesus in the translation project. "This [film] is the kind of thing Uganda needs," Aluru told a colleague before he died. "Never, ever get scared—just carry on the project."
The Jesus film, a two-hour docudrama based on the Gospel of Saint Luke, was produced in the late 1970s by the Genesis Project and Campus Crusade for Christ International. More than 315 million people in 110 countries have viewed the film, which has been translated into 107 major languages.
CHINA
Religious Printing Press
The United Bible Societies has turned over printing and binding equipment worth more than 6.7 million dollars to the new Amity Printing Press in Nanjing, China.
The printing facility, established by the United Bible Societies and China's Amity Foundation, will give priority to producing Bibles, New Testaments, hymnals, and other Christian literature. Project coordinator David Thorne said the press should begin printing Bibles and New Testaments by November or early December.
The press will be housed in a new building constructed on an 8.8-acre tract in an industrial park outside Nanjing. The global United Bible Societies partnership, which includes the American Bible Society, entered into an agreement with the Amity Foundation in 1985 to finance the purchase of the printing and binding equipment.
The United Bible Societies will also help train a Chinese staff to operate the printing facility.
The Amity Printing Press has already received orders for 100,000 copies of the Chinese Union Version Bible, and 100,000 copies of the Chinese Reference Bible.
CHILE
Sect Combats Immorality
Chile's military government discontinued a weekly cabaret-style revue that had been broadcast on state television after an unorthodox sect mobilized street actions against the program.
The Revolutionaries for Christ, which is not affiliated with any established denomination, targeted the variety program Sabor Latino (Latin Flavor). The program featured scantily dressed women who sang romantic songs and sometimes engaged in suggestive banter with men from the audience.
The Revolutionaries for Christ organized demonstrations against the program. And streets in the television studio's neighborhood were covered with condemnatory graffiti. Chile's National Television Council canceled the program, citing the "prominent display of female anatomy, especially the buttocks."
The Revolutionaries for Christ—led by 33-year-old Christian Casanova, a former left-wing activist—has issued calls for a theocratic state whose leaders are directed by "prophets who transmit the word of God." Casanova says he had a conversion experience in which God told him to "rise up and form a revolutionary army.… Marxism gave me the strategy, and God gave me the spirit."
EAST GERMANY
A Thriving Bookstore
East Berlin's Evangelische Buchhandlung bookstore attracts attention with a sign that spans the width of the storefront. The Christian publishing and bookstore ministry, founded in 1946, continues to prosper in East Germany's capital.
"About 300 customers per day come into the store," said store manager Wilfried Weist. "But not all of them buy anything." The store carries 8,000 titles, including Bibles and about 1,000 different Christian books. The ministry also publishes evangelistic pamphlets, hymns, choir music, Sunday school literature, training materials for youth workers, and a monthly Christian magazine.
The ministry operates within East Germany's legal code. Like other bookstores and publishers, it is required to pay taxes and to obtain special licenses. The store, which belongs to the Union of Free Churches, also sponsors some 250 book tables in East German churches.
Our digital archives are a work in progress. Let us know if corrections need to be made.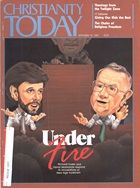 This article is from the September 18 1987 issue.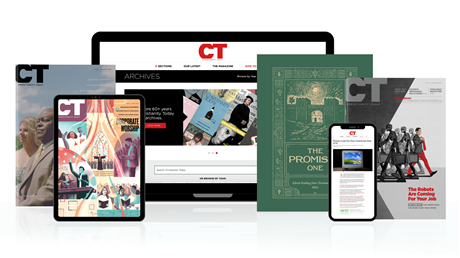 Find hope and historical insight. For a limited time, explore 60+ years of CT archives for free!
Daily devotions from Timothy Dalrymple during this pandemic.
Hundreds of theology and spiritual formation classics from Philip Yancey, Elisabeth Elliot, John Stott, and more.
Thought journalism that inspires you to think more deeply about your faith.
World Scene from September 18, 1987
World Scene from September 18, 1987