Table Of Contents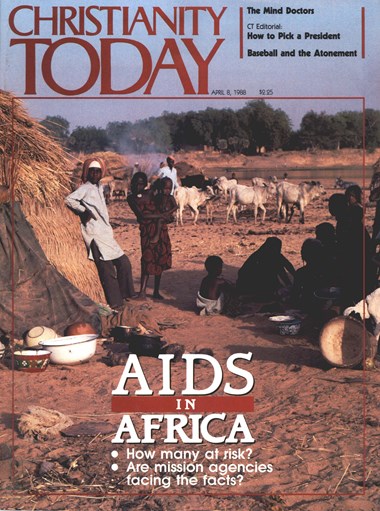 Read CT anywhere you go.
Subscribers have full access to CT's digital archives. Download a PDF of this issue, or browse individual articles below.
About The Archives
The CT archives are a rich treasure of biblical wisdom and insight from our past. Some things we would say differently today, and some stances we've changed. But overall, we're amazed at how relevant so much of this content is. We trust that you'll find it a helpful resource.
Also in this Issue:
Challenge and Controversy
Letters
It's Wrong to Eat People
Our Nation's Legal System Shoots Its Victims
The Vision Test
Drunk on Money
The Mind Doctors
The Cross and the Couch
Baseball and the Atonement
Special Books Edition from April 8, 1988
Book Briefs: April 8, 1988
Classic & Contemporary Excerpts from April 08, 1988
AIDS In Africa: Death Is the Only Certainty
Missionaries in Africa Are Not Immune to AIDS
Twenty Years after King: How Far Have We Come?
Pat's Big Surprise: The Army Is Still Invisible
Stumbling on the Stump
North American Scene from April 8, 1988
Voluntary Suicide May Make California Ballot
Abortion, Teen Pregnancy Ignite HHS Battle
Will Christian Colleges Survive the Dollar Pinch?
NAE Sets Politics Aside in Favor of "Spiritual" Agenda
World Scene from April 8, 1988
Mission Groups Share Data
Last Emperor, Lost Emperor
Catching Caught
Who's Afraid of Hanoi Jane?