CHINA
Chinese Print Own Bibles
The Amity Printing Press, designed and built by Chinese Christians and funded by the World Bible Societies, began printing Bibles for distribution in the People's Republic of China. This is the first printing press in China wholly dedicated to publishing the Scriptures, and is the project of the Amity Foundation, a social service organization founded in 1985 by Chinese Christians, in cooperation with the Jiangning County Industrial Corporation. The American Bible Society was a major funder of the $6.7 million project.
According to Han Wnazo, general secretary of the China Christian Council and chairman of the Amity Foundation, "There are as many Bibles now on order for distribution in China as the press can handle."
HUMAN RIGHTS
Children Tortured
In a report on children who are victims of political repression around the world, Amnesty International singled out South Africa and cited 17 other nations for violating "the most basic rights" of children.
"Children have been unjustly imprisoned, tortured, killed, and orphaned by the state," said the report. "Some have been forced to watch their parents being tortured and others have been born in prison and taken away from their mothers."
The South African government acknowledged last April that 1,424 children under the age of 18 were detained. But Amnesty International's report quoted an estimate by monitoring groups that 11,000 children were detained in South Africa between 1984 and 1986.
Other countries where children have been ill treated include the Philippines, Chile, Israel, Afghanistan, Argentina, Lebanon, and Sri Lanka. A spokesman for Amnesty International, Scan Stiles, said the actual number of countries involved could be higher because only documented reports were considered.
MALAYSIA
Church Leaders Released
Malaysian Baptist leader James Lai was released from prison late last year just before he was to be remanded for a two-year jail term under that country's Internal Security Act.
Lai was one of 111 people arrested last October during a nationwide sweep by the government in an attempt to defuse racial and religious tensions between ethnic Chinese and Maylays. Of those originally arrested, 33 remain in prison, at least 8 of whom are Christians. They are being held without trial.
Baptists in Malaysia say their work is "at a standstill." Four Baptist churches were closed in mid-December and all church services, even those held in homes, must first be approved by the government.
SOVIET UNION
No Glasnost For Lutherans
Four leaders in the Lutheran renewal movement in Latvia have been warned to cease their "distinctly anti-Soviet" activity or face removal from state-granted registration. The Soviet government's Council on Religious Affairs promised to take action against the four clergymen who are involved in the Rebirth and Renewal Movement that has sought to reinvigorate the Latvian church. Archbishop Eriks Mesters of the Latvian Lutheran church has also voiced his displeasure with the movement.
According to Vilis Varsberg, president of the 14,240-member Latvian Evangelical Lutheran Church in America, members of the movement tend to be young, stress democratic values, and feel the state-approved Latvian church has been "too subservient to the government." He said the directive is the first attack on the eight-month-old renewal movement, which is led by 15 pastors—about one-fifth of the approved Lutheran clergy in Latvia. They meet each week in small groups for prayer and discussion, an activity that is prohibited by the Soviet government since the groups are independently formed without state approval.
Removal from the official list of clergy would bar the four from all ministerial activities and possibly result in expulsion from the country.
OBITUARY
Noted Diplomat Dies
Charles H. Malik, former foreign minister of Lebanon and a popular figure among American evangelicals, died December 28 in Beirut at the age of 81.
In addition to his better-known works on international politics and world peace, the Greek Orthodox layman also wrote books published by evangelical firms, including The Wonder of Being (Word) and Christian Critique of the University (InterVarsity). In 1979 Malik toured the United States and delivered anticommunist lectures under the auspices of Campus Crusade for Christ as part of its "Here's Life" evangelistic effort. In his address at the dedication of the Billy Graham Center at Wheaton College, he said, "What could be more wonderful than for evangelicals to aim at achieving under God and according to God's own pace the twofold miracle of evangelizing the great universities and intellectualizing the great evangelical movement?"
A native of Beirut, Malik was Lebanon's chief delegate to the conference that drafted the United Nations Charter, and he served as president of the UN General Assembly in 1958 and 1959. He served as a diplomat to the United Nations, and in the United States, Venezuela, and Cuba. In 1981 he became the first occupant of the newly established Jacques Maritain Chair in Philosophy at Catholic University in Washington, D.C.
Have something to add about this? See something we missed? Share your feedback here.
Our digital archives are a work in progress. Let us know if corrections need to be made.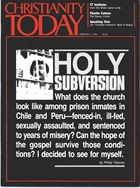 This article is from the February 5 1988 issue.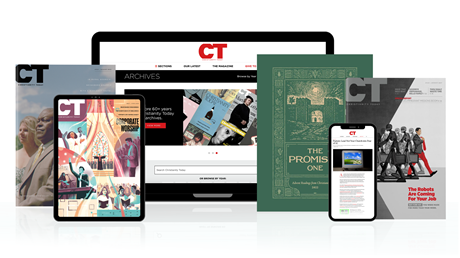 Subscribe to Christianity Today and get access to this article plus 65+ years of archives.
Home delivery of CT magazine
Complete access to articles on ChristianityToday.com
Over 120 years of magazine archives plus full access to all of CT's online archives
Subscribe Now
World Scene from February 45, 1988
World Scene from February 45, 1988