The Magazine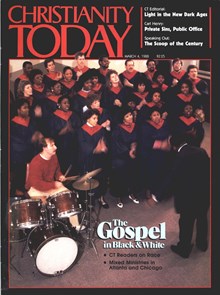 Read CT online anywhere you go.
Subscribers get full print and digital access, including:
10 award-winning print issues
PDFs of each issue
Full web access to ChristianityToday.com
60+ years of magazine archives
Table of Contents
The CT Archives are a rich treasure of biblical wisdom and insight from our past. Some things we would say differently today, and some stances we've changed. But overall, we're amazed at how relevant so much of this content is. We trust that you'll find it a helpful resource. - Mark Galli, editor-in-chief
Also in this Issue:
"Polling" Our Readers
An Antidote to Christian Bashing
Letters
What Happened in 586 B.C.?
The Press Is Missing the Scoop of the Century
Light In the New Dark Ages
Call Them Unelectable
Race and the Church: A Progress Report
The Gospel in Black & White
Fudge Ripple at the Rock
The Perfect Family
Private Sins, Public Office
Classic & Contemporary Excerpts from March 04, 1988
Candidates Court Religious Broadcasters
Woman at the Helm: A Christian College Pioneer
Augsburger to Head Coalition
Freshmen Values Challenge Educators
Poll Says Religion Belongs in Public Life
Bill May Not Force Schools to Help Fund Abortions
Court Ruling Bars Bible Club from School
Salvadorian Christians: Forging a Response
Producer Tries to Dim Fears over Movie
Couple Says the Church Can Feed the World
Scholars View Gospel through Cultural Lens
Quebec Protestants Take Stock of Recent Progress
ORU Says Scholarship Plan Too Costly
North American Scene from March 4, 1988
World Scene from March 4, 1988
Sad Song Backers Decide to Stay Small
Book Briefs: March 4, 1988
The Two Lives of James Correnti
"The Trite Made Flesh"