For 50 years now, he has waged his private war on crime, battling the most insidious forms of evil, striking fear into the hearts of Gotham City's criminals, from the lowliest mugger to the fattest, most corrupt politician or police sergeant. Now 50 years old, this Caped Crusader, created in 1939 by Bob Kane, has become an integral part of our cultural heritage, and he is more popular than ever. In a fictional world where God is never found, Batman seems to represent the pinnacle of mortal man's achievement.
This is his golden anniversary: 1989 is "The Year of the Batman."
Batman's 50-year landmark was reached officially on April 7 and commemorated with the release of Detective Comics #600, 50 years to the day after his first appearance. But the focus of excitement for fans is Batman, the recently released motion picture with Michael Keaton as Batman. The film brings the Batman mythos to a wider audience and handles the character in a serious, dramatic manner. It is quite unlike the campy TV show of the 1960s, but it accurately reflects the atmosphere in Batman's home medium.
Whose Vengeance?
The only character not celebrating is the Dark Knight himself. At the conclusion of A Death in the Family, a much-publicized four-part story (from Batman #426–29), Batman begins his second half-century as he began the first—alone; he has no partner. This story made comic-book history when a poll of readers was conducted for the first time to determine the story's outcome: Should Jason Todd, the young partner who took the place of Dick Grayson as the second "Robin," live or die—locked in a warehouse with a bomb after a violent beating by the Joker? Unfortunately for Todd, he was an unpopular character; he died by popular demand.
Readers expect this tragic death to bring forth an increasingly intense and ruthless Batman. It is vengeance that motivates the Batman, and tragedy gave him his origin: On a dark night long ago, young Bruce Wayne witnessed a gunman take the lives of his parents. He vowed to avenge their deaths and wage war on all criminals.
But who was it who said, "Vengeance is mine; I will repay"? What right does Batman have to take the law into his own hands? What right did he have to track down Joe Chill, his parents' killer (Detective Comics #575–78)? What right did he have to murderously attack the Joker (Batman #429)? This masked vigilante seems to make the rules as he goes along, answering to no one but himself.
Bruce Wayne spent years training, preparing, mastering all fighting skills. As an adult, he discovered that garbing himself in a startling, Draculalike costume gave him the advantage he needed. Since crooks are apt to be superstitious, this crime fighter's batlike appearance tends to scare the daylights out of them—along with smashing a few faces, of course. And while Batman hates guns, he is rather fierce with his fists (and feet). He enters the arena of light with grim determination and an inexplicable love of justice.
An Ungodly Universe
Just because Batman is the protagonist does not mean his actions are always right. Discerning readers recognize this and are forced to consider ethical issues and social problems. That is what makes Batman such an intriguing character and brings surprising literary value to a medium frequently seen as "juvenile." In addition, writers sometimes set up a dualistic confrontation in which Batman, representing "good," takes on a villain, representing "evil." The similarities between the two are often startling, and the differences can be difficult to define. Since most of Batman's foes are insane, readers are often left wondering if "Bats" himself is bats.
What makes Batman even more of a mystery is his apparent lack of superpowers. True, he is an acro-bat, a fighter, a detective, an escape artist, a master of disguise, a millionaire, an inventor, and a computer hack all rolled into one; he is all that mere man (with an incredible amount of proper training) could ever hope to become. Yet, he is just that: a mere man.
Unlike other superheroes, Batman does not come from another planet, or possess psychic or occult abilities; he is not immortal; and he is not a "mutant," genetically superior to other men.
All of DC Comics' superheroes exist in the same fictional world. Their universe is one in which the naturalistic origin and ongoing evolution of man plays an important role. This is quite evident from "Invasion," DC's most recent miniseries. In it DC's heroes were arrayed against an Alien Alliance intent on destroying Earth, fearful that man's rapid development could soon result in a race too powerful to tolerate.
But while God is conspicuously absent from this universe, Batman appears to scale the heights to which a mere man can pull himself by his own batboots. It is difficult to believe that, apart from God's grace, personal tragedy and suffering can be turned to such an advantage.
By Dean S. Husler, a writer living in Plainfield, Pennsylvania.
In fourteenth-century England, a mining village waits in horror as news of the Black Death arrives. Lacking an explanation for the plague, they imagine the Angel of Death has overflown the countryside, and only a holy pilgrimage will secure God's protection.
Nine-year-old Griffin falls into trances and envisions villagers tunneling through the earth to a celestial city, home of Christendom's tallest cathedral. That city, we find, is modern New Zealand, complete with electric lights, cars, and television. According to The Times of London, "For some, this future city seems like heaven; for others it is hell."
Director Vincent Ward's cinematic vision is nothing if not audacious. His idea is so far-fetched that one wonders if audiences might giggle at its sheer improbability. Yet The Navigator is a spellbinding visual spectacle that grips as it unfolds. It garnered eight Australian Oscars, and drew a five-minute standing ovation for Ward at its premiere at last summer's Cannes Film Festival.
Ward's medieval characters fear what they do not understand and attach wild, mythological explanations to modern-day contrivances. With their simple Christian faith, muddied by pagan superstition, the pilgrims forge ahead in their quest to reach the cathedral and plant a witch's spike atop its spire.
Parallels with modern life abound, particularly the juxtaposition of bubonic plague and AIDS. Modern Christians will see in their fourteenth-century brethren an unintentional inclusion of mainstream society's beliefs and values not unlike our own.
The Navigator is a wonderful story well told. A rarity—with no sex or violence—it will appeal to adults and older children who enjoy good fantasy. Rooted in the tradition of the quest, The Navigator is an excellent teaching tool—and a good night at the movies.
By Stefan Ulstein.
ARTBRIEFS
Beyond Sunday Morning
People who like James Taylor, Elton John, or Bruce Springsteen will find something in Steve Camp's latest album, Justice (Sparrow Records), to tap their toes about. But unless these fans are Christians—and ready to do something about it—they should stick to more familiar fare.
Frolicking sax, blue-collar Bruce, blues, haunting acoustic piano, and enchanting string orchestrations by Paul Buckmaster make for a tape that deserves more than the disorderly cassette box in your compact. Moreover, what Camp is saying here refuses to take a back seat to anything.
"The album's purpose," says Camp, "is to encourage people to move away from their normal American Christianity and to see what they believe affects people right in their own neighborhoods, in their jobs, in their education, and in their vocation—to make an impact on society for the Lord."
By emphasizing rhythm, background vocals, and nonsynthesized strings, Camp's message comes through with striking depth and humanity. These elements especially come together in "Do You Feel Their Pain?"—a plea for the church to reach out to those stricken with AIDS. "Justice is the holiness and mercy of God put into action," Camp says. "We're trying to urge people to realize that the church is more than what happens Sunday morning."
Missionaries on Cassette
What is the difference between a flesh-and-blood missionary and a cassette tape of Christian music? In a country like Malaysia, it may be the difference between heaven and hell.
Although Malaysia's federal constitution allows for freedom of religion, it is illegal in that country for Christians to witness to Muslims. But even though missionary groups are severely restricted, what one plays on one's bad box is fair game. That's where Hosanna! Music's praise and worship cassette tapes come in.
Through the efforts of people like Chew Nee Hee, who runs Hosanna! Music's distributorship in Malaysia, biblically explicit cassettes find their way around the government's paranoia and into the ears (and souls) of music-minded Muslims. Chew, a Malaysian of Chinese descent, became a Christian eight years ago while on a business trip to Hong Kong.
Indeed, Hosanna! Music's tapes have a knack of ending up in the Third World. Youth With a Mission (YWAM) recently ministered to people in less-fortunate countries, and a similar cargo found its way to India and Kenya. It's nice to know that "We Are the World" is not the only tune the West is singing to people who are starving for some real soul food.
Christian Eclecticism
Let's face it: Some New Age-style music is catchy. Although listening to wind blowing through pine trees for 45 minutes might be a bit, er, boring, sounds such as this are used effectively in This Mystery I Pose, an album of reflective instrumentals by Jeff Johnson and Sandy Simpson recently released by Ark Records. Not that this album promotes New Age thought; Ark's stated objective is to present "a variety of themes and subjects within the context of a Christian worldview."
Everything from synthesizers and emulators to chimes, bells, and horses go into Mystery; the record includes some steaming tenor saxophone by Dave Hagelganz and snatches of George Winston-style acoustic piano by Johnson. The album's range stretches from a mystical arrangement of the traditional English Coventry Carol to, just around the corner, some sudden heavy metal licks.
Ark's music is soothing and intriguing, but don't expect it to fall into a comfortable niche of genre, pace, or style. Yet such eclecticism should be welcome in the world of Christian music—a world that often finds it difficult to challenge that which is acceptable and comfy.
By Daniel Coran.
Have something to add about this? See something we missed? Share your feedback here.
Our digital archives are a work in progress. Let us know if corrections need to be made.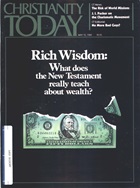 This article is from the May 12 1989 issue.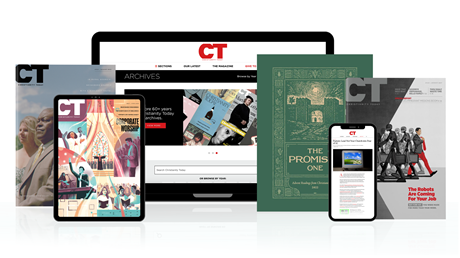 Annual & Monthly subscriptions available.
Print & Digital Issues of CT magazine
Complete access to every article on ChristianityToday.com
Unlimited access to 65+ years of CT's online archives
Member-only special issues
Subscribe
Gotham Great Grows Grim
Gotham Great Grows Grim